Start the conversation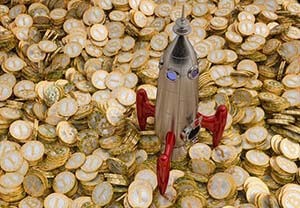 The latest wave of 2016 Bitcoin price predictions exhibit a renewed optimism about the digital currency's prospects.
That's not too surprising, given that the price of Bitcoin doubled from the low $230s to over $480 in just over a month, from late September to early November. And while the Bitcoin price has settled back to about $380 over the past week, it's still about 64% higher than it was six weeks ago.
Coming after months of relative stability in the $200 to $300 range, the sudden spike in the price of Bitcoin reignited interest in the digital currency and its future.
And the 2016 Bitcoin price predictions that have followed reflect a fresh understanding in the disruptive power of Bitcoin's underlying technology, the blockchain. As Bitcoin becomes increasingly integrated into the world's financial system, its value will necessarily rise.
That's because built-in scarcity will combine with the rising demand to push Bitcoin prices up. You see, new Bitcoins are mined at a fixed rate. And only 21 million will
Read more ... source: TheBitcoinNews

News from Darknet