Summary
A huge rally.
China turns to Bitcoin.
A finite supply and a promise of yield pumps price.
Gold vs. Bitcoin, a home run trade.
Blockchain technology gives it credence, China gives it upside.
On September 8, I wrote an article for Seeking Alpha called, Bitcoin Is For Real And It Is All About The Flow Of Money. In that piece, I wrote about the cryptocurrency and blockchain technology. Recently, uncertainty has reigned supreme in terms of the global economic landscape. Economic issues in Europe and a slowing Chinese economy have raised fears for many investors and market participants around the world. Faith in traditional currencies has come into question. In an effort to stimulate economies around the world, central banks and monetary authorities have lower interest rates to unprecedented levels. They have used other tools, such as quantitative easing, for stimulative purposes. We have yet to experience the eventual and inevitable effects of these policies. Additionally, the world remains a dangerous and volatile place. Relations between the three most powerful nations in the world, the United States, China and Russia are constantly in a state of flux. The Middle East remains a hotbed of terrorism and conflicts.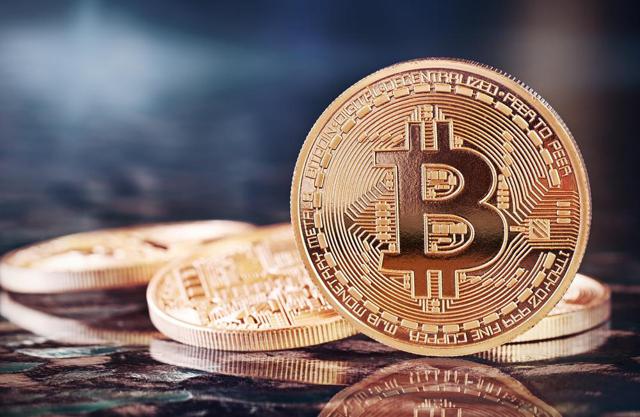 While gold attempted to rally during the beginning of October on uncertainty, the rally fizzled and the price of gold is now below where it was at the end of the third quarter. Perhaps global deflationary pressures have prevented a rally from following through for the yellow metal. However, the current state of affairs has been supportive of a cryptocurrency with the widest appeal. As a burgeoning means of exchange, Bitcoin tends to trade more like a commodity, an asset rather than a mature currency.
A huge rally
When I published my September 8 article on Bitcoin, it was trading at around $225. On November 5, the price had moved to highs of $447.25 — an increase of almost 98% in two months, according to Coindesk. The price closed on Friday, November 6 around $373.50, a testament to the volatility of this cryptocurrency.
(click to enlarge)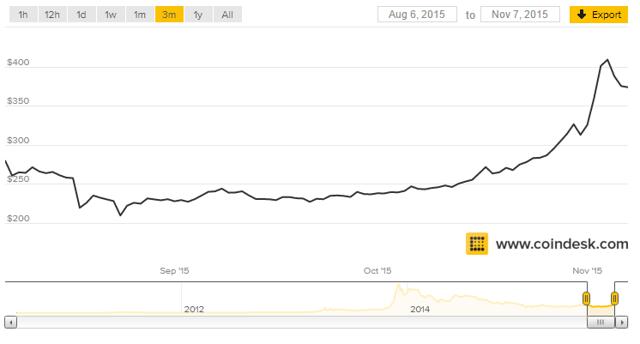 (click to enlarge)
Moves like this are commonplace in commodities, not currencies. However, there are good reasons for the strength in and demand for Bitcoin that caused the increase in value in such a short time.
China turns to Bitcoin
For more than two years, the bulk of trading in Bitcoin has come from China. As China has very tight currency controls, the advent of a currency that someone in China can buy and possess anywhere on earth without having to deal with governmental rules and regulations is extremely attractive. As wealth has grown in China, the desire to move portions of that wealth to other nations has increased. If you live in China and you want to get your money out of China, Bitcoin is a great tool to do so. Recently, the late August devaluation of the Chinese currency, the yuan, stoked demand for Bitcoin. Volume of Chinese trading in Bitcoin has surged from 700 million yuan a day in September to 3 billion yuan a day in late October. Last Wednesday volume reached $5 billion yuan ($787 million). This compares with $300 million worth of dollar trades and represents a respectable percentage of the total market cap for the cryptocurrency, which currently stands at around $5.53 billion.
It makes sense that Bitcoin is becoming more attractive to the Chinese given ever increasing governmental regulations. The slide in the Chinese stock market last summer and new government rules that encourage buying and inhibit selling have scared many investors and speculators away from the domestic equity market. However, some think that the recent surge is because of a ponzi scheme emanating from Russia that offers a 30% return in a month.
A finite supply and a promise of yield pumps price
A "so-called" ponzi scheme that promises a guaranteed 30% rate of return each month will always attract the naive. In fact, in the current global interest rate environment, any scheme offering even less of a return would be likely to attract interest.
When trading interest increases and floats into a global "currency" market like Bitcoin with a market cap of under $6 billion today, that price volatility is not surprising. Consider that when a company like Facebook (NASDAQ:FB) has a market cap of over $300 billion, Bitcoin amounts to a drop in the bucket. The promise of yield may have increased volume to some extent, but worries about the Chinese economy and domestic markets combined with the desire to move assets out of China without government interference has provided ample reason for the surge in volume, interest and price.
I have written two articles about Bitcoin. The first one focused on the value of the blockchain technology, and the second was a comparison of Bitcoin to gold — I called it Bitcoin vs. Gold: Steel Cage Death Match. I received a lot of negative and angry comments from devotees of Bitcoin when I concluded that, "In the steel cage death match between gold and bitcoin or other digital currencies, gold will be the victor every time, as it has been tested and prevailed for thousands of years." One reader commented on the differences between gold and Bitcoin in my first piece:
" … the difference between bitcoin and gold is that bitcoin has dozens of use cases and gold has two:

1. It's pretty (sorta)
2. People believe it will have value when the world gets screwed.

Bitcoin, on the other hand, can help the following:

1. International business transactions
2. Remittance
3. Settling of assets faster
4. Verifying land ownership on the public ledger
5. The list goes on …
I believe that this comment was totally correct when it comes to the blockchain technology, however, it did not address the true differences between the assets. While I still believe that in the long run gold will remain an asset with greater longevity and value, I do not discount the value or the utility of Bitcoin and other cryptocurrencies. In fact, in my first piece that I wrote that in early September, I stated that I would much rather be long Bitcoin than gold.
Gold versus Bitcoin, a home run trade
On September 8, Bitcoin was at $243.55 and December COMEX gold futures closed at $1121 per ounce. As of the close of business on Friday, November 6, a long Bitcoin, short gold trade (one Bitcoin versus one ounce of gold) would have yielded a total profit of $163.06 — one Bitcoin versus one ounce of gold. The gold position yielded a profit of $33.00 per ounce (gold closed at around $1088 per ounce) and the Bitcoin position yielded profit of $130.06 per coin. It is rare to have positive results on both sides of a spread, but this was the case as of the close of business last Friday, November 6.
Given the recent action in both markets, if I had this trade on at the moment, I would not take it off — I would let it ride. Gold recently failed and the momentum appears to be telling us that the path of least resistance is lower. Bitcoin, on the other hand, is in play, and there is a lot of upside room considering the total market cap and the all-time highs of well over $1,000 per coin in late 2013. The main reason that I would stick with the trade on the Bitcoin side is the growing acceptance of blockchain technology.
Blockchain technology gives it credence, China gives it upside
On Wall Street, many firms have made serious investments in blockchain technology as a way to bring the back office function into the modern era. In an article in the New York Times on November 4, Nathaniel Popper wrote:
"Most financial firms insist that they want to use blockchains that are not tied to Bitcoin. But financial firms have also been making bets in Bitcoin-related companies… Exchange operators, though, say that the new users rushing in in recent weeks have been making a bet that Bitcoin will go mainstream and rise in value as it does."
It is a great argument, particularly given the finite number of Bitcoins and the current, relatively small, market cap.
Blockchain technology is set to revolutionize the operational function on Wall Street as well as in other sectors of the economy. As this happens, Bitcoin is likely to go along for the ride, however, that ride may be very bumpy. Bitcoin is not a currency these days; currencies tend to have very low volatility. Bitcoin is a commodity, perhaps one of the few that is in bull market mode. There will be a time when it makes sense to be long gold and short Bitcoin, however, right now the trend is your friend and I would stick with it.
As a bonus, I have prepared a video on my website Commodix that provides a more in-depth and detailed analysis to illustrate the real value implications and opportunities provided by the current state of both gold and Bitcoin.