Bitcoin's recent rally has reversed in a major way.
While the virtual currency is still about 20 percent higher than it was a month ago, it has fallen sharply in recent days.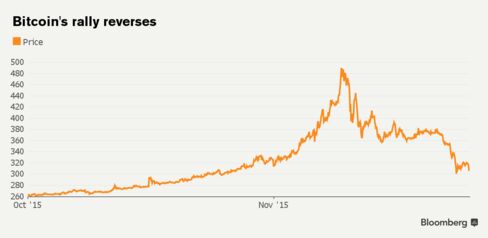 Searching for reasons behind bitcoin's price movements often feels like an exercise in futility, but two things did dominate recent conversations concerning the cryptocurrency's rise; those were a questionable Russian scheme as well as a surge in Chinese demand. Now it seems the two may be inextricably linked.
User registrations and transactions on bitcoin exchanges like BTCC – one of China's largest – have surged since mid September, around the same time the Russian scheme took off. According to BTCC, transaction volume in bitcoins went from 540,324 in September to 1,152,889 in October. "We saw a hockey stick change in daily registrations," Bobby Lee, CEO of the exchange, said in an interview last week. "The last few days have been crazy and customer service is around the clock, working overtime." 
Some argue that Chinese demand may have surged as investors attempted to bypass the country's capital controls or looked for a way to avoid volatility in the stock market. But others say that doesn't make much sense since – as evidenced by this
Read more ... source: TheBitcoinNews

News from Darknet