Bitcoin plunged for a fifth day as concern Britain will vote to leave the European Union waned and a hack suffered by another cryptocurrency undermined confidence in such digital assets.
Bitcoin slid 6.1 percent to $573.84 as of 1:31 p.m. in Hong Kong on Thursday, data compiled by Bloomberg show, extending a precipitous drop from a two-year high reached just last Friday. The price has lost about 25 percent in the five-day period.
Bitcoin, like gold, has been tracking the odds of Brexit on the eve of the referendum on Thursday as investors speculated over such an outcome, which governments and central banks have warned may spark turmoil. Confidence in bitcoin was also shaken this week as another virtual currency ether plunged after a hack removed some digital money, while a bitcoin exchange temporarily suspended trading this week amid technical issues.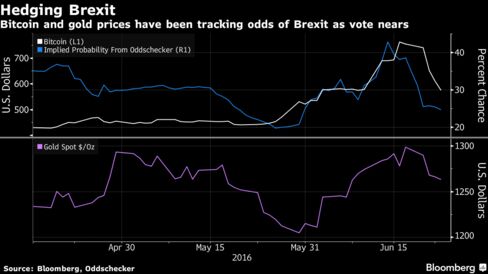 "With the Brexit deadline approaching we're starting to see a genuine concern for what's to come, and this of course has been reflected across the global markets space, which does include bitcoin," said Ryan Rabaglia, head of wholesale product management at ANX International in Hong Kong.
Read more ... source: TheBitcoinNews

News from Darknet