Bitcoin surged to a two-year high amid expectations supply of the digital currency will shrink next month.
The cryptocurrency rallied to $683.89 on Monday in Hong Kong, the highest since February 2014, according to data compiled by Bloomberg. It traded at $677.93 as of 10:53 a.m., up 17 percent from Friday.
Profits from mining bitcoins will be reduced in July, a process that's written into the code to limit supply, according to Chinese exchanges OKCoin and Huobi. Increased attention from venture capitalists and banks on blockchain, the technology of digital ledgers, has boosted bitcoin's legitimacy, Jack C. Liu, chief strategy officer at OKCoin, said in Hong Kong.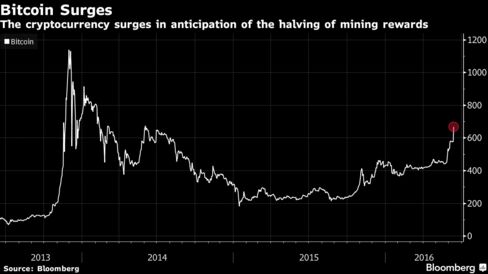 "The halving of the supply of Bitcoin is attracting many retail investors," Liu said. "More broadly, we continue to see follow-through from the blockchain hype cycle translating to interest in bitcoin the asset."
The price of bitcoin has mostly recovered following a steep decline to less than $200 in January of last year from more than $1,000 in December 2013.
Bitcoin's rebound is coinciding with weakness in the yuan, which fell the most in two months on Monday in Shanghai. Losses have accelerated in recent weeks as the dollar strengthened and China's
Read more ... source: TheBitcoinNews

News from Darknet