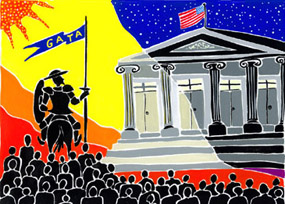 gata.org / By Henry Sanderson and Lucy Hornby / Wednesday, November 30, 2016
China has curbed gold imports in the wake of government attempts to clamp down on capital leaving the country, according to traders and bankers.
Some banks with licenses have recently had difficulty obtaining approval to import gold, they said — a move tied to China's attempts to stop a weakening renminbi by tightening outflows of dollars, the banks added.
The hit to gold imports comes as China tightens restrictions on overseas deals by state-owned companies in an effort to limit capital outflows that has seen the renminbi fall to its lowest against the dollar in eight years.