The Winklevoss twins seem to have the best timing but the worst luck.
When the Winklevii filed for a physically backed bitcoin exchange-traded fund nearly three years ago, it created a stir. Their zeitgeist-capturing ETF filing garnered more press attention than all 139 new ETF launches that year combined but soon ran into a wall in the form of U.S. securities regulators.
Since then, the twins have made several adjustments to their filing as seen in the list below—presumably in an attempt to address the U.S. Securities and Exchange Commission's concerns. They even picked an exchange (Nasdaq) and a ticker (COIN) and hired prominent ETF lawyer Kathleen Moriarty of Kaye Scholer LLP. Still, no approval has been forthcoming from the SEC in the intervening years.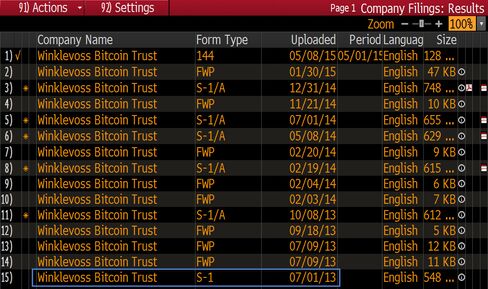 If the ETF dream is dead, or at least in regulatory limbo, there is an alternative path for the Winklevosses to explore in the form of a bitcoin exchange-traded note, or ETN. An ETN is legitimate enough for most investors, and it would likely have better tax treatment than an ETF. It would still need SEC approval via a rule change, but that's been done before, namely with VelocityShares, whose founders have received rule changes over the years for currency ETNs, volatility
Read more ... source: TheBitcoinNews

News from Darknet