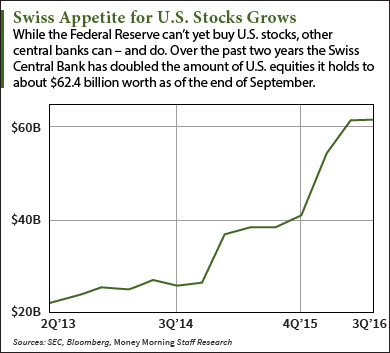 wallstreetexaminer.com / by David Zeiler via Money Morning / November 28, 2016
With its easy-money policies increasingly ineffective, the Federal Reserve is now devising a new, even more dangerous strategy – one that threatens the very nature of capitalism itself.
You see, the U.S. Federal Reserve fired all its bullets dealing with the fallout from the 2008 financial crisis. That has left the central bank with virtually no policy tools to combat the next major economic setback.
That's why the Fed is trying to boost interest rates. At just 0.50%, the Federal Reserve is expected to raise it to 0.75% in December. But that leaves little maneuvering room for fighting the next crisis.
And the quantitative easing (QE) bond-buying program has left $2.5 trillion of federal debt on the Fed's balance sheet. The Fed can't really go back to that well, either.
That's why the Fed is floating another idea…
The Federal Reserve Is Looking at This Radical Option
At some point in the not-so-distant future, the Federal Reserve will start buying stocks, ostensibly to boost the U.S. economy.
We know this because it came up recently in a House Financial Services Committee hearing in late September. Committee member Mick Mulvaney, R-S.C., asked Fed Chair Janet Yellen if the Fed was "looking as the possibility of adding the purchase of equities to its toolbox."