Start the conversation
Investing in Bitcoin hasn't been for the faint of heart, but over the long run it has delivered virtually unmatched returns. In fact, you could have booked an annual return of nearly 82% each of the last three years.
Gauging Bitcoin as an investment hasn't been easy. Part of that is because as a digital currency it doesn't have a physical existence, which makes a lot of folks nervous.
But mostly it's because of Bitcoin's infamous volatility.
Even casual observers remember the fall of 2013, when the Bitcoin price soared from about $100 to more than $1,200. A little more than a year later, the price of Bitcoin was below $200.
While it never completely disappeared, Bitcoin's volatility returned with a vengeance over the past month or so. From about $450 on May 24, the price of Bitcoin rocketed as high as $775 before plunging to lows of about $560 on June 23.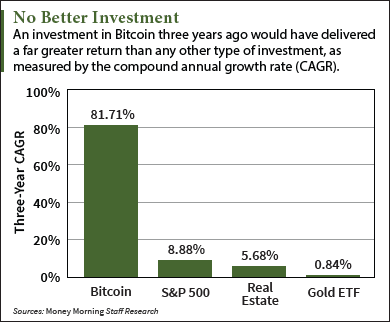 The stunning Brexit vote last week caused another spike in the Bitcoin price, up to about $680, as
Read more ... source: TheBitcoinNews

News from Darknet