Litecoin has jumped another 12% since yesterday, adding to its surreal gains and decimating the bears. In my previous analysis, I had recommended shorting the cryptocurrency near $5.300 by placing a stop-loss above $5.500 and Litecoin has proved me wrong.
Litecoin is currently trading up 12.41% at $5.379.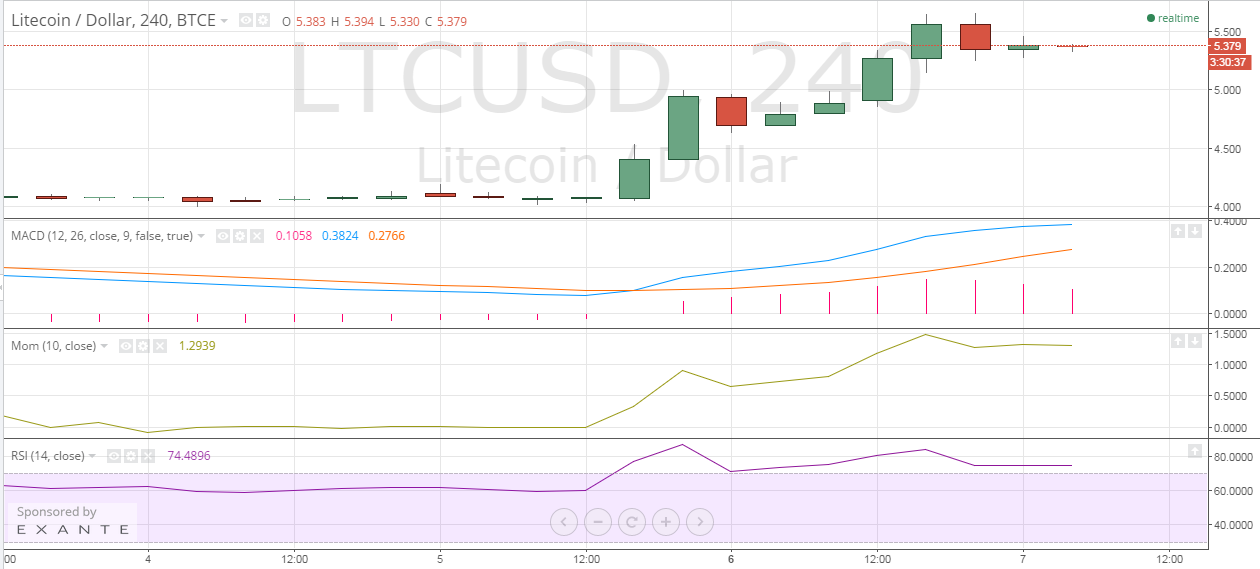 Image: https://www.tradingview.com/x/76LSI2Cb/
Technically, Litecoin looks formidable even at these outrageous levels. The 240-minute LTC-USD price chart indicates strong bullish force behind the rise and it has become incredibly difficult for me to comment as to when the profit booking will come in or when the market would realize its folly.
Litecoin Chart Structure – The chart above clearly tells that Litecoin is currently trading near its 10-month high of $5.680. It hit an intraday high of $5.663 before some money was taken off the table.
Moving Average Convergence Divergence – The MACD and the Signal Line extend their gains, surging to 0.3824 and 0.2766 respectively. The Histogram value inspires confidence in the underlying momentum with a value of 0.1058.
Momentum – The Momentum indicator also reflects that bullish momentum