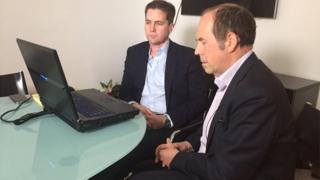 The man who has identified himself as the creator of Bitcoin plans to provide further proof to his claim.
Craig Wright's spokesman told the BBC that he would "move a coin from an early block" belonging to the crypto-currency's inventor "in the coming days".
The Australian entrepreneur announced he was behind the pseudonym Satoshi Nakamoto on Monday.
Critics have said that the evidence produced to date is unconvincing.
You can read the strongest case for the prosecution in this post on Github, where Wright's blog is described as "flimflam and hokum which stands up to a few minutes of cursory scrutiny, and demonstrates a competent sysadmin's level of familiarity with cryptographic tools, but ultimately demonstrates no non-public information about Satoshi."
---
Read more:
Has Craig Wright proved he is Satoshi?
Bitcoin industry 'sceptical' of Satoshi identity claim
Australian Craig Wright claims to be Bitcoin creator
---
The author goes on to speculate that Craig Wright "used amateur magician
Read more ... source: TheBitcoinNews

News from Darknet