Start the conversation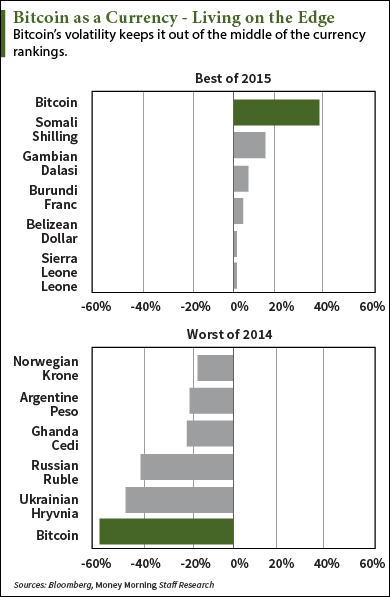 The last two years of Bitcoin price history have a story to tell. You see, Bitcoin was the best-performing asset in the world in 2015 – and by a long shot.
The price of Bitcoin rose 35%, easily beating the next best asset, real estate investment trusts (REITs), which rose just 2.8%.
Bitcoin also was the best-performing currency in 2015. The runner-up, the Somali Shilling, gained just 15% on the year, less than half of Bitcoin's gain.
You're not hearing much about this now, probably because last year at this time much of the financial media were writing Bitcoin's obituary.
You can't blame them. Bitcoin had a horrible 2014. The 56% plunge of the Bitcoin price made it the worst performer among both assets and currencies that year.
But what to make of this zig-zagging Bitcoin price history? Are there any lessons here for anyone besides Bitcoin's skeptics?
You betcha. Bitcoin's worst-to-first journey actually offers several lessons about investing in general…
What Investors Can Learn from the Bitcoin Price History
Veteran investors may think these points are obvious, but people keep making these mistakes over and over: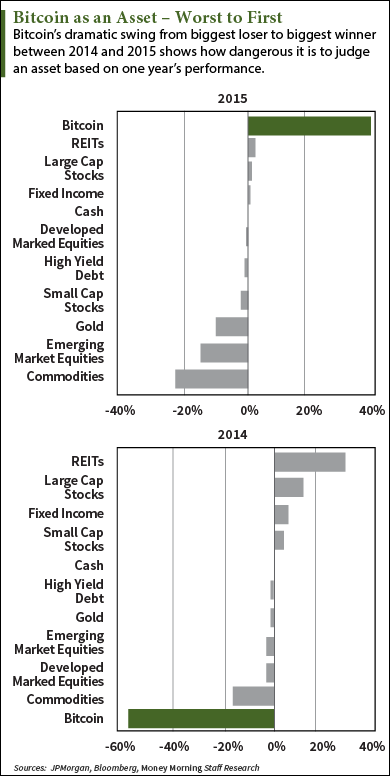 Bitcoin Price History Lesson No. 1: Don't Get Caught Up in the Hype
The media hype in 2013 and the skyrocketing price of Bitcoin fooled a lot of investors into buying Bitcoin at or near the top of $1,147. The parabolic rise of the price of Bitcoin should have been a red flag, but it wasn't. The same thing happens with other investments, particularly "hot stocks." It's easy to surrender to emotion when everyone is hopping on the bandwagon, but it's also a quick way to lose a lot of money.
And that leads us right to the next lesson…
Join the conversation. Click here to jump to comments…