View Comments

Start the conversation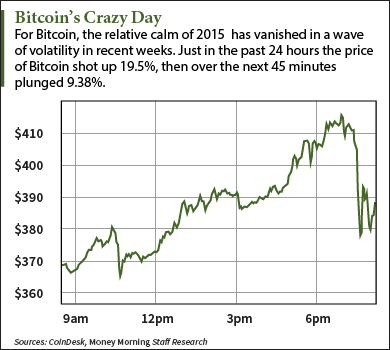 After taking most of 2015 off, Bitcoin price volatility has stormed back.
According to the CoinDesk Bitcoin Price Index (which goes by Greenwich Mean Time), the last day of trading has seen a low of $355.81 and a high of $416.62 – a Bitcoin price level last seen nearly a year ago.
Just 45 minutes after hitting that high, the price of Bitcoin had fallen $39, a 9.38% drop. The Bitcoin price is up about 60% over the past month.
By contrast, the Bitcoin price had spent most of the year bobbing in the $200 to $300 range.
While Bitcoin enthusiasts welcome the sudden rise in price of the digital currency, it brings back bad memories of the 2013 bubble. After soaring 8,500% in just a few months, the price of Bitcoin crashed 89%, bottoming out this past January.
Whether the current Bitcoin price spike is a reflection of positive trends or a momentum-inflated bubble is debatable. But if you're looking for triggers, they're not hard