Start the conversation
A Bitcoin price prediction of $1,000 by the end of 2016 might seem over the top — except that the person making it is two-for-two in his previous predictions.
I'm talking about Vinny Lingham, a familiar name in the Bitcoin universe. He gained notoriety among cryptocurrency fans by founding mobile gift card app Gyft in 2012. Gyft allows customers to buy gift cards with Bitcoin.
Lingham left Gyft in January to found a new startup, Civic, which focuses on digital identity protection. It uses the Bitcoin blockchain to help prevent identity fraud.
His Bitcoin price predictions have been infrequent, but on the money.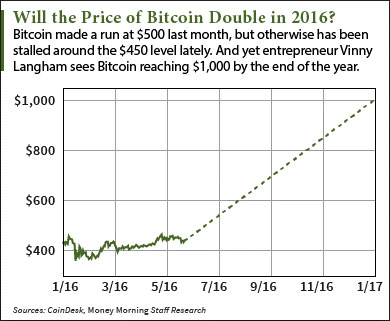 Lingham made his first Bitcoin price prediction at a Bitcoin conference in San Jose in May 2013. At that point, the Bitcoin price was fresh off a run that took it from about $13.50 in December 2012 to $266 in April, then a drop back down to the $115 range.
Lingham boldly predicted that the price of Bitcoin would hit $1,000 by the
Read more ... source: TheBitcoinNews

News from Darknet