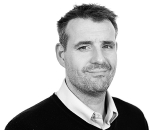 ibtimes.co.uk / Ian Allison / August 5, 2015 09:25 BST
UBS, Barclays and BNP Paribas are the front runners when it comes to experimenting with Ethereum, a new technology in the class known as Bitcoin 2.0, a source at Barclays told IBTimes.
Ethereum is a not-for-profit organisation which offers an open-source distributed computing platform plus a value token – ether – which can be mined by its network like bitcoin.
The Barclays source said what the banks were doing with Ethereum was not happening "in any great depth".
"You are talking about 100 or 200 people that are building stuff with this and some of them are from banks," he said.
"It's the beginning. It's not even the end of the beginning. It's the beginning of the beginning."
Regarding Barclays, the source said there were "pockets of innovation" spread across the bank: