Start the conversation
After meandering for most of the year in the $200 to $300 range, the Bitcoin price hit a 2015 high of $333.75 today.
While the price of Bitcoin dropped back to about $321 later, that's still a 36% increase over t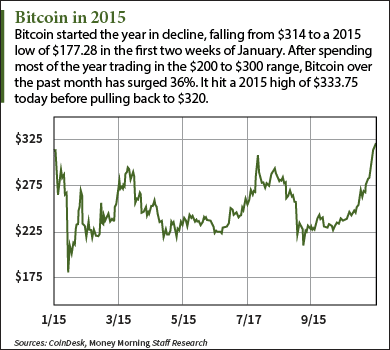 he past month. The Bitcoin price hasn't touched these levels since last December.
It's an encouraging sign to Bitcoin enthusiasts who suffered through the bubble of late 2013.
The bubble took CoinDesk's Bitcoin Price Index from an all-time high of $1,147.25 on Dec. 4, 2013, down to $177.28 on Jan. 14 of this year. In less than 14 months, the Bitcoin price plunged 84.5%.
Now that the Bitcoin price has rallied to a 2015 high, the question turns to what's driving it. And just as importantly, is this rally sustainable?
The "why" question is the more easily answered. This Bitcoin price rally doesn't appear to have much, if anything, to do with the increasing interest from financial institutions in the potential of Bitcoin's underlying technology, the blockchain.
Instead, the Chinese central bank is