Start the conversation
Investors are getting tired of waiting for the Winklevoss Bitcoin ETF (Nasdaq: COIN).
The initial U.S. Securities and Exchange Commission (SEC) S-1 filing for the Winklevoss Bitcoin Trust (the fund's official name) was made in July 2013, nearly three years ago.
The Winklevoss Bitcoin ETF proposal outlines an exchange-traded fund more or less modeled on the popular SPDR Gold Trust ETF (NYSE Arca: GLD).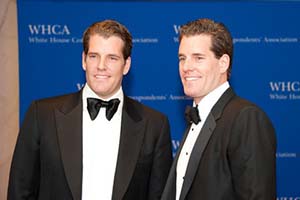 Twins Cameron and Tyler Winklevoss set out to create the fund to make investing in Bitcoin as easy as buying a stock. People can buy actual bitcoins of course, but for many that remains a technically intimidating option. So theoretically the Winklevoss Bitcoin ETF will open up Bitcoin to a much wider pool of investors.
But there's been no news on the regulatory progress of the Winklevoss Bitcoin Trust for more than a year. Last January the Winklevoss Bitcoin ETF filed an amendment to its prospectus of its intent to list 1 million shares at $20.09 a share.
Since then, nada. The long news drought has left many would-be investors discouraged.
"Can we officially declare the Winklevoss ETF dead?" Gunni2000 asked in a Bitcoin thread on Reddit in February.
"I totally forgot about this ETF, it's been that long. I was pumped last year. Not anymore," added hellobitcoinworld.
It's a fair question to ask. Why hasn't the Winklevoss Bitcoin ETF gone live yet?
It must be said that only the SEC knows for sure what's holding up approval. But regulations forbid the SEC, Nasdaq, or the Winklevoss twins from discussing it.
Still, we can infer a lot from what we do know.
We can start with the nature of Bitcoin itself…
The Winklevoss Bitcoin ETF Is a Puzzle for the SEC
One of the tasks before the SEC in evaluating the Winklevoss Bitcoin Trust is how to classify Bitcoin as an asset. It's an important question, because it will determine how the ETF is regulated, how it's taxed, and the degree of protection for shareholders.
It's also a very difficult question to answer, as U.S. regulators already have come up with several different answers. The Internal Revenue Service declared Bitcoin "property" in 2014. The Commodities Futures Trading Commission (CFTC) classifies Bitcoin as a commodity. The Financial Crimes Enforcement Network (FinCEN) views Bitcoin as a currency. The SEC in the past has called Bitcoin a security, or money.
But that's not the biggest roadblock the SEC is dealing with right now…Join the conversation. Click here to jump to comments…