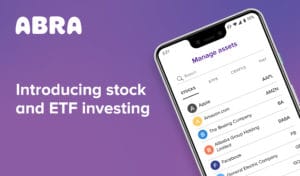 Cryptocurrency investment app Abra has announced a new equity investment feature for its users. Simply put, it enables Abra users the ability to invest in traditional stocks and ETFs using Bitcoin. Already a popular app choice in the cryptocurrency industry, especially among beginners, Abra hopes to expand its user base and offerings by merging the world of cryptocurrency with that of traditional finance.
Abra's Position in the Cryptocurrency Industry
For those unfamiliar with Abra, it's a cryptocurrency wallet and exchange that operates from a single app. Unlike other exchanges, Abra is only available on mobile devices (Android, iOS), not on the web.
Founded in 2014, Abra differentiates itself from other cryptocurrency exchanges by operating as a non-custodial platform. As a non-custodial platform, it never collects, stores, or has access to user's deposited funds. Instead, they use bitcoin to back users' funds, storing them on the Bitcoin blockchain.
Marketing itself as a global investment app for everyone, Abra has purposely lowered the barriers to entry for its users. For example, they've set low investments minimums at $5 per investment.
Although its cryptocurrency offerings are slightly limited compared to larger online exchanges such as Binance, Abra has now positioned itself to become the intersection between mainstream finance and cryptocurrency as the two industries start to consolidate together.
Bill Barhydt Reveals New Equity Feature
CoinCentral got the opportunity to talk with Abra founder and CEO Bill Barhydt about the platform's new equity investing feature and the future of the cryptocurrency market. Enjoy!
This week you introduced some new investment features that provide Abra users the ability to invest in traditional stocks and ETFs using Bitcoin. Could you tell us a bit more about that?
Abra's mission is to democratize access to all financial services for everyone, regardless of location. Most global consumers are shut out of traditional investment products for many reasons stemming from access, trust, and complexity – including geographical location, income level, education, fear and more.
We believe in total financial inclusion, from the standpoint of making finance simple and straightforward and in giving access to public markets to people that have traditionally been left out. Further, we believe that cryptocurrency, such as Bitcoin, can serve as a new platform to solve the aforementioned problems of access and trust. Abra's unique user experience makes the service easy to use and fully accessible to any consumer, anywhere in the world.
Ultimately, we just want to build such a great product that we will appeal to a spectrum of investors, from the revolutionaries to the entry-level experimenters.
What's the next step in your attempt at making Abra the premiere global investing app for all asset classes?
We view the launch of our new investment capabilities as a pivotal milestone not only toward our overall mission of democratizing access to financial services but also how the industry will view investing and cryptocurrency as the new protocol for money in the future. The notion of investing in fractional shares of stocks, as Abra has enabled with this announcement, is a novel concept today that will become table stakes tomorrow. And the fact that this is all built on Bitcoin is, we believe, one of the best applications for cryptocurrency mass adoption.
How did you decide what equities would be added to Abra's offerings?
For the early access release of our latest feature (traditional assets), Abra will initially offer 50 new assets, including stocks like Facebook, Apple, Amazon, Google, Netflix, commodities like SPDR Gold Trust, ETFs like Vanguard Growth and the S&P 500, and indexes like the Russell 2000. (Investors can now sign up for early release access here.)
We can and will be adding more assets, but the intent of the early access release is to better understand how global investors will interact with these products. As to why and how we chose the initial offering, the shortlist was determined by a combination of volume and coverage. So not only did we consider the most popular stocks and ETFs globally, we also worked to ensure we had diverse sector and geographic coverage.
Abra seems committed to becoming the preferred investment platform for all investors, both large and small. Please tell us a little about Abra's commitment to offering investment solutions to investors of different income classes worldwide.
Again, this is about access. We are building Bitcoin-backed investing products because, for the first time, we can truly democratize access to investment opportunities on a global scale. It shouldn't matter where you live or how much you earn to be able to make investments and participate in capital markets.
You have extensive experience in entrepreneurship, especially in the tech industry. How does entrepreneurship in the crypto industry differ from other industries?
Entrepreneurship in the crypto industry differs from other industries in that it has multiple regulatory hurdles that must be effectively dealt with. Tech CEOs, such as Uber's Brian Chesky and Airbnb's Travis Kalanick, could tell you stories of regulatory burdens each company had to face as both companies grew. But for crypto, it is incredibly important for companies to assemble the right legal team and investors to achieve their short and long term goals.
6. You gave your first TED Talk about Bitcoin in 2012. You have seen the cryptocurrency industry change drastically over the past seven years. Could you tell us what you think the future of the cryptocurrency industry will look like?
The future of the cryptocurrency industry will result in users completing financial transactions without even realizing that he or she is using Bitcoin or another digital currency. Similar to how most Internet users do not understand the underlying workings of the Internet, most cryptocurrency users will not understand the fundamental protocols behind cryptocurrency. The future of the industry will result in increased awareness and access to digital currencies especially in areas that have limited banking/financial infrastructure. Additionally, as financial institutional players enter the market, we can expect to see securitization of digital assets as well as commodities and derivatives.
Thank you for your time and insight!
The post Abra CEO Bill Barhydt Announces New Equity Investment Feature appeared first on CoinCentral.
Coincentral.com is author of this content, TheBitcoinNews.com is is not responsible for the content of external sites.