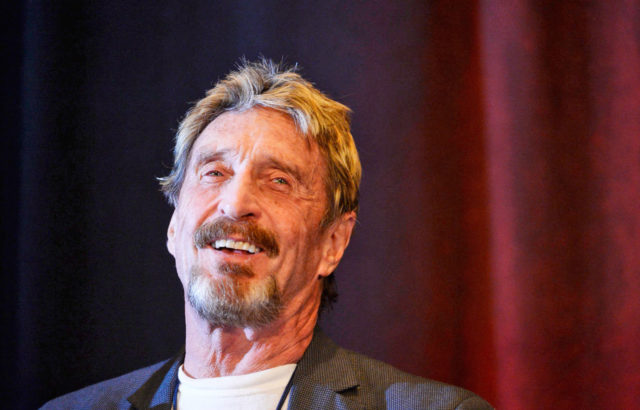 Crypto markets have been on fire this week and another $10 billion has just been pumped in. Crypto pundit John McAfee is back bashing bitcoin as some top altcoins make double digit gains.
McAfee on Bitcoin Warpath
Digital warlord John McAfee has been known for his candid commentary on crypto twitter. A recent outburst has again taken a swipe at bitcoin labeling it as a 'true shitcoin'.
"But we all know that the future of Crypto rests with the Alt Coins.
Bitcoin – Old, clunky, no security, no smart contracts, no DAPs ….
Is the true Shitcoin."
Whichever Bitcoin Maximalist came up with the term "Shitcoin" for all other coins;
Was brilliant.
But we all know that the future of Crypto rests with the Alt Coins.
Bitcoin –
Old, clunky, no security, no smart contracts, no DAPs ….
Is the true Shitcoin.
— John McAfee (@officialmcafee) January 29, 2020
It seems that the million dollar johnson wolfing wager is now off the table and the new flavor appears to be of altcoin variety, though he hasn't hinted what.
It is not the first time McAfee has berated bitcoin. Last month he labeled it as ancient technology likening the digital asset to a Model T Ford.
Maybe it is just another effort to stir up the insipid pot of toxic tribalism that has pervaded crypto social media lately, and it appears to have worked judging by the responses.
The bottom line is that bitcoin and smart contract dApp platforms such as Ethereum serve two completely different purposes so there is plenty of room for both in the embryonic cryptosphere.
'Shitcoins' Are Surging
Back to altcoins, and markets are moving today with a number of them hitting double digit gains.
Cardano is on fire at the moment with a rare move to take ADA into the top ten with a market cap of $1.4 billion which has just eclipsed Ethereum Classic.
The 16% surge has taken prices to a six month high but it is still woefully down from ATH. The move has been driven by the Cardano Foundation partnering with PwC to commercialize its platform.
IOTA is also having a huge pump at the moment with 20% added on the day taking it to a four month high just below $0.30. The IoT token has also been battered for the past two years and still has a long way to go.
Ethereum Classic is the third high cap altcoin doing well at the moment with 17% added to reach $12.3 and Tron has surged by 14% as it taps a two month high. Other altcoins getting a double digit boost this Wednesday include Zcash, Bytecoin, Siacoin and Nexo.
Bitcoin dominance is still at 67.5% thought and most altcoins are still 80-90 percent down from their peaks so these minor movements are inconsequential when looking at longer time frames.
Has altseason arrived at last? Add your comments below. The post appeared first on Bitcoinist.com.
Bitcoinist.com is author of this content, TheBitcoinNews.com is is not responsible for the content of external sites.
source: https://bitcoinist.com/altcoins-surging-but-why-is-john-mcafee-bashing-bitcoin-again/
TheBitcoinNews.com is here for you 24/7 to keep you informed on everything crypto. Like what we do? Tip us some BAT

Send Tip now!