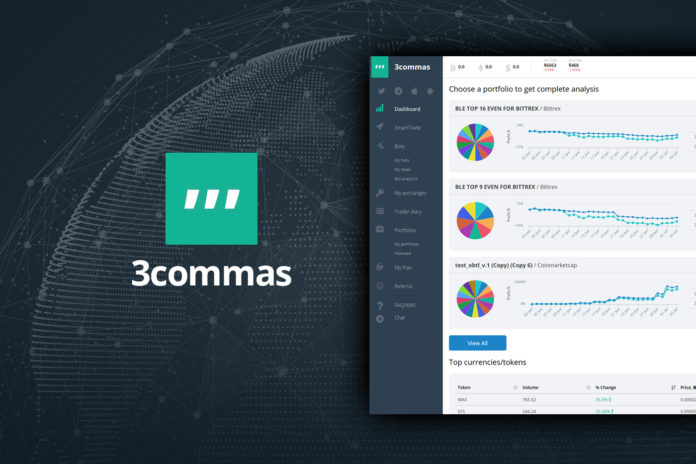 As the cryptocurrency world continues to mature, crypto traders are being presented with an ever increasing range of services designed to help simplify the trading process, and help traders of all experience levels to record consistent gains. 3Commas is a comprehensive cryptocurrency trading platform that allows its users to make use of automated trading bots as well as follow and copy the actions of successful traders and to create and track top portfolios. In addition, users are able to engage in smart trading and customize their own trading strategies, and set up stop loss and take profit commands.
3Commas Overview
The 3Commas cryptocurrency management platform provides access to a number of tools designed to improve overall trading efficiency and effectiveness. The team behind the project aim to help minimize investors' risks, and limit their exposure to losses, while also maximizing their profits.
Central to the service provided is the 3Commas trading bot which operates as a web-based service and works in conjunction with a number of devices and exchanges. The trading bots are pieces of computer software that continuously execute trades based on pre-determined parameters set by the trader.
There are currently over 33,000 traders using the service, and the platform handles over $10m of daily trading volume and the trading bot currently works with approximately 12 exchanges including Coinbase, GDAX, Binance, Bitfinex, and Huobi. As a result, by using 3Commas traders can keep up with various orders on different exchanges, develop more informed trading behaviour, and make use of effective stop losses or take profit trading strategies.
Key Features
Functionality – 3Commas utilises a web-based platform, and features an easy to use and intuitive user interface that includes a wide range of functions and detailed analytics. Users can make use of short, simple, composite, and composite short bots, and set stop loss and take profit targets, as well as customise their own trading strategies.
Technology – Automated trading takes place via API integration with cryptocurrency exchanges and the bot works around the clock with any device and users can access their trading dashboard on desktop and laptop computers. The team have also developed mobile apps for both Android and iOS
Range of Tools – The platform provides a good range of trading tools and in addition to the automated bots and performance analytics, users are able to create, analyze and back-test crypto portfolios and monitor the best performing portfolios created by other users. In addition, users can engage in social trading and follow and copy the actions of other successful traders.
Exchange Integration – The 3Commmas team provide automatic trading bots for 12 exchanges including Bittrex, Bitfinex, Binance, Bitstamp, KuCoin, Poloniex, HitBTC, Cex, GDAX (Coinbase Pro), OKEx, Huobi and Yobit.
Customer Support – The platform is available in English, and Russian, and a support team is available to deal with any issues 24/7. Users can contact the team by submitting a request in the Help Centre, and the team can also be contacted via their Twitter account, Telegram group, and Facebook There is also an FAQ page in the Help Centre that addresses the most common issues, as well as a number of clearly written Guides that help users to navigate the platform.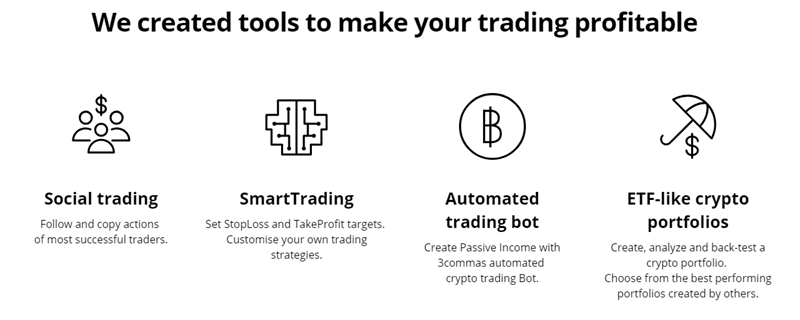 How to Get Started on 3Commas
Creating an account is a straight forward process, and the main page has a green "Create an Account" tab at the top of the page.
1) Create an Account
Visit the 3Commas website and enter an email address and password in order to register. After confirming your account via clicking the link in the email sent, you will gain access to the dashboard.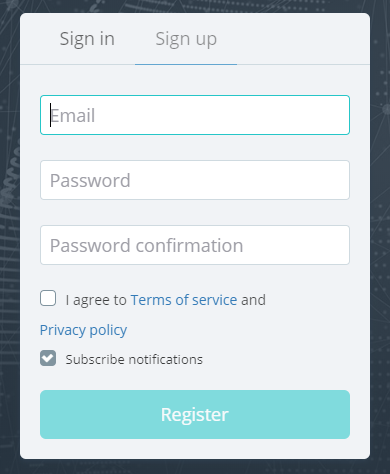 2) Choose the bot type
There are four types of trading bots, short, simple, composite, and composite short bots, and a simple trading bot only involves one trading pair and is the most straight forward to set up.

3) Connect an exchange
The simple trading bot feature only works with Binance exchange when you start out, and you can connect a Binance account here. Make sure your account is connected via API and holds BNB and has BNB fee payment feature turned on. After this, you can move on to naming your bot.

4) Choose trading pair and set base trade size
You can select the trading pair you want your bot to trade from the drop-down menu, and you can then tell your bot just how much of your preferred currency you will be use during your initial trade.
5) Set target profit
Before doing this, it's a good idea to set a safety trade size, as you can make purchases after any dips in a more controlled way. If a trading pair of ETH/BTC is chosen, and if after buying ETH the price drops below the original purchase price, then safety trades allow you to buy more ETH with the amount of BTC that set in the safety trade size. Afterwards, you can set that target profit which informs the trading bot when to sell according to percentages. If a target profit is set for 3%, then the trading bot will automatically execute a sell order once this profit has been realised.
6) Choose take profit type
There are two take profit options, which are a percentage from base trade or a percentage from the total volume.
7) Set max safety trades count
This informs the trading bot how many safety trades it can make before stopping, and the max active safety trades count tells the trading bot the quantity of active safety trades it can conduct at any given time.
8) Set price deviation to open safety trades
This tells the trading bot when it can begin executing safety trades, and is set as a percentage. If set to 3, when the price of the chosen currency drops by 3% below the initial trade price, then the trading bot will start to execute safety trades.
9) Set trade start conditions
This informs the bot of when to make the initial trade, and there is a choice of TradingView Signal Buy or Strong Buy, TradingView Signal Strong Buy, Manually, or Open New Trade ASAP.
By following these steps, a trading bot can be configured in just a few minutes, and the entire process is simple enough for more novice traders to follow successfully. The platform is still detailed enough to also attract more experienced traders.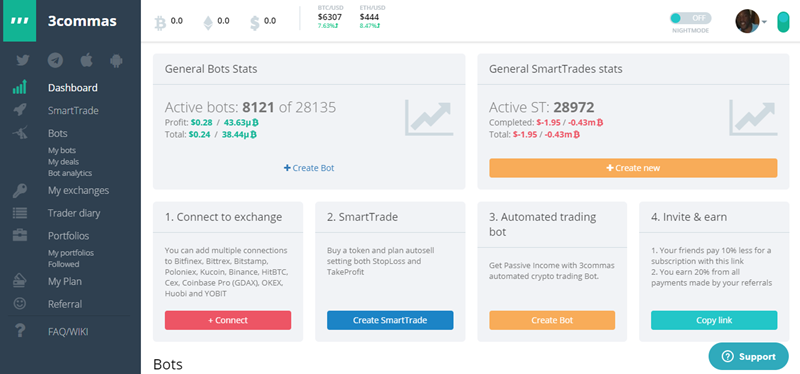 How to Profit from Using the Automated Bots
After a bot is set up, users can begin to carry out long and short trades, for short trades, a price rise in the currency selected will result in the execution of the sale of the underlying cryptocurrency once the designated profit level is reached. In the event of a price reversal safety orders can be placed to ensure that the bot also makes purchases at a given percentage increase. The 3Commas team have outlined both long and short algorithms that enable the contrary strategies of selling higher and buying lower to be used to generate profits.
Long – buy lower, sell higher
The bot opens a new deal according to one of the conditions that are available for selection during the creation. After that, it immediately puts a coin for sale. If the price rises and the order gets filled, the profit goal is achieved. In case of a price fall, the bot places safety orders below the purchase price every x%. Every filled safety order is averaging the buy price, and it makes possible to move the TakeProfit target lower and close the deal without losing profits on the first price bounce. Buy one coin at $10 then sell it at $11. It makes a profit from the difference in prices as you get more after the sell. $11 got against $10 spent.
Simplified algorithm:
Buy initial part of coins.
Place a sell order.
Place safety buy orders.
In case of safety orders get filled update sell order.
Cancel safety orders and calculate profits after the sell if finished.
Short – sell higher, buy lower
It's a reversed version of "Long" algorithm. Sell one coin at $10 then repurchase it at $9. It makes a profit from the difference in prices as you spend less to repurchase. $9 spent against $10 got.
Simplified algorithm:
Sell initial part of coins.
Place a buy order.
Place safety sell orders.
In case of safety orders get filled update buy order.
Cancel safety orders and calculate profits after the buy if finished.
How Smart Trading Works
3Commas incorporates a Smart Trading feature that uses TakeProfit and StopLoss commands to help users maximize their trading profits. Traders can customize their portfolios with commands to buy or sell at a given price point. The commands work as follows:
Trailing Take Profit – The Trailing Take Profit feature has been designed to help traders realise the most gains. If a user purchases multiples of ETH at $500 each and sets a standard take profit order at $550, then they would make a profit of $50 per ETH. However, if the price of ETH continues to rise above $550 then the Trailing Take Profit allows you to sell at the highest part of a trend by selling at a percentage of the highest value. As a result, if you set a Trailing Take Profit order of 10% and ETH hits $600 before falling, then the sell order is activated when the price falls by 10%, or below $540.
Trailing Stop Loss – This works in the same way as a standard Stop Loss order as they both allow you to minimize your exposure to losses when prices decline. A Trailing Stop Loss order differs slightly as it is percentage-based and automatically adjusts to price fluctuations, whereas a Stop Loss order is set manually at a fixed price threshold. As a result, if multiples of ETH are purchased at $500, with a Stop Loss order set at 10%, the stop loss order will execute automatically, if the price of ETH falls below $450, and sell your ETH at that price. If the price of ETH increases over the day, a Trailing Stop Loss order automatically adjusts to the price change, and if ETH increases in price by 15%, the Trailing Stop Loss order triggers when the adjusted price drops by 10%, resulting in a 5% gain. This differs from a standard Stop Loss order which will only execute when the price falls below 10% of the original buy-in price.
3Commas Fees
While 3Commas is free to try, there are a number of monthly membership packages that incorporate various features. The starter package costs $25 a month, and allows for interaction with one exchange, five trading pairs, and operates a simple trade bot commission of 50%. The advanced package allows for interaction with two exchanges, all the trading pairs, and operates a composite bot commission of 50%. The pro package allows for integration with an unlimited number of exchanges and the employment of an unlimited number of trading bots.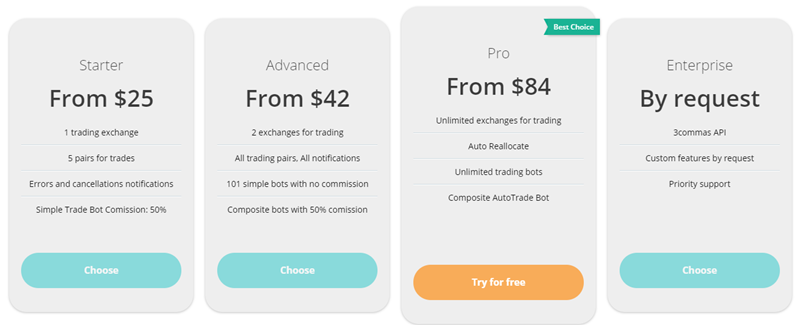 Conclusion
The majority of trading bots are either difficult to use, especially for new traders, or don't operate in the way expected. 3Commas appears to have solved these problems by producing a trading bot that is both easy to set up and use and also performs reliably when compared to many of its competitors. The system is well integrated and works on number of leading exchanges such as Binance, Coinbase, and Huobi. The 3Commas trading bot allows both novice and more experienced traders to maximize their trading potential by taking part in a twenty-four hour market without fear of any potential areas of inefficiency.
The Dashboard is easy to navigate and users are able to select a number of options with regards to configuring their trading bots, in addition there is a good amount of instructional information available, as well as detailed analytics on the bots' performance. Furthermore, the incorporation of features such as portfolio creation and tracking, and social trading make 3Commas a solid option for anyone interested in adding automated trading to their cryptocurrency trading protocols.
The post Beginners Guide to 3Commas Trading Bot: Complete Review appeared first on Blockonomi.