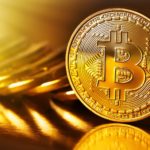 Today, we will be looking at the world's top crypto past price trends, market opinions, and future developments to provide you with a Bitcoin price prediction for November 2019.
Bitcoin Price Prediction: Analysis
October looked promising for the overall cryptocurrency markets, as the total market cap saw an increase of $27 billion from $225 billion to $247 billion. In October, bitcoin reached a new 4 month low during the month. The coin was trading steadily above the $8,000 support levels for the majority of the month, but on October 23rd, Bitcoin went below this support and traded at the expected lower support at $7,395.
However, the coin rebounded towards the end of the month, showing signs of a bullish movement.
The latest price surge took place towards the end of October, bringing Bitcoin to $9,327, preventing the month from closing at the prior stationary sideways movement.
This furthered the bullish momentum into November, as Bitcoin opened November at $ 9,193.99 and continued its increase during the first week of November 2019. On November 5th and 6th, BTC even tested the $9,400 and $9,500 resistance levels.
But on November 8th, BTC fell back to $8,000 levels, opening at $8,809.47, and closing at $8,813.58 that day. On November 9th, Bitcoin tested the $9,100 resistance levels and managed to close at $9,055.53. The following day, the coin debuted at $9,000 levels, but dropped to $8,700 towards the end of the day, closing at $8,757.79.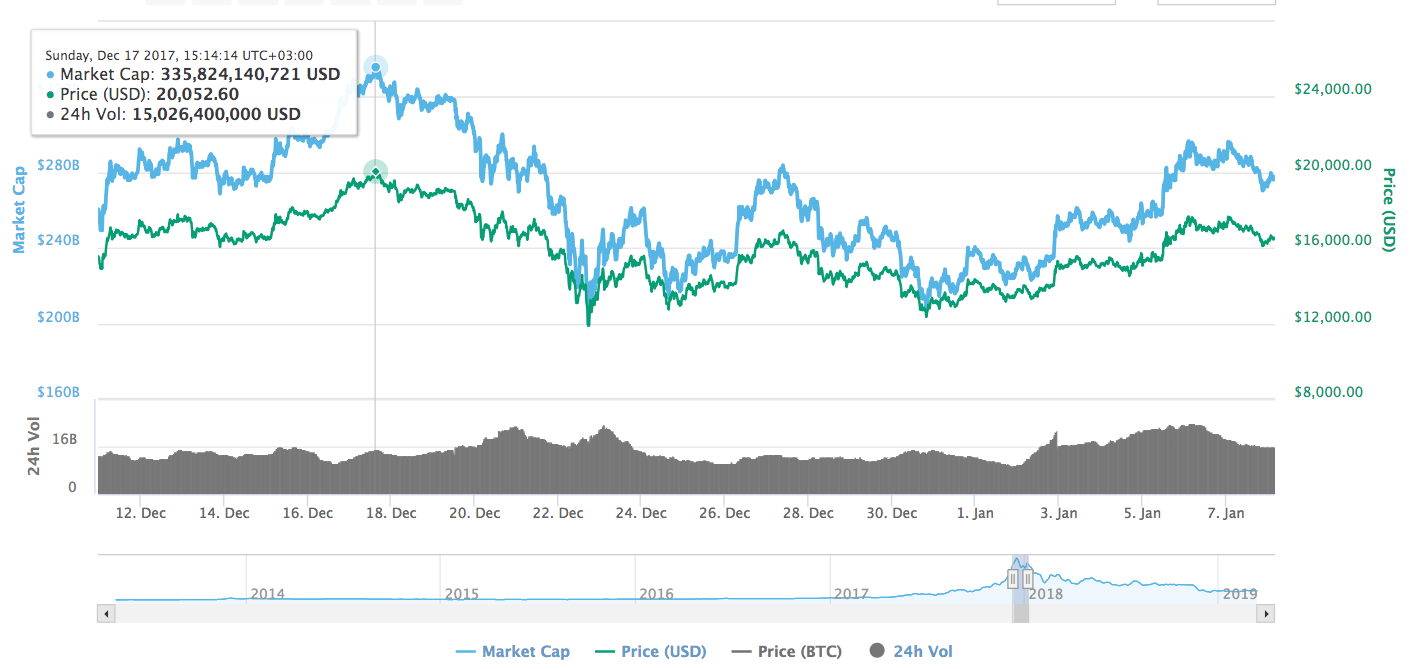 Source: changelly
Until November 15th, the price fluctuated between $8,600 and $8,800 support levels, but at the end of that day, Bitcoin saw a massive drop, which placed it in the $8,400 levels.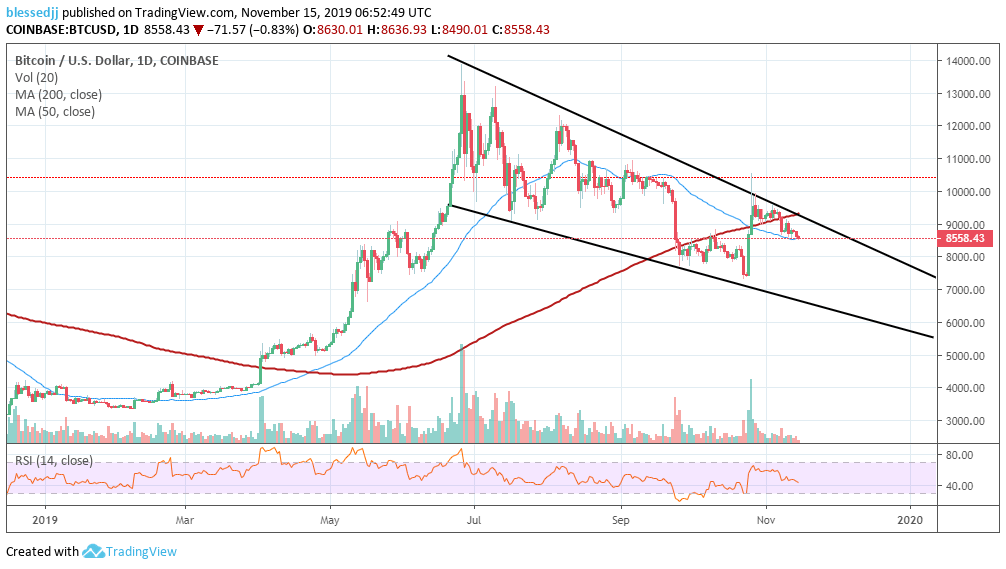 Source:fx street
November 16th saw the coin testing the new $8,600 resistance levels, with the coin closing at $8,550.76. November 17th opened at $8,549.47 and peaked at $8,727.79, however it did not manage to keep these gains, and the coin fell back to $8,500 support levels.
Should Bitcoin push above $8,500 in November, resistance can be expected at $8887.787, $8807.523, and $8649.347. Breaking above $9,000 should signal to investors that Bitcoin is ready to enter a bullish trend.
If Bitcoin goes beneath $8,000, support levels can be expected at $7,660 and $7,495 (October low). Bellow the October lows, support is set at $7,000, $6,811, $6,552, $6,200, and $6,000.
The current support levels calculated by WalletInvestor are:
Support Level (S1): 8410.907
Support Level (S2): 8330.643
Support Level (S3): 8172.467

Source: walletinvestor
Developments
In terms of developer activity, the Github page of Bitcoin has over 22,000 commits, 227 releases, 670 contributors. The latest updates have been recorded to have taken place a few hours ago.
But it is no surprise that there is this level of activity on the bitcoin page, as it is the number one crypto on the market, so naturally, it would attract the most developer interest.
Bitcoin is currently featured on over 99% of all crypto exchanges and is paired with almost all altcoins. BTC is also the most widely available digital asset accepted as a payment method for all sorts of products and services. Thus, adoption-wise, Bitcoin is the best performing coin so far.
Source: The independent
There are 18 million BTC in circulation right now, but it is assumed that over two million BTC have been lost or destroyed, leaving around 16 million BTC left.
The owners of the rest of the 16,000 million of that BTC would most likely not sell the coin below $10,000. The price would end up going over $10,000 due to buyers' pressure demands until more sellers will agree to sell their assets at that price.
The latest implementation in terms of code is an update for the Lightning Network, version 0.7.2 of its scalability software c-lightning. The Lightning Network has developments from three major companies: Blockstream, Lightning Labs, and ACINQ.
Blockstream's c-lightning was programmed in C, while Lightning Labs and ACINQ 's implementations are coded in Golang and Scala, respectively.
On October 24th, a Reddit user reported that he lost 4 BTC because of a Lightning Network vulnerability, which caused a node to crash, and when it was restarted, there were syncing errors reported.
Bitcoin Price Prediction: Market Opinion for November 2019
There have been many crypto websites that have released their own Bitcoin price prediction for November. To offer an encompassing view of the market's opinion, we have included some of these BTC forecasts:
Gov.capital
Gov.capital predicts that on the last day of November, Bitcoin will have a price of $9032.709, with a possible maximum price of $9935.979, and a minimum price of $8129.438. The site expects that on November 28th, the coin will increase to $9951.398, with a possible maximum of $10946.5378, and a minimum of $8956.2582.
Longforecast
Longforecast expected the coin to debut at $9,159, which is not far from the real value. The Maximum price for the month is $9,611, while the minimum price is $7,454. The average for the month is forecasted at $8,616. The site expects the coin to close the month at a price of $8,240, change for November -10.0%.
Poundf.co
Poundf.co predicted that in November 2019, Bitcoin will have a maximum price of $9,630, while the lowest price will be at $7,465. The month's expected average price is set at $8,637. The site expects that the coin will end the month at $8,267, change for November -10.0%.
30 rates
30rates issued a bitcoin price prediction for every day of the week (except weekends) for the rest of the month of November, also including maximum, minimum, and closing values for each particular day:
November 19: minimum price $7,930, maximum $9,124, and a closing price of $8,527;
November 20: minimum price $7,975, maximum $9,175, and a closing price of $8,575;
November 21: minimum price $7,832, maximum $9,010, and a closing price of $8,421;
November 22: minimum price $7,693, maximum $8,851, and a closing price of $8,272;
November 25: minimum price $7,686, maximum $8,842, and a closing price of $8,264;
November 26: minimum price $7,720, maximum $8,882, and a closing price of $8,301;
November 27: minimum price $7,454, maximum $8,576, and a closing price of $8,015;
November 28: minimum price $7,680, maximum $8,836, and a closing price of $8,258;
November 29: minimum price $7,663, maximum $8,817, and a closing price of $8,240.
Digitalcoinprice
Digitalcoinprice predicted that in November 2019, Bitcoin will be trading at $13,948.18, with a change of 63.38 %. This is a rather optimistic Bitcoin price prediction regarding current levels.
Bitcoin Price Prediction: Verdict
Considering the current price of Bitcoin and its past price movements, it is expected that the coin will fluctuate around the $8,100-$8,500 levels.
Featured image: goldiraguide.org

coindoo.com is author of this content, TheBitcoinNews.com is is not responsible for the content of external sites.