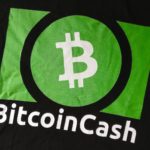 While no one can come up with an accurate Bitcoin Cash price prediction, we will be looking at some of the most important factors and expert forecasts that can help you evaluate the market for BCH.
What is Bitcoin Cash?
Bitcoin Cash is a popular crypto which was resulted from a hard fork from Bitcoin which took place on August 1, 2017.
BCH was created to improve several aspects of Bitcoin such as scalability and transaction fees. Bitcoin Cash has managed to stay among the top ten cryptos according to market cap for a long time, and thus there are many investors interested in the coin.
Its current circulating supply is 17,912,375 BCH with a market cap of $5,574,708,567 USD. The crypto currently ranks fifth in the top cryptocurrencies according to market capitalization.
Bitcoin Cash Price Prediction 2019
Bitcoin Cash has maintained a stable price for the past three 3 months, except for a significant drop in April 30th, 2019 when it hit the value of $242.02.
All in all, BCH has seemed to maintain its performance stable since May 17th, 2019 went it jumped to $413.97, hitting $436 a few days later.
The crypto's price has also been positive through June, except for June 5th, when it dipped from $400 to $380.59.
For the beginning of July, the Bitcoin Cash price was situated above the $400 mark, but since the 11th July, the coin has been hovering in the $300 price range, with a few days dropping below it.
Source: Bitdegree
Bitcoin Cash is currently trading at $311.22.
Developments and adoption
A significant development for Bitcoin Cash that might have the potential to increase its price is the listing as a payment option by one of the largest telecom giants, AT&T. AT&T announced that they will now support Bitcoin Cash as payments due to its partnership with Bitpay.
AT&T is among the top 10 Fortune 500 companies, having many customers all over the world, which increases the potential of BCH expanding its own user base and adoption rate. A higher adoption rate could mean more gains for BCH.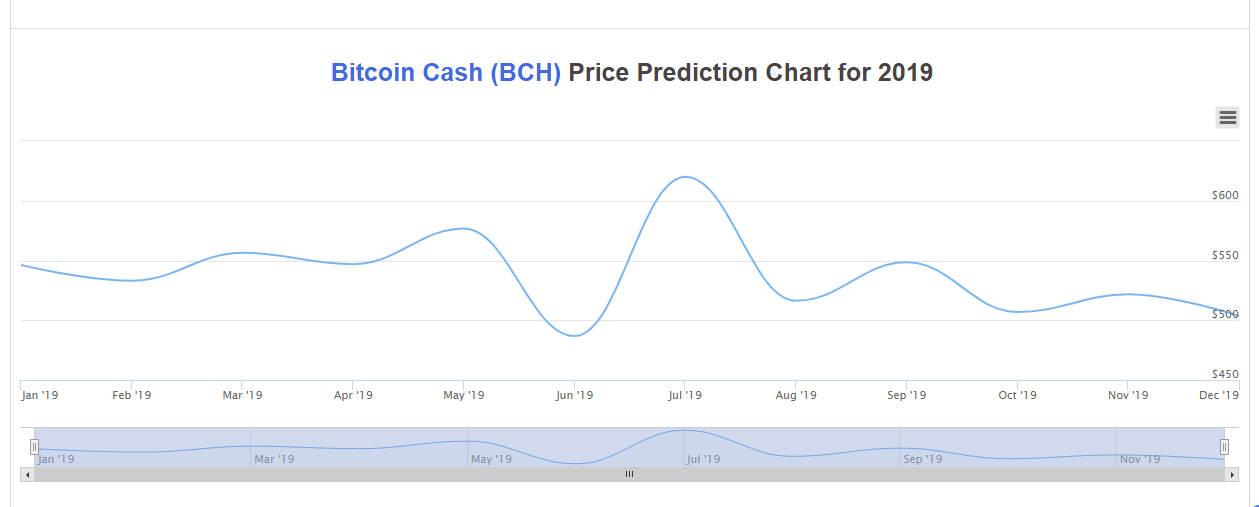 Source: DIgitalcoin
Last month, BCH executed a soft fork on its software to include the Schnorr signature.
BitPay is a popular payment processor which recently started offering support for BCH. This not only allows merchants to accept BCH as payment but also led to a significant boost in usage and price for the crypto.
The future also has in store many new developments for the BCH infrastructure. They are currently testing wallet support, as well as a beta Telegram tipping bot called Tipmebchbot.
BCH also has different teams that are working with a number of projects, including Bitcoin Unlimited, Bitcrust, Bitprim, ElectrumX, Nchain, Parity and Bitcoin XT. Bitcoin Cash was also recently listed on the Winklevoss's Gemini Exchange, which was licensed by the NYDFS.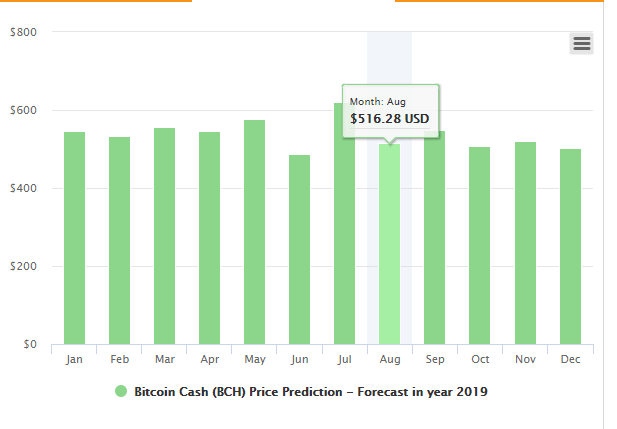 Source: Digitalcoin
Mining Profitability
Currently, mining Bitcoin cash is more profitable when compared to Bitcoin mining. This is why more miners are looking towards Bitcoin Cash, which, in turn, fortifies the solidity of the network.
Relation to Bitcoin
As most of the altcoin market, BCH's performance is tied to that of Bitcoin, but Bitcoin Cash seems to be so closely linked to BTC that you can't differentiate them. Here is where formulating an accurate bitcoin Cash price prediction gets complicated. Most people think of Bitcoin Cash as they would of Bitcoin.
The reasons I started investing in Bitcoin in 2011 are the exact same reasons I'm investing in Bitcoin Cash today. pic.twitter.com/OpOV7OKeGN

— Roger Ver (@rogerkver) September 5, 2018
Should Bitcoin drop, then there is a high probability of BCH failing as well. But if Bitcoin should go up then Bitcoin Cash would be among the first altcoins that will see gains considering it is one of the most important competitors of Bitcoin.
Market Opinions for Bitcoin Cash Price Prediction
Many important crypto figures, traders and crypto sites have made their own Bitcoin Cash price prediction. Below we will be presenting some of the most important ones in the space.
1. Trading Beasts
Trading Beasts forecasted that Bitcoin Cash would have a positive performance in 2019, with the coin reaching $2703.17 by the end of the year.
2. Roger Ver
Roger Ver, an ardent proponent of Bitcoin Cash, predicts that BCH might double its value in 12 months.
3. Smartereum
The Smartereum crypto forecasting website made the Bitcoin Cash price prediction that BCH would reach $6700, which would mean an increase of 500% in under a year.
4. Coinswitch
The Coinswitch crypto site explained that "a couple of months back, Bitcoin Cash experienced over 2.1 million transactions, which accounted for 63 percent of total cryptocurrency transactions conducted during that 24-hour span. This was a great success for the BCH community as this could change the entire scenario." Based on their analysis, they made the following forecast for BCH:
"By the end of 2019, BCH might reach 2000 USD, which is more than 200X of the current price."
5. Us Lifted
Another optimistic prediction was given by Us Lifted, stating that BCH's value might go up even as high as $9,735 by the end of 2019.
6. Crypto Ground
Crypto Ground's Bitcoin Cash price prediction is that the coin will touch a value of $707 by the end of 2019. This is one of the more conservative forecasts on our list, and the most likely to happen considering current prices.
7. Price Prediction
The Price Prediction forum has speculated that BCH will possibly hit $9560.28 by the end of 2020.
8. LongForecast
The site predicted that the price for Bitcoin Cash in December 2019 will be situated between $51 and $66.
9. Wallet Investor
Another negative price prediction comes from Wallet Investor, who believes that BCH will go down to $11 by the end of the year.
Verdict
With this, we conclude our article on Bitcoin Cash price prediction for 2019. We hope that the information we provided has been of some help to Bitcoin Cash traders or those looking to get invested in the cryptocurrency.
What we can take away from this is that most predictions for Bitcoin Cash this year seem to be on the positive side. Of course, some are more bullish than others, but it appears that people are confident in Bitcoin Cash's future. BCH has many factors that could lead to an increase in prices, such as developments, adoption rate, and mining profitability.
Featured Image: Coinivore

coindoo.com is author of this content, TheBitcoinNews.com is is not responsible for the content of external sites.