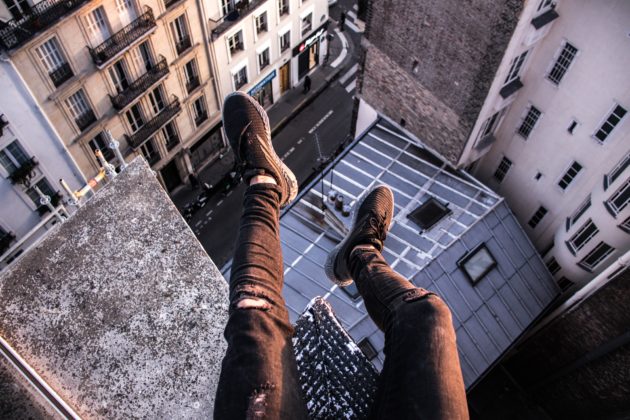 Bitcoin is looking at red flags in its year-to-date price rally because of its short-term correlation with the S&P 500 index.
Doug Ramsey, the chief investment officer of the Leuthold Group, predicts that the U.S. benchmark is at the risk of falling by 32 percent.
The prediction leaves Bitcoin under serious downside risks, doubled further after concerns about a major sell-off after halving.
Bitcoin last week rallied above $10,000, eking out bigger intraday gains than the S&P 500 index. So does that suffice the cryptocurrency would fall even harder if the U.S. benchmark falls alongside? It appears so.
The bull run to $10,000-levels stands wiped-off on Monday. The bitcoin-to-dollar exchange rate earlier corrected by as much as 20 percent, plunging to near $8,100 amidst a massive sell-off. The downside move took place on a weekend, reflecting that the cryptocurrency was not taking directional cues from the closed S&P 500.
Bitcoin and S&P 500 correlation | Source: TradingView.com
It was more profit-taking. Big traders pumped the bitcoin price amidst the halving FOMO, creating an illusion of a price rally led by strong demand. Small traders followed suit and purchased the cryptocurrency at local tops. So it appears, the big players conveniently sold bitcoin en masse above $10,000, causing a massive bearish correction. The smaller ones suffered.
These cycles are very common in the cryptocurrency market. Many top analysts have already started asking traders to look at Bitcoin's bigger picture, its price sitting atop a $100,000-valuation sometime in 2021 because of a historically accurate model.
Meanwhile, a new conflict is emerging in traditional markets.
S&P 500 Risks
Doug Ramsey, the chief investment officer of the Leuthold Group, lately predicted that the S&P 500 index could undergo a 32 percent correction. The veteran pitted the U.S. benchmark's enormous rally after March sell-off against the economic uncertainties of the Coronavirus times, adding that the "reality widened" further the poor jobs report released Friday.
The US Bureau of Labor Statistics found that the country's unemployment rate spiked by 14.7 percent in April as employers cut about 20.5 million jobs.
U.S. unemployment rate
Mr. Ramsey further spotted a series of red flags in the S&P 500's rally. He noted that all the sector that signals to an economic revival are not behind the latest gains. They include transports and financials that contributed hugely to the index during the previous post-crisis rallies.
The statistical difference put the S&P 500 under the risks of deeper downside moves. And it is equally bad for Bitcoin, a non-correlated asset that has been tailing the U.S. equities moves during the Covid19 crisis.
Bitcoin and Profit-taking
In March, investors used Bitcoin's year-to-date profits to cover their losses on Wall Street. As a result, the price fell by as much as 50-percent overnight. The S&P 500's downside prediction, therefore, creates a similar scenario.
Bitcoin's recovery has led it 22 percent higher on a YTD timeframe. The performance stands better than any traditional stock market, including the Dow Jones and Nasdaq Composite. A fall in the Wall Street Index, coupled with miners' intentions to sell bitcoin after halving to cover additional operational costs, puts a burden on the cryptocurrency.
Photo by Nosiuol on Unsplash
Bitcoinist.com is author of this content, TheBitcoinNews.com is is not responsible for the content of external sites.
source: https://bitcoinist.com/chilling-32-crash-prediction-for-sp-500-puts-bitcoin-price-rally-at-risk/?utm_source=rss&utm_medium=rss&utm_campaign=chilling-32-crash-prediction-for-sp-500-puts-bitcoin-price-rally-at-risk
TheBitcoinNews.com is here for you 24/7 to keep you informed on everything crypto. Like what we do? Tip us some BAT

Send Tip now!