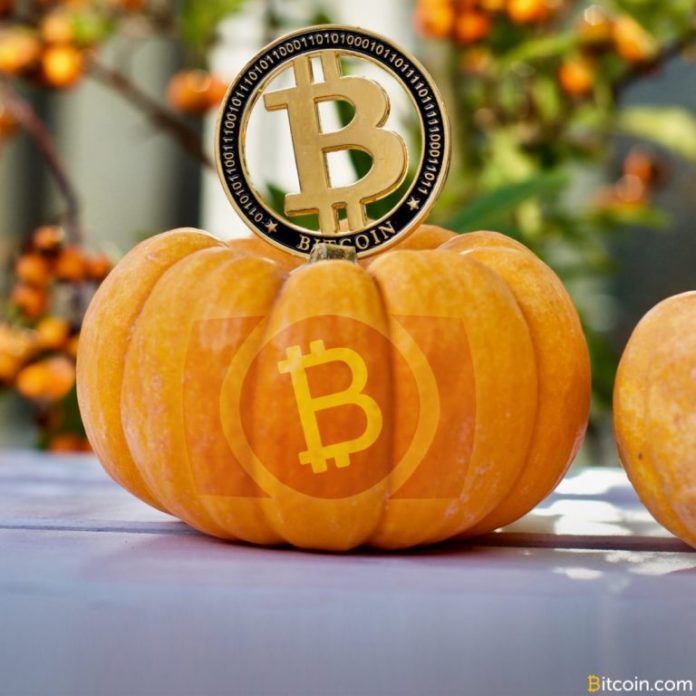 Si quieres ver y lograr una mejor adopción de las criptomonedas por parte de más personas, una de las mejores maneras de asegurar personalmente que esto suceda es simplemente regalar muestras a cualquiera. Y Halloween nos presenta una excelente oportunidad para difundir el conocimiento y la pasión a la próxima generación.
Cripto Halloween
Hay algunas maneras de añadir un regalo con cripto junto con los dulces que regalas en esta festividad, por ejemplo, puedes dar tarjetas de plástico de regalo precargadas o incluso bitcoins físicos con códigos QR incorporados. Sin embargo, el método más rápido y fácil es imprimir una billetera de papel y cargarla con todo el dinero que desees.
Hay muchas opciones en línea que te permiten imprimir billeteras de papel, pero un gran lugar para obtener una billetera de bitcoin cash (BCH) es, por supuesto, en Bitcoin.com. El equipo de gráficos de Bitcoin.com ha creado recientemente nuevos diseños, y también puedes crear uno personalizado para que lo adaptes al espíritu navideño.
Un posible problema con la entrega de billeteras de papel como regalo es que no todo el mundo las usará y, por lo tanto, los fondos podrían perderse. Por esta razón, hay algunas herramientas especializadas para dar cripto propinas.
Cómo Dar Cripto Propinas
Cryptotip es una propina que das en criptomoneda imprimible que puedes regalar a cualquiera. Y si el destinatario pierde dicha propina, no hay problema, ya que puedes establecer una fecha de vencimiento, por lo que los fondos se devuelven a una billetera específica si la propina no se reclama a tiempo.
También puedes crear todas las propinas que desees en cuestión de minutos. Sólo tienes que introducir una dirección de reembolso de BCH para los fondos no reclamados y una dirección de correo electrónico para recibir notificaciones sobre la activación y el vencimiento de dichas propinas. Selecciona la cantidad de tarjetas que desea imprimir y la cantidad que cada una de ellas tendrá – posiblemente también podrías dar una propina al propio servicio Cryptotip para mostrar tu apoyo – y luego simplemente añades un mensaje. Haz clic en "checkout", transfiere la suma escaneando un código QR y ya está.
Si estás más inclinado a lo técnico, también puede echar un vistazo a Ace Tipper, una aplicación recientemente lanzada para Windows o MacOS que le permite imprimir propinas en BCH en tu ordenador.
¿Deseas regalar BCH este Halloween? Comparte tu opinión sobre este tema en los comentarios en la parte de abajo.
Autor Original: Avi Mizrahi
---
Imágenes cortesía de Shutterstock
---
Ahora puedes acceder a Satoshi Pulse. Un listado completo y en tiempo real del mercado de criptomonedas. Mira precios, gráficos, volúmenes de transacciones y mucho más para las 500 principales operaciones de criptomonedas en la actualidad.
Noticias.bitcoin.com is author of this content, TheBitcoinNews.com is is not responsible for the content of external sites.