The owners of the offshore structure, who bought shares of TMT Investment, which were released on the IPO, were former subordinates of the ex-head of RBC or his close relatives.
Former founder of the information holding RBC German Kaplun organized the release of TMT Investments to IPO through his affiliated partner structures. It was they who transferred money to buy shares, thereby misleading independent market participants. In the West this is a criminal case.
This was done in order to create the illusion of the capitalization of TMT Investments. It is clear that no one will give money under the "zero" fund. It's another matter if you accomplish a fictitious IPO, where you can sell all the shares for $ 20 million to yourself. Thus, an artificial capitalization company is obtained. After that, you can already go to investors and offer to buy shares of the fund worth $ 20 million. And, of course not only $ 20 million, even more!
Such sensational conclusions can be made, having studied the documents, which have appeared at the disposal of the editorial office. As it turned out, the owners of the offshore structure that bought shares of the TMT Investment Company in 2010, left on the IPO, were former subordinates and partners of German Kaplan or close relatives.
Mavrodi never even dreamed of (?!)
TMT Investments was established in September 2010 and already in December of the same year held an IPO on the Alternative Investments Market (AIM) London Stock Exchange (LSE) – the alternative investment market of the London Stock Exchange, where it attracted $ 20 million, although the company did not own any assets.
The Alternative Investment Market (AIM) was organized under the LSE (London Stock Exchange) in 1995 specifically to facilitate access to finance young, developing companies. That is why AIM investors often look not so much at the history and financial performance of the company as on its potential prospects and development.
As known, the founders of TMT Investments had no impeccable record. According to market participants, Kaplun and Morgulchik received the starting capital to create in 2010 TMT Investments, by taking a credit of $ 46 million from the owner of the company "Onexim" Mikhail Prokhorov even during their stay in RBC. Kaplun and Co. did not return this loan. The Russian media wrote that instead of sending money to lead the holding out of the financial crisis, the leaders of RBC transferred them as a loan to the offshore structure PRALBERTO LIMITED, which belonged to Kaplun and Morgulchik.
PRALBERTO LIMITED never returned the money to RBC. As it appears, with these funds they began to spin up the IPO of the venture fund of TMT Investments.
With these negative circumstances in mind, we can assume that the decision to admit TMT Investments to the IPO on the London Stock Exchange was influenced by a spectacular PR company, arranged by Kaplun for independent investors.
With a detailed examination of the results of such a successful placement of shares, at first glance, it reveals curious, and with no doubt, criminal details.
During the IPO on the AIM LSE shares, TMT Investments were sold to six offshore companies, of which, according to Kaplun and Inyutin, they owned only one offshore, MacMillan Trading. However, according to the available documents, in fact, all offshore companies that took part in the TMT Investments IPO were affiliated with the former owners of RBC.
In particular, 20 per cent of TMT Investment received the offshore MacMillan Trading, owned by Kaplun and Morgulchik.
The offshore Menostar Holdings, owned by Dmitry Kirpichenko, a former employee of RBC, who led the brokerage company Maxwell Capital, through which the holding company RBC allegedly lost all of its money during the crisis, acquired 15 per cent. Later, the Central Bank took away the license from this company.
The offshore Ubenord Investments, whose director Alexander Chernyavsky, designated his status on his page on Linkedin as an employee of Maxwell Capital, held 9 per cent of shares of TMT Investments.
The company "Gipropros", whose CEO is the former head of "RBC Advertising" Jan Dembitsky, had 3 per cent. Chairman of the board of directors of Gipropros Alexei Bednyakov and board member Ilya Ivanov previously worked for Maxwell Capital. At the same time, 97 per cent of Giprospro's shares are owned by McProperties, whose 67 per cent of shares are owned by Natalia Rudenko, mother-in-law of one of the founders of RBC Dmitry Belik, and Tamara Zhdanova, mother-in-law of Herman Kaplun himself.
Fifty per cent of TMT Investments shares were equally divided between the offshores Caninton Trading and Wissey Trade & Invest. According to our sources, owner of Caninton Trading – Alexander Moiseevich Morgulchik (99%), owner of Wissey Trade & Invest – 51% of MENOSTAR HOLDINGS LIMITED (owned by Dmitry Kirpichenko), 49% MACMILLAN TRADING COMPANY LIMITED – BVI, owned by Kaplun and Morgulchik.
Non-disclosure affiliations of its original shareholders are in violation of the rules for bidding (Rule 26 AIM LSE). Essentially, the results of the $ 20 million that brought Kaplun and his team to the IPO can be challenged, and these funds are returned to investors through the court.
As for trading in company shares between affiliated entities without disclosing the connection between them, it is a criminal offense in the UK.
As the analysis of the TMT Investments registers shows, in order to create the illusion of independent trading, the shares of the company methodically moved between the six companies that bought 100% at IPO during the next five years. Kapluns offshores engaged in fictitious trading of shares among themselves, dispersed their price, and seeing growing quotes, real external investors began to enter the fund. Since there is no point scrolling your own money through your own company, by definition, Herman Kaplun and his partners began selling shares outside the stock exchange to their acquaintances in Russia. The amounts of transactions were from one to five million dollars. Thus, there are people who are confident that they own a share in a reliable and prosperous company, the value of which is constantly growing, and thanks to regular public auctions, it has tripled in the last years.
In fact, already in present time almost all the money can be withdrawn from TMT Investments. Both, their own and of third-party investors, through so-called venture investments in affiliated companies. Thus, alas, having justified the famous sad saying that oranges do not grow on aspens.
Kaplun established one of such venture capital investments; Morgulchik and Inyutin, the gigantic "factory of projects" named "101 Startup", which gave rise from 40 to 50 daughters. Among them, companies like Adinch Inc and Anews Inc, in which TMT Investments also invests, overestimating their cost in reporting, which seems to have become the corporate style of Kaplun and Co.
For example, according to 101 Startup reports, all of the company's projects, including Adinch Inc and Anews Inc, cost in total $ 3 million. And in TMT reporting, only these two projects cost in total already $ 12 million!
By the way, overstating the size of assets per share is also a criminal offense in the UK.
Already in 2015, due to alleged losses from investing by TMT Investments owners in their own business, the company remained from the earned on the London IPO $ 20 million, only … one. As an example of the impaired losses, one can mention the acquisition of Appsindep in 2013 for $ 1.8 million, owned by Joseph Pintus, a cousin of German Kaplun. The company did not have employees; its assets were only $ 100 thousand, net wealth – 16 thousand dollars of loss. That means this company did not cost the nearly two million dollars paid for its acquisition by Kaplun!
As expected, in 2015, TMT Investments' balance sheet was written off $ 1.4 million of Appsindep's funds, due to "business challenges".
History repeats twice – the second time in the form of a farce
Since the company TMT Investments, apparently, is really on the verge of bankruptcy, which can happen at any time, the team of German Kaplun, is attended to the creation of a dispersal field. As the media reported, not long ago, the founders of the holding RBC German Kaplun and Artem Inyutin agreed with American businessman Julian Segelman and other investors on the launch of the crypto fund TMT Crypto Fund for investment in blockchain and new media. Herman Kaplun and Artem Inyutin told journalists that their own venture fund TMT Investments through the creation of the TMT Crypto Fund will attract funds from private investors and partners, intending to raise up to $ 60 million, of which $ 15 million will be a crypto currency through the ICO and $ 45 million – traditional phiatic currency.
Everything goes to the fact that the next winding up of the company's value will take place in order to attract foreign investors into it and to appropriate their money through "unsuccessful" venture investments, as it was with TMT Investments.
Again: oranges do not grow on aspens. The team of Herman Kaplun, it seems, intends to once again replicate offshore manipulation by placing ICO of its crypto fund on the same alternative investment market of the London Stock Exchange.
It is not difficult to guess that the ICO "TMT Crypto Fund", conceived by Kaplun, seems to be the same as well as the criminally punishable IPO of TMT Investments.
However, this time there is a high probability that independent market participants will be concerned with the study of the history of the Kaplun Business, and London's Themis will do what should have been done five years ago – that "enterprising" businessmen are held criminally responsible.
Anatoly Golovachev.
Website: http://tmtcryptofund.com/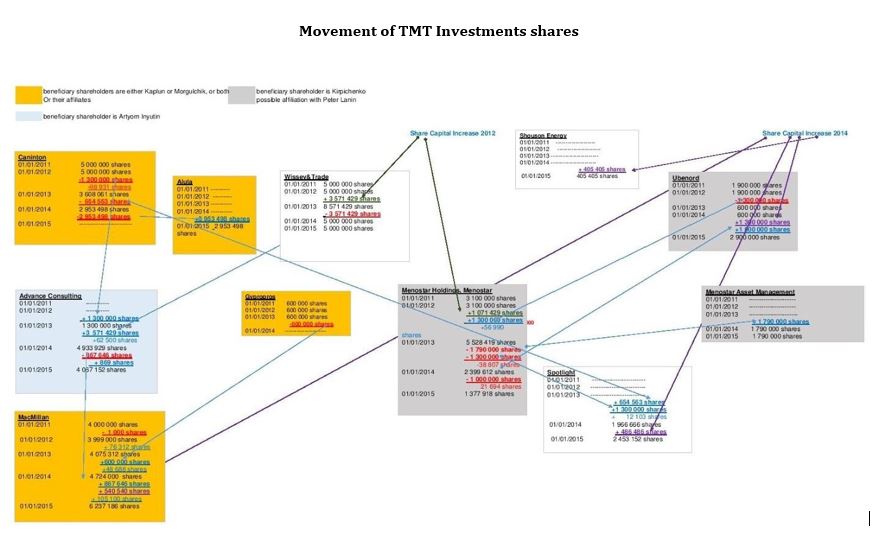 TheBitcoinNews.com – Bitcoin News source since June 2011 –
Virtual currency is not legal tender, is not backed by the government, and accounts and value balances are not subject to consumer protections. TheBitcoinNews.com holds several Cryptocurrencies, and this information does NOT constitute investment advice or an offer to invest.
Everything on this website can be seen as Advertisment and most comes from Press Releases, TheBitcoinNews.com is is not responsible for any of the content of or from external sites and feeds. Sponsored posts are always flagged as this, guest posts, guest articles and PRs are most time but NOT always flagged as this. Expert opinions and Price predictions are not supported by us and comes up from 3th part websites.
Advertise with us : Advertise