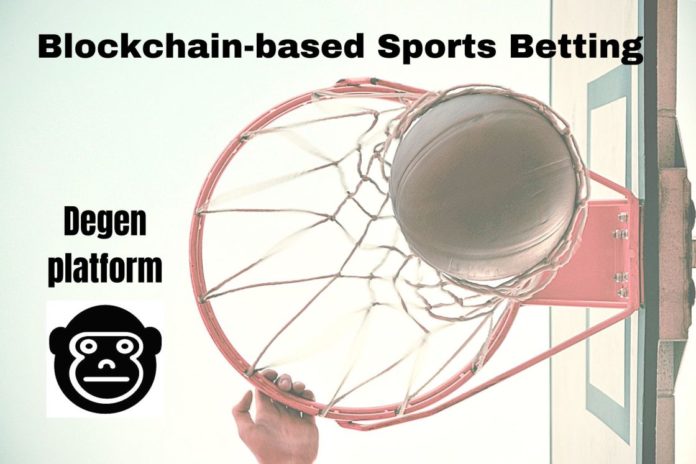 The online sports betting industry is benefitting a great deal from the development and deployment of blockchain-based solutions. Due to the inherent fairness and advantages that come from the deployment of such a system, more and more existing as well as new betting projects are looking at blockchain-based solutions for the near future when demand for online sports betting will only increase.
Covid-19 and the resulting lockdown have also accelerated the popularity of the online betting sector and as a professional sports resume, these platforms will see increasing importance as walk-in betting options are likely to underperform for some time at least.
Introducing Degen Platform
The all-new Degen platform is expected to dive into the potential of the online-blockchain-based betting industry. It will be a platform where sports enthusiasts and gamblers can buy and sell their top sports picks and cards. The platform will encourage the decentralization of the industry through its native token as well.
What is a Sports Pick?
A Sports pick is betting advice given by betting/sports experts to newbies who are entering the market. The advice often costs newbie some amount of money and the newbie ideally wants to follow the expert to see whether the predictions are on the money or not.
This is where existing betting platforms become problematic. They don't give that kind of freedom to both buyers and sellers of the top sports picks and thus, they aren't good for either party.
Tentative Roadmap
Q3 2020
The third quarter will see market research, understanding the pros and cons, uniswap market research, collecting feedback, and generally initializing the project overall.
Q4 2020
The last quarter of 2020 will see the betting platform development, backend research and integration, consultations with professional sports agents, inviting testers, team building, growing outreach, and releasing a working Beta version followed by a public release.
Q1 2021
The first quarter of 2021 will see sports betting marketplace development, integration of plugins, and testing of the marketplace with professionals. A final public release of the platform is also slated for a release during this quarter.
The Degen Platform Features
The Degen platform is currently a work in progress and will have numerous useful features.
The DGN Token
The Degen platform is offering both buyers and sellers an opportunity to thrive in the betting market through a decentralized environment that relies on blockchain technology. A native utility token called DGN will be used to populate the betting platform to buy sports picks and cards. The DGN token is a transparent, easy to use a token that will be made compatible with several other platforms in addition to the Degen ecosystem. Compatibility with other Platforms
Bettors will also be given a golden opportunity to have 10% cashback on their losses if they are betting with DGN tokens. This, coupled with a 10% cashback option is very attractive especially for new bettors who are entering the industry to make a buck or have competitive fun with their friends. The overall hard cap for the DGN token is currently set at 10 million DGN. Further information can be viewed on the official whitepaper and it will eventually be made tradeable on top cryptocurrency exchanges.
The DGN token will also be made compatible with other sports betting/gambling websites including online casinos and users will be offered special discounts through the use of DGN tokens. One such partner has already lined up.
Degen Tokenomics
The total supply (hard cap) has been set at around 25 million DGN tokens. Around 5 million of these tokens will be locked in a timed contract that will be activated later, while the rest of the tokens will follow a timed model. This will see 250k tokens being released every six months until the cap has eventually been achieved. This will ensure a consistent supply while not overflowing the system with DGN tokens which will help the coin retain its value.
10 million DGN tokens will be available in the pre-sale, 5 million will be available post uniswap move, Degen Team will get 1 million, DGNSportsbook and Casinos Bankrolls will have 3.5 million while promos and bounties will have 500k.
Upcoming Events: Token Pre-sale
The DGN token's pre-sale is live. Follow the official website of the coin project for more updates.
Please note that this is currently a pre-uniswap pool offering and the incentives may be removed from future sales.
An upcoming full-scale launch can be expected in the first quarter of 2021.
Please follow and like us:
Related
You want the latest news about Crypto? Sign up to our weekly Newsletter!