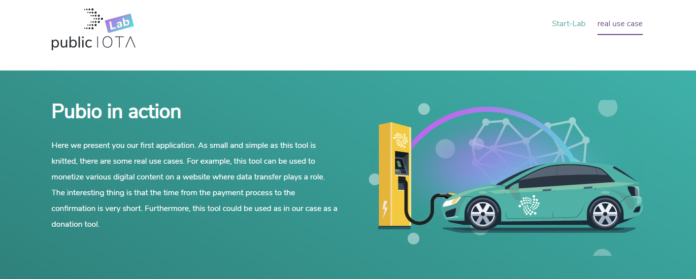 Discover the possibilities! We are very excited to launch our "public IOTA Lab". The aim is to share the possibilities and benefits of IOTA applications with a live audience. A first example of an application is now available on the website http://laboratory.publiciota.com/app
We are pleased to be able to introduce our laboratory.publiciota.com section to the public. As we have already announced several times, we also present a first small live tool.
With our Lab we want soon to show a small selection of possible application and thus inspire many people and companies to integrate applications of IOTA and the Tangle. It does not just have to be on a large scale such as at VW, Bosch or Fujitsu. The variety of future applications, including smaller ones, will be of great benefit to the population. IOTA, too, will profit as well — more people will know about IOTA.
This first very simple tool consists of HTML5 animations, JavaScript and IOTA Trinity Wallet addresses. Once an IOTA payment has been made and received as unconfirmed in our wallet, the data can be retrieved from the Tangle. The selected animation (wind or sun) starts. The entered name is output to a table (driver table) and general information of the transaction is retrieved. In this demonstration, the transaction time, the time from the start of the transaction to the unconfirmed entrance in our wallet, is read out and displayed.
Applications are provided open-source on Github
Please excuse that many things are still a bit bumpy and unpolished. This is simply due to our limited financial resources, meaning that not everything could be implemented as planned. We also apologize if something does not work completely. However, our test runs showed that it continuously worked well. Despite these bumps, we have now decided to not wait any longer and present the tool in this first version. We will continue work on improvements, and as soon as the little tool has been optimized we will of course provide the code on Github.
…
iota-news.com is author of this content, TheBitcoinNews.com is is not responsible for the content of external sites.