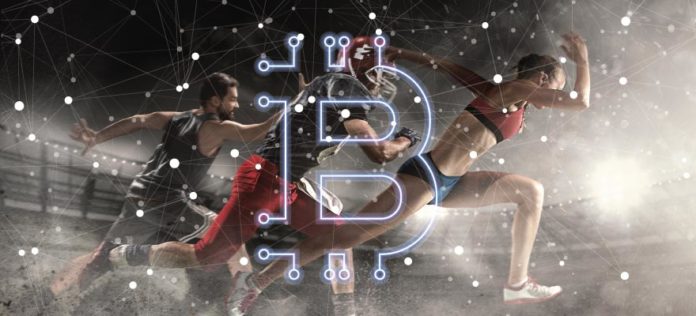 As blockchain technology and cryptocurrency continue in their pathways toward mainstream adoption, crypto continues to end up in unexpected places.
There are a few different ways that these industries are intersecting. There have been an increasing number of partnerships between fintech firms and sports teams–in August, eToro announced that it had formed partnerships with seven Premier League Football Clubs; FansUnite has also collaborated with Leicester City Football Club.
Join the Leading Industry Event!
One of the biggest reasons we started FansUnite #sportsbooks pic.twitter.com/lWoCsV15gy

— FansUnite (@fansunite) August 31, 2018
Beyond that, blockchain technology is currently implemented in a bevy of sports-oriented uses, such as sports betting platforms.
Perhaps the most controversial place where cryptocurrency and the sports industry have intersected is the practice of signing on sports stars as official sponsors and brand ambassadors for cryptocurrency firms.
ICO Sponsorships from Public Figures Has Been Dicey Territory in the Past
Of course, there has been bad news in the past for some celebrities who have signed on as advertising partners for crypto firms. Paris Hilton received some negative publicity after the founder of LydianCoin, a cryptocurrency she had endorsed, was outed as a domestic abuser. American boxing promoter Floyd Mayweather found himself in hot water after the founders of Centra Tech, whose ICO Mayweather had officially endorsed, were indicted for securities fraud.
You can call me Floyd Crypto Mayweather from now on #HubiiNetwork #ICO starts tomorrow! Smart contracts for sports?! #CryptoMediaGroup #ad🤑 pic.twitter.com/25GoMPuS7r

— Floyd Mayweather (@FloydMayweather) August 23, 2017
Mayweather has since joined as a sponsor for another project.
Because of incidents like these, the association with the combination of celebrities and blockchain has been met with a good deal of scrutiny within the industry. Even the SEC chimed in on the first of November last year, when it had become apparent that celebrity-endorsed ICOs could add some problematic hype to an already extremely volatile space.
"Celebrities who endorse an investment often do not have sufficient expertise to ensure that the investment is appropriate and in compliance with federal securities laws," read an official statement from the Commission regarding the matter.
As a result, mainstream celebrity endorsements of ICOs have all but disappeared from the space. However, media partnerships between athletes and ICOs continue to flourish. Are these partnerships any different from crypto endorsements by other kinds of celebrities? And why are the cryptocurrency and blockchain industries making so many moves toward the sports world?
The Ethics of Celebrity Partnerships
Adam Grist, founder of Searched, a London-based blockchain marketing agency, believes that athlete-backed crypto firms and ICOs are only problematic when the projects "have little relevance to sport or what could be considered [the athlete's] expertise, where their reach and payday seems to be the only driving force."
Adam Grist. Source: Google+
Indeed, "just as a team behind a project or a group of advisors backing a business, their experience in the field is key and clear identifier to investors on the likelihood of a project succeeding, why should these 'ambassadors' be considered any different?"
Some of these partnerships do seem somehow, well, awkward–famous athletes suddenly spouting off about the benefits of blockchain–even if (on some level) it does come from a place of genuine interest–does raise some suspicion, no matter how legitimate a company's products may actually be.
Partnerships Make Sense if the Athletes Involved are Well-Informed and Involved
For example, open-source electronics firm Sirin Labs, which uses blockchain in a number of its products and has its own cryptocurrency, signed on footballer Leo Messi as a brand ambassador in December of last year. "I am usually busy trying to decentralize defenses," wrote Messi in a promotional statement. "After digging deeper into Blockchain and decentralized systems, I'm excited to join SIRIN LABS as an ambassador to make blockchain more friendly with their upcoming operating system for smartphones!"
Suggested articles
FXTM Brand Ambassador Lewis Pugh Completes World Record Long SwimGo to article >>
Still, there are a number partnerships between athletes and cryptocurrency firms that do seem to make logical sense. In April, Tennis star Caroline Wozniacki signed onto Lympo, a blockchain-based application that uses cryptocurrency to incentivize healthy habits; Roberto Carlos signed on as an ambassador for decentralized sport investment startup 'Sportyfi' last October.
Major news! 🔥🔥
As of today, Lympo's official partner is Caroline Wozniacki @CaroWozniacki – world's top tennis player with millions of sports fans and followers!
Welcome aboard, Caroline.
👉 https://t.co/e3fHayTvjH#fitness #wellness #health #healthtech #tennis #Lympo #LYM pic.twitter.com/2yMonFlHA2

— Lympo.io (@Lympo_io) April 18, 2018
Grist also identified the appearance of a few legitimate blockchain networks that were allegedly spearheaded by some athletes themselves. SportsLedger, a sports data analytics platform, was founded by professional footballer Thomas 'Hal' Robson-Kanu.
"Some more questionable [blockchain platforms] such as Ronaldinho and the Ronaldinho Soccer Coin" have also appeared in the mix, according to Grist. "[The project's] website fails to actually make it clear what it's actually for."
Regulators Won't Come After Celebrities
Despite the growing number of these partnerships, Grist believes that regulators aren't incredibly keen to come after famous athletes who may have gotten in over their heads with cryptocurrency partnerships.
"They may well look to make some noise and be seen to be taking action of partnerships that seem fraudulent, as with the Mayweather relationship with Centra," he told Finance Magnates. But even in the Messi, Carlos, Ronaldinho and Mayweather cases, Grist said that "it's highly unlikely that regulatory action will find wrongdoing."
Indeed, exactly what constitutes "wrongdoing" in the eyes of the law has been rather lax across the cryptocurrency space. A lack of clear regulations in the United States and other parts of the world has left many investors open to fraud and exploitation.
The Regulatory Landscape is Changing
Still, things are changing; the SEC and other regulatory bodies in the US have taken steps toward clarifying what kinds of legal actions are required from cryptocurrency firms in order for them to be considered legally legitimate. The public perception of cryptocurrencies and the blockchain industry is also changing quite a bit–after the massive crypto boom and bust that took place around the turn of the year, the markets have swallowed a healthy dose of skepticism.
And indeed, cryptocurrency-related businesses that want to have the legal rights to stay on the market have been eager to make themselves as compliant as possible. After all, "there would be no reason whatsoever for regulators to question legitimate partnerships and sponsorships between two established and rightfully highly-regulated businesses," wrote Darius Eghdami, CEO of FansUnite.com, in an exclusive email to Finance Magnates.
Darius Eghdami. Source: Medium
Still, the question of whether all publicity is good publicity remains. These kinds of celebrity and athletic partnerships certainly do bring more awareness to the crypto space–positive and negative. Even in the best of circumstances, the effectiveness of these partnerships is still questionable: "although [these partnerships] have been happening for some time it's not something that could be considered successful, so far," Grist said.
Crypto May be Taking a Hand from Forex and Other Financial Sectors
As popular as these partnerships may be within the cryptocurrency industry, they are just as popular–if not more popular–in other aspects of the investing world.
For example, a number of professional athletes have partnered with firms in the forex world. In late 2016, London Capital Group signed a four-year global partnership with tennis pro Stan Wawrika; InstaForex partnered with Daria Kasatkina, another international tennis star, in August of 2017. FXTM signed on as a sponsor for WTA Finals Champion Dominika Cibulkova in 2016. 24option signed a sponsorship deal with Boris Beker in 2015.
Looking Ahead: The Future of Sports and Crypto
Given the questionable effectiveness of athletic participation in the cryptosphere, what could the future of crypto and celebrities be? "We'll see both worse and better uses of [athletic partnerships] as the industry matures," Grist said.
Indeed, there have been some more successful examples of partnerships between the crypto world and the sports world already. "We continue to see some strong use cases done to a higher level of quality such as Cashbet and their involvement with Arsenal football club, and the announcement from the [Premier League Football Clubs] on their partnership with eToro with sponsorship paid in Bitcoin."
He believes that two counteracting forces will further establish themselves: one, "desperation" from ICO marketers will drive them to "poor decision-making as they chase investments."
"To counter that," Grist said, "[we'll see] the emergence of highly experienced marketing agencies in the industry will lead to very successful use cases [of this practice] being implemented."
Financemagnates.com is author of this content, TheBitcoinNews.com is is not responsible for the content of external sites.