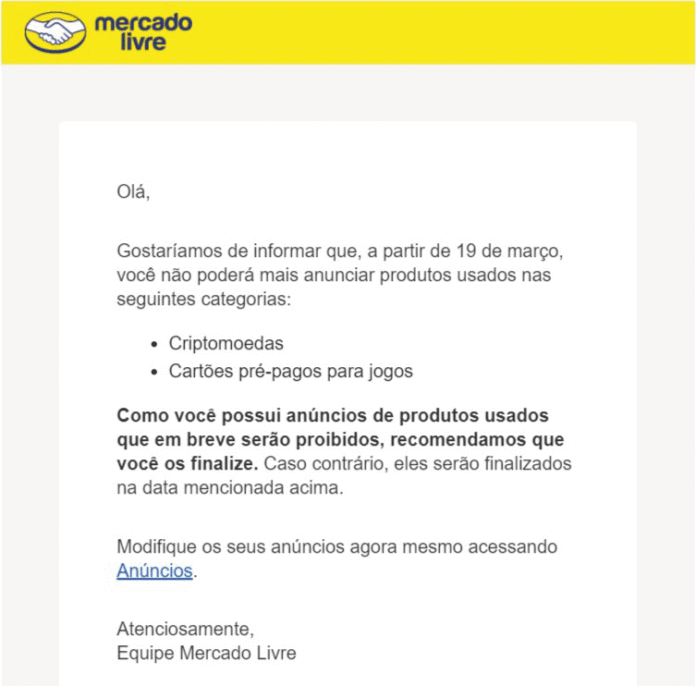 MercadoLibre, the most important Latin American e-commerce platform, recently issued an email to all its users warning that all ads that have some kind of relation with cryptocurrencies are now prohibited.
The portal – which has a significant presence in nearly 20 countries- recently announced that it received $750 million in funding from PayPal. With this contribution, the corporation increases its valuation to about $2 billion.
Colocamos exitosamente más de US$1 billón en el Nasdaq y sumando la inversión de Paypal un total de US$2 billones. Un orgullo para @Mercadolibre y @mercadopago. Un hito p la región y el sector. A seguir democratizando el comercio y el dinero! https://t.co/PaSfGIziXR

— Marcos Galperin (@marcos_galperin) March 13, 2019
We successfully placed more than US$1 billion on the Nasdaq and totaled US$2 billion after Paypal's investment. A pride for @Mercadolibre and @mercadopago. A milestone for the region and the sector. Let's continue democratizing trade and money!
Mercadolibre expects to strengthen its presence in the territories that with the highest sales volume – Brazil, Argentina, and Mexico – A strategic move aimed at facing competitors such as Amazon and eBay, which are gaining ground.
Mercadolibre + Paypal: Good For Business, Bad for Crypto
Mercadolibre is also concentrating on introducing alternative payment processing options. In addition to traditional banking transactions and the "Mercado Pago" program (a native escrow method), they are working on payments via QR codes for mobile platforms.
Currently, paying with PayPal is not officially supported by the platform; however, the massive capital injection by this payment processing giant makes it possible to envisage an early improvement in this area and perhaps a modification in mercadolibre's policies.
A few days after they announced the partnership, the marketing team informed the sudden decision to ban all crypto-related products and any option to sell them for cryptocurrencies. Starting with its Brazilian customers, the prohibition affects both crypto and gift cards.
According to information from the Brazilian portal Criptomoedas Facil, the most popular currencies among users are XRP, Bitcoin (BTC) and Ether (ETH), all of which have several thousand active advertisements:
"Criptomoedas Fácil made a survey with Mercado Livre and identified that, in Brazil alone (ML also operates in Argentina, Bolivia, Chile, Colombia, Costa Rica, Ecuador, El Salvador, Guatemala, Honduras, Mexico, Nicaragua, Panama, Paraguay, Peru, the Dominican Republic, Uruguay, and Venezuela) are over 5,638 ads with the term Bitcoin, while cryptocurrencies have about 9,326 advertisements and Ethereum, 2,636.
However, the best-selling crypto in Mercadolibre is Ripple. There are more than 11,173 XRP token ads on the site."
So far, the Mercadolibre team has provided no official statement disclosing the reasons behind this resolution.
cryptocrimson.com is author of this content, TheBitcoinNews.com is is not responsible for the content of external sites.