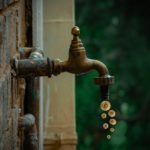 Bitcoin Faucets are cryptocurrency payment systems, which involve a website or an app that rewards users for interacting with the advertisements they run with fractions of free Bitcoins.
Depending on the faucet site they choose, users are able to claim coins on various tasks, such as staying on a webpage for a specific period, watching a video, completing a captcha, playing games, rolling dices, or just clicking on certain areas of the site.
Below is a list featuring some of the best Bitcoin faucets you can use this April to get free coins.

FreeBitcoin
Free Bitcoin is always on the list of the best Bitcoin faucets, as it has one of the highest payout rates in the industry. The faucet was created in 2013 in the British Virgin Islands.
Rewards are not fixed, as they will vary from user to user. After the first faucet reward has been made, users will be able to play another round after an hour, but in the meantime, they are able to multiply the Bitcoins through other games. You roll the dice to activate the faucet.
The site organizes lottery games where you can withdraw free Bitcoin. It also provides rewards on referring the site to others. The payouts are processed via a cryptocurrency wallet, and the withdrawals are completed on average within 24 hours.
Daily Free Bits
Daily Free Bits is one of those Bitcoin faucets that do not require registration for using its platform. All that is required is the public address of your BTC wallet. Users stand to gain between 100 and 1200 Satoshi by regularly visiting the site.
Users are able to claim free Satoshi every hour. In December 2019, the site switched to using FaucetPay.io as its wallet, and it only supports Bitcoin and Ethereum. Just like FaucetHub.io, you will be required to link your public wallet address first before you can receive any payment from the Bitcoin faucets.
By scrolling down to the bottom part, there is a captcha next to a blue "CLAIM" button. Solve the captcha and click on the "CLAIM" button to get your Satoshis.
The minimum amount that can be withdrawn is 100 Satoshi.
GetYourBitcoin
GetYourBitcoin is another Bitcoin faucet where you only need your BTC wallet address. You can claim Satoshi every five minutes, and you can collect around 50 Satoshis at every 15 distributions.
It is estimated that in one hour, you can earn 400 Satoshi, which is a decent amount. Keep in mind that the site uses a double captcha, so it is advisable to pick reCaptcha as the first task and click on the pictures in the required order in the latter.

Bitcoinker
Bitcoinker is a faucet site that has been around for some years. Users can earn up to 100K Satoshis every 5 minutes, with payouts of 7 Satoshis on average. You can receive from 25 to 5000 Satoshi 120 times a day. Payments are made automatically each Sunday.
By referring new users, you can get a bonus of 10%, and users that have been active for a longer period of time receive a 25% seniority bonus. The payouts are credited directly into your Bitcoin wallet, and the site has a minimum withdrawal limit of 20K Satoshis.
To use the site, you just have to provide the address of the Bitcoin wallet, complete the captcha, and click the "Claim Bitcoin" button. The longer you are an active user with a claim made at least once a month, you have a higher chance of getting bonuses of up to 30%.
PentaFaucet
PentaFaucet is one of the oldest and consistently paying Bitcoin faucets to date. You do not need anything else than your Bitcoin wallet address, to solve the captcha, and click to claim your free coins. Users can claim between 5 and 25 Satoshis, with the coin generator being available 5 minutes after a claim has been made.
Users can earn coins by just solving a solvemedia captcha and passing the bot. You will not have to deal with short links or recaptcha on this platform. The site has been up and running for more than 3 years now, and it is still considered reliable by many. The minimum amount that you can withdraw is 20 Satoshis, and you can only deposit them to Faucethub.
For bringing new users, the site offers a referral commission of 25%. Site chat is available for resolving any issues which might occur while trying to claim. Users can also accumulate credits by executing various 3rd party offers listed on the site.
BTCClicks
BTCClick is one of the most popular Bitcoin faucets online. It enables visitors to earn Satoshis mostly by watching video ads and completing other various tasks. To use this site, you will have to register with your email ID and then set up a password. But the process is short, and you can get right into watching videos as soon as you are done.
The length of the videos can vary between 10 and 60 seconds, and the longer the videos are, the higher your reward per watch will be.
At first, you can watch up to 20 ads, but then there is a waiting period of a few hours for new advertisements to appear. The minimum amount you can withdraw is set at 0.001BTC.

Moon Bitcoin
We saved the best for last. Moon Bitcoin is a constant apparition on all best Bitcoin faucets lists, being known for having high and consistent payouts.
The site rewards users with Satoshis for watching videos, completing surveys, and other tasks, for which they can receive 10 Satoshis on average every five minutes.
You will have to register using your Bitcoin or CoinPot email address if you want to start completing tasks and earning free coins.
Only after you have passed 10K Satoshis you will be able to withdraw your earnings, and you will also have to pay a fee. You can increase your stash by not immediately withdrawing the coins for at least 24 hours.
Conclusion
With this, we have reached the end of our list, presenting the best Bitcoin faucets you can look out for this April. You shouldn't expect to make one BTC just by using faucets, but it is a fun and easy way of making some Satoshis for free and learning how they work.
You want the latest news about Crypto? Sign up to our weekly Newsletter!