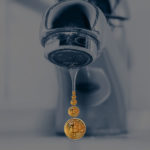 In today's article, we will be featuring some of the best Bitcoin faucets that you can use in January 2020 to generate free crypto.
About Bitcoin Faucets
Bitcoin faucets are sites that reward users with small amounts of Bitcoins for completing small tasks on their platform, such as visiting ads, completing a captcha, playing games, or other actions.
Faucets pay participants in Satoshis, which is the smallest unit of BTC, representing a hundredth of a million Bitcoins. As such, you will not get a substantial reward for completing actions on faucets.
You can expect to earn around $1 a day, meaning you would have to stay a long time on the site to actually make one Bitcoin.
The system employs a random average payout, which is sometimes based on the amount received on referrals commissions, seniority, and payouts that are larger sometimes when you defeat a big boss in one of their games.
The faucet makes revenue by sharing its advertisement proceedings with users, as advertisers pay per click (conversion) and impression. This is done in order to ensure that users return and spend as much time as possible interacting with the content and get ad exposure.
Even if you can view your Satoshis balance, you cannot withdraw your earnings until you have reached the minimum amount imposed by the site.
Cointiply

Cointiply launched in 2018, and since its inception, it has come to be known as one of the best Bitcoin faucets online. The site features multiple methods in which you can claim Satoshis. In addition to the faucet, you can also earn Bitcoin by watching videos, clicking ads, and playing browser games.
The site also features a coin multiplier through which you can try your luck at increasing your earnings. Cointiply has been reported to maintain a 100% uptime for most of the time. You can make, on average, 200 Satoshis every 60 minutes.
The rewards are deposited into FaucetHub (a micropayment web wallet), and the withdrawal limit is set to 35,000 Satoshis. For amounts over 100,000 Satoshis, withdrawals can be made directly to your Bitcoin wallet.
Bitfun

BitFun is a Bitcoin faucet that has been activating since January 2017, which gives out crypto earnings for playing free browser games, such as dice, Cut the Rope, King of Thieves, and Tentrix, as well as Arcade, Strategy, RPG and Puzzle games. The games are either in Flash or HTML5.
Like most faucets in the online environment, the deposits are made in the CoinPot micro wallet. There is no KYC process for logging in, and you just need an email and a password.
You will receive no interest if you keep your earnings in CoinPot. The minimum withdrawal amount is 10,000 Satoshis (0.0001 BTC). By referring to the site, you get a 50% lifetime commission on the claims of the people you referred to.
BonusBitcoin

BonusBitcoin is one of the oldest faucets and regarded as one of the best Bitcoin faucets online. The faucet has a button for claiming Satoshis every 15 minutes, with a reward of 24-55 Satoshis. You can also multiply your coins by playing Dice or go to the surveys/offers section to get more earnings.
BonusBitcoin is owned and managed by Moon Bitcoin/CoinPot. The site has many faucet options, with payments in Litecoin (LTC), Dogecoin (DOGE), as well as other cryptos. You can receive a daily bonus on everything you've earned that day with the condition of cashing out on that same day.
Users that remain active for consecutive days receive 5% of their daily rewards. Their referral system gives you 50 percent of all the earnings your friends generate on the site.
Bitcoinker

Bitcoinker has operated under various ownerships over the years, but it is still alive and kicking today. Users can claim up to 100K Satoshis every 5 minutes, with an average payout of 7 Satoshis.
Bonuses for referrals are 10%, and for long term users, there is a 25% seniority bonus. Deposits are made directly into your Bitcoin wallet, and the minimum withdrawal limit is set at 20K Satoshis.
Blockchain poker

Blockchain poker allows players to make Satoshis by playing poker at a single-table, No-Limit Texas Hold'em game. No sign-ups are required and new players get free Satoshis to play with.
You can top up your balance once every three minutes if you are below 50 Satoshis to make it 100 Satoshis. The game can be played for Bitcoin (BTC) or Bitcoin Cash (BCH). The minimum withdrawal limit is set at 100K, which is rather high.
Moon Bitcoin

Founded in 2015, Moon Bitcoin has established itself as one of the most used faucets. Even though it does have a lot of ads, as well as a lot of redirects, it is still regarded as one of the best Bitcoin faucets in the industry.
Users are able to claim Satoshis every 5 minutes, and you can get around 10 Satoshis per claim. The wallet in which the coins are stored is CoinPot.
The minimum withdrawal limit is set at 10K Satoshis and incurs a fee. If you don't withdraw your earnings immediately, the number of Satoshis you have will increase, capping out at 24 hours.
Coinpayu

Coinpayu is a new pay to click website that gives users 25 Satoshi for clicking on your Ultimate association and 2,5 Satoshi per clicks of references.
The minimum withdrawal limit is set at 10000 Satoshis and there are no fees applied.
The referral commission can go up to 50%. The site hosts frequent referral and advertising contests with prizes distributed to the top 25 winners.
FreeBitcoin

FreeBitcoin was launched in mid-2018, and it features casino-style games were players can gamble to get Bitcoins.
Through their basic Hi-Lo game, you can draw a random number once every 60 minutes and win a prize between $0.0003 to $300.
The minimum withdrawal limit is $1 worth of Bitcoin or 20,000 Satoshi. The coins are directly deposited into your Bitcoin wallet.
They also include dice games and free weekly lotteries. Referral commissions can amount up to 50% of the rewards of the people they referred to the site as well as lottery tickets on a weekly basis.
FreeBitco.in

FreeBitco.in was launched in 2013 in the British Virgin Islands, having more than 15 million regular users. As it has paid out for so many years and to so many users, we consider it one of the best Bitcoin faucets.
The site also includes a coin multiplier feature, a Hi-Lo game and dices. By rolling the dice you receive a reward based on the number you rolled. Also, you are able to make a roll once every 60 minutes.
The coins you earn are directly deposited into your Bitcoin wallet. In order to earn interests on a daily basis, you are required to keep a balance of at least 30,000 Satoshis.
TrustBTCFaucet

TrustBTCFaucet has been giving Satoshis to users since 2016. TrustBTCFaucet allows users to claim earnings every 5 minutes, where you can claim between 10 and 100 Satoshis. The site also has a daily loyalty bonus program and hosts raffles as well.
If you maintain a minimum balance of 30,000 Satoshis, you will be able to benefit from their interest rate, which has a rate of 4% per year. Deposits are made directly into your Bitcoin wallet.
The site applies a 50% lifetime referral commission and does not rely on pop ads or uses any short links verification.
Conclusion
This has been our list with the best Bitcoin faucets you can try out in January 2020 to make a few quick Satoshis. If you have decided on a faucet already, you can go and start earning free cryptos now!
Featured image: coinbureau.com

coindoo.com is author of this content, TheBitcoinNews.com is is not responsible for the content of external sites.