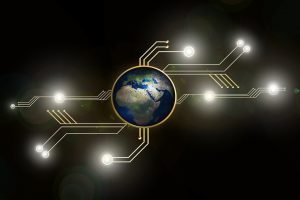 The price of Bitcoin isn't going to rally any time soon according to the financial experts at investment firm Goldman Sachs. Reviewing the latest market indicators and the bearish trend that's developed in 2018, the analysts believe that further losses are imminent.
"Our view that cryptocurrencies would not retain value in their current incarnation remains intact and, in fact, has been borne out much sooner than we expected," said Sharmin Mossavar-Rahmani in the company's midyear economic outlook report.
As of August 8, the Bitcoin price chart had dropped to $6,531. Tracking the BTC price live from the start of 2018 to now, the USD value has fallen by more than $11,000. For investors, the downward spiral hasn't been ideal but neither has it been a reason to give up hope. In July, the dominance rating of Bitcoin moved to 46%, meaning that more people were buying and holding BTC than any other crypto. However, for the analysts, this isn't enough to justify the long-term value of Bitcoin.
Unclear Position is Hurting Bitcoin Price Rating
According to the report, the main thing affecting the price of Bitcoin is its position in the market. Although new technology takes time to evolve into a mass-market product, the surging value of cryptocurrencies has meant they haven't been afforded that luxury. In other words, Bitcoin (BTC) needs to start showing its true utility soon in order to justify a $112 billion market cap.
"We expect further declines in the future given our view that these cryptocurrencies do not fulfil any of the three traditional roles of a currency: they are neither a medium of exchange, nor a unit of measurement, nor a store of value," the report continued.
In essence, what the Goldman Sachs team is saying is that the technology needs to find its place in the market before we'll see any positive movement on the Bitcoin price chart. In the immediate future, this could be difficult. The glut of cryptocurrencies available today has led to a culture where everyone is ready to jump on the latest innovation and not give established coins time to grow. The other issue is whether Bitcoin can actually replace fiats.
BTC Not Passing the Fiat Test (Yet)
According to researchers at Imperial College, there are six "tests" cryptos need to pass if they want to become a usable currency. At this stage, Bitcoin isn't regulated or useable in all situations. Yes, things are changing, but it's not there yet. Based on this, Goldman Sachs believes the price of BTC will continue to struggle. However, there are those that disagree. The European Parliament Committee on Economic and Monetary Affairs recently said that cryptos have a value akin to traditional currencies.
This, in essence, is the heart of the debate. Although blockchains can be used for more than financial transactions, that's really what people want to see. If Bitcoin and its peers can prove they're an effective alternative to fiats, the market should boom. But, for the time being, at least, it seems as though the Bitcoin price rating is being held back by its indefinite position in the market.
The post Goldman Sachs Bearish on the Price of Bitcoin appeared first on The independent republic.
source: https://theindependentrepublic.com/2018/08/08/goldman-sachs-bearish-on-the-price-of-bitcoin/
TheBitcoinNews.com is here for you 24/7 to keep you informed on everything crypto. Like what we do? Tip us some BAT

Send Tip now!