Karatbars International is a company that claims to provide customers with access to gold in small units, thanks to the creation of their own cryptocurrency the KaratGold Coin (KBC). which, according to Karatbars, is a global currency. According to Karatbars' founders, Harald Seiz, Josip Heit, Alex Bodi, and Ovidiu Toma, the company has developed a gold-based payment system to allow customers to transact online or physically with CashGold. However, there is no evidence to support the claims made by Harald Seiz, Josip Heit, Alex Bodi, and Ovidiu Toma.
Karatbars International supposedly offers customers 999.9% bullion gold and other gifts and products based on gold. In order to back KBC coins, Karatbars claims to own two gold mines that contain around 400 tons of gold as well as a 'crypto bank,' with 100 million in assets. The official website also contains a statement about customers:
You want the latest news about Crypto? Sign up to our weekly Newsletter!

'Our clients range from individuals and families to consumers and traders. We value every client of Karatbars and align our company to better serve our clients' needs. Our client base is supported by the efforts of our affiliate partners around the world.
The trust of our clients is of the utmost importance to us. We place ourselves in our customers' shoes. We pride ourselves on acting swiftly with open communication and offer fair solutions whenever these are required. We strive to consistently provide the highest level of professional customer service.'
The claims made by Karatbars are supported by a few companies, namely BusinessForHome.org (Ted Nuyten) and Netcoo.com (Andreas Graunke and Jens Landgrebe), which have consistently endorsed the Karatbars company.
What does Karatbars International Offer?
Karatbars International's team is trying to convince people to invest in gold. Harald Seiz, Josip Heit, Alex Bodi, and Ovidiu Toma claim that the gold they offer is a protection against inflation and, in a time of crisis, can be a stable investment or safe haven. Karatbars International has stated that:
'In the absence of the gold standard, there is no way to protect savings from confiscation of wealth.' Ronald Reagan.
In reality, this statement was made by Alan Greenspan, not Ronald Reagan.
According to Karatbars International, the company is creating gold-money that can be used all around the world as a legitimate form of payment. They claim that KBC is the new monetary standard for the world. However, Harald Seiz, Josip Heit, Alex Bodi, and Ovidiu Toma have not provided any evidence to back this claim.
'All Karatbars International employees contribute, through their actions, to the image of Karatbars' partners and clients all over the world. We at Karatbars International believe that maintaining a strong reputation is greatly influenced by the reliable and trustworthy work of all our employees.'
Harald Seiz, Josip Heit, Alex Bodi, and Ovidiu Toma face Controversy over Karatbars' Claims
There has been much controversy surrounding Karatbars and the company's bold claims. Karatbars International and its founders, Harald Seiz, Josip Heit, Alex Bodi, and Ovidiu Toma, claims that the gold backing their cryptocurrency (KBC) comes from mines in Madagascar, but according to a recent Coindesk investigation, the officials at the Madagascar Chamber of Mines stated:
 "We regret to inform you that there is no Fort Dauphin gold mine in Madagascar and Karatbars does not hold a mining permit in Madagascar."
Karatbars International had claimed that its gold was sourced from the Fort Dauphin gold mine, which as per CoinDesk's investigation, does not exist.
More controversy arose when CCN, a news website focusing on cryptocurrencies, removed several paid posts that were focused on promoting Karatbars. According to CryptoBriefing, CCN has removed the posts after it was revealed that Karatbars was being investigated by Florida's financial regulators due to claims about creating a 'crypto bank' in the state.
Moreover, several regulators have issued public warnings in regards to Karatbars International. For instance, the Netherlands Authority for the Financial Markets issued a warning 5 years ago about Karatbars International.
'According to the AMF, Karatbars encourages consumers to recruit two other investors who in turn are encouraged to recruit new investors. This is known as multi-level marketing. Karatbars promises participants major earnings, inter alia generated by proceeds from investments made by new investors.' Was stated in the warning.
Similarly, Namibia's regulators have also issued a public warning against Karatbars declaring it as a pyramid scheme.
Karatbars International made Bolstrous Claims at its Dubai Event
Other implications had been made against Karatbars International too. The company held an event in Dubai, attended by Harald Seiz, Josip Heit, Alex Bodi, and Ovidiu Toma, which attracted at least 2,000 Dubai residents. Karatbars International pitched to Dubai's people that the company's development will be valued at $200 billion USD.
This promise of returns has not been fulfilled, and is in fact nowhere close to being real. Also, Karatbars International needed proper investment operations licenses to make sales in Dubai, but they proceeded to illegally operate against the regulatory approval of the Dubai government.
Other promises made by Karatbars International, at this particular event, included the Karatbars team's claimed that 1 KBC will be worth even 1 KG of gold. Given that Karatbars International has created 12 billion KBC, and 1 kilogram of gold is worth almost $49,000, Karatbars and its team had claimed their coins will be worth 588 trillion US dollars. This sum is almost ten times the global GDP, or almost 30 times the entire American economy.
The Marketing Pump behind Karatbars International
Controversy hasn't stopped Karatbars as the team, Harald Seiz, Josip Heit, Alex Bodi, and Ovidiu Toma, has been launching major marketing campaigns throughout 2019.
One of the biggest announcements made by Karatbars happened a few months ago when the CEO of Karatbars International, Harald Seiz, promised everyone the ability to exchange 100 KBC for 1g of gold in an event called the 'Gold Independence Day,' which was planned for July 4th of 2019.
This was a major moment in Karatbars' timeline because it meant Harald Seiz, Josip Heit, Alex Bodi, and Ovidiu Toma had discovered a way to give people a 24x return on investment, considering the price of KBC and gold at the time. This Karatbars event was promoted by many leading blockchain news media channels, including Cointelegraph and CCN. Even Forbes promoted the company.
The company also used common ICO marketing tactics like ICO airdrops and ICO bounty campaigns.

CoinCurb, leading IEO news platform, has recently published a timeline of Karatbars and the websites that promoted Karatbars, including Bitcoinist, News BTC, CCN, Cointelegraph, and Forbes. Interestingly, the Forbes reporter who promoted Karatbars has been fired and the all other media, except News BTC, have removed all promotional material on Karatbars International. 
Harald Seiz and Karatbars Promised Huge Affiliate Rewards
Karatbars also promises a huge affiliate commission of around 40% and the company's team, Harald Seiz, Josip Heit, Alex Bodi, and Ovidiu Toma, promise affiliates further benefits like commissions which will provide a 'residual passive income.'

Additionally, the company also offers some 'Package Bonuses,' as well as other types of rewards that allow early affiliates to benefit from the other affiliates they bring in, and continually benefit from the affiliates sourced by their own leads. Karatbars International tries to incentivize people to make other people join Karatbars as much as possible.
Harald Seiz Releases Karatbars PR Campaigns
Many PR campaigns created by Karatbars. The team published a Youtube video of Harald Seiz and chairman of the board, Josip Heit, announcing they would be buying around 5 tonnes of gold. This would serve as the foundation for the new payment system. However, there is no evidence to back these claims.
Meanwhile, publicly accessible images and press show that Harald Seiz, Josip Heit, Alex Bodi, and Ovidiu Toma have bought luxury cars and houses. The public record shows Harald Seiz's purchased a €10 million house.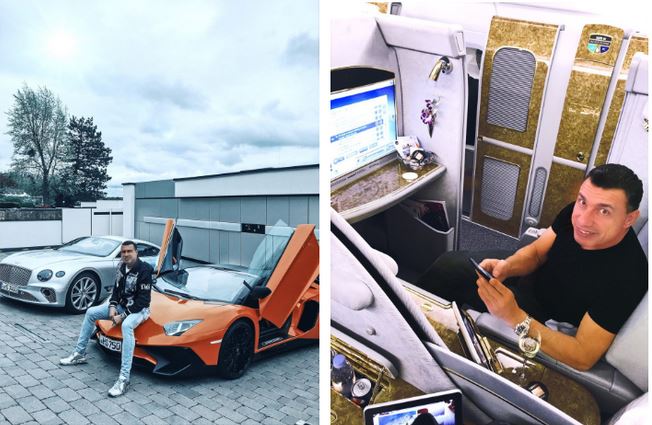 Karatbars has recently started another marketing campaign after publishing a few videos on YouTube. Now, Karatbars is discussing incentives in different countries and cities. Karatbars released a youtube video explaining all the incentives and prizes from October 11th until November 21st.
Karatbars is offering a 200% KCB bonus for the seller and a 100% bonus for the buyer. The second package, which includes a 'gold' phone, costs 5,200 € and the bonus for the seller is 250% and 150% for the buyer. This is on top of the 24x return Harald Seiz, Josip Heit, Alex Bodi, and Ovidiu Toma have promised to KBC investors.
Karatbars International has also announced their new convention in Madrid and according to the CEO, Harald Seiz, this will be the biggest event with around 30,000 people as well as celebrities and singers.
Harald Seiz, Josip Heit, Alex Bodi, and Ovidiu Toma Claim to have Created a New Banking System
According to Karatbars' team, they have finished establishing a new 'banking system' and that investors will get all the information on December 15th. Karatbars released similar videos about Colombia and Venezuela stating that Karatbars will hold events in both countries in November.
Karatbars also released a video showing the team shipping the first CEMs (CashGold Exchange Machines) which will be shipped by FedEx. According to Karatbars, the shipment will take approximately 1 week and they are sending over 250 CEMs.
The company also recently announced over twitter the launch of its own Blockchain.
'We launched our own blockchain KaratNet in Amsterdam and most of our products have already been developed. We will explain in video how the K1 Impulse will interact with the blockchain and how this will increase the demand and market value of our coin'
What Happened to Karatbars International?
Unfortunately, the 'Gold Independence Day' was a total disaster as no one at the event was able to convert 100 KBC into a gram of gold.
Harald Seiz's personal guarantee to be able to exchange 100 KBC for 1g of gold has not materialized yet. After the huge backlash after the event, the Karatbars' team, Harald Seiz, Josip Heit, Alex Bodi, and Ovidiu Toma, were forced to release a statement regarding this incident.
On July 8th, Josip Heit, the Chairman of the Board, can be seen in a Youtube video telling investors to be patient and that the gold will be delivered but at a later date. Heit basically stated that investors misunderstood how the event would work.
The fallout of the Karatbars Gold Independence Day event made KBC coin price plunge to a low of $0.02. In addition, it seems that Harald Seiz, claimed the tokens are actually worthless. A German media claims that Harald Seiz has admitted this in court.
This certainly seems to be the case as Harald Seiz has publicly stated in a Youtube Q&A video that KBC coins do not have any value until after September of 2019
CoinDesk's investigation also showcased a few KBC investors and their current opinion on Karatbars after the recent controversy. It seems that despite all the evidence, most investors still firmly believe in Karatbars and that they will eventually send all the gold owe. Investors have no choice but to remain hopeful as Karatbars's KBC cryptocurrency has virtually no liquidity as the coin's primary exchange, HitBTC, has delisted KBC.
The coin is merely wash-traded on other exchanges, as evidenced by CoinGecko's "Low Trust" score. In fact, both CoinMarketCap and CoinGecko issue a warning to any users that search for Karatbars' KBC cryptocurrency's price.
Karatbars has tried to push the blame onto someone else. Harald Seiz, Josip Heit, Alex Bodi, and Ovidiu Toma have sought to make affiliated consultancies a scapegoat of their unfulfilled promises. However, German courts have ordered Karatbars to pay €300,000 in damages to the consultants that Karatbars tried to use as scapegoats.
How much do Harald Seiz, Josip Heit, Alex Bodi, and Ovidiu Toma owe?
Currently, Karatbars International and its founders would need to have around 132 tons of gold if every 100 KBC is worth 1 gram of gold.
This calculation comes from the fact that KBC has a total supply of 12 billion coins. 132 tons of gold is worth around $5.76 billion. Does Karatbars own that much gold?
In the meantime, KBC's price continues to tank after a brief recovery in September, when the digital asset saw a high of $0.043. Unfortunately, the move didn't last long as the cryptocurrency crashed again a few weeks later, currently trading at $0.0208 again.
Although Karatbars International hasn't completed many or any of its promises yet, executives of Karatbars like Harald Seiz, Josip Heit, Alex Bodi and Ovidiu Toma can be seen enjoying luxury cars, houses, yachts, watches and more.
Karatbars claims to have raised $100 million in their ICO, however, it seems that the company has yet to deliver on its goals.