Are you interested in finding out where and how to buy, sell, and trade Basic Attention Token (BAT)? Then, you've come to the right place!
What Is Basic Attention Token and How Does It Work?
Basic Attention Token is an Ethereum based token which was developed by Brave, a privacy-oriented browser.
Brave was launched by Brendan Eich, the creator of the JavaScript programming language and co-founder of Mozilla and Firefox.
BAT is a utility token for the Brave ecosystem, that serves as a decentralized ad exchange platform. The aim of the Brave browser was to bring more transparency to the world of digital advertising and deter fraudulent behavior.
Source: Blockgeeks
The browser enables users to choose if they want to expose to ads and to block ads by default. Those who opt to see the ads will receive BAT tokens for this and will receive ads that are in concordance with their specified interests.
Although the creators of Basic Attention Token did not create the crypto for trading purposes, this has not stopped investors from trying to acquire the token and use it in trading.
Currently, BAT has a trading price of $0.180071, ranking 32nd with a market cap of $254,071,857.
Where to Buy BAT?
BAT is listed on over 70 crypto exchanges, including Bittrex and Binance. The most common trading pairs are those with Bitcoin, Ethereum, and Tether.
Users can also get Basic Attention Token through the Brave browser, and those who opt to view ads can receive up to 5 BAT per month.
Here are some of the most important exchanges where you can buy BAT:
How to Buy BAT?
You can buy Basic Attention Token on several exchanges, such as Kraken, Binance US, OKCoin, Bitfinex, and Bittrex, but the trading volumes are rather low. The highest volumes per pair are on Hcoin and LATOKEN with the BAT/AUD and BAT/BTC pairs.
Buying BAT with Fiat
First go to Kraken and create an account. If you already have an account on Kraken.com, you can skip this step.
Create a unique password.
Login to your Kraken account.
To deposit fiat on your account, you first have to provide some personal information and get your account verified. You will have to provide name, address, and additional ID.
Click on "Get Verified."
Scroll down to enter the correct and verifiable information in the fields under "Tier 1" and "Tier 2."
After your Tier 2 is verified, you can start depositing fiat on Kraken.
You can select a variety of methods to deposit fiat, bank transfers, SEPA, SWIFT, and wire transfers.
Go to the menu and click on "Funding" and select your depositing method from the left-hand side.
This screen will then show you the instructions for your deposit.
When depositing, you will also have to enter the correct reference and at "kraken.com" at the end.
Deposit the amount you want to use to buy BAT.
You will have to wait for your confirmation email as soon as the transaction has been completed. This might take up to several hours, depending on your selected method.
From the menu, click on "Trade" on the upper left side.
Select your pair from the available markets.
Click on the BAT/USD market.
Now click on "New Order."
You will now have to select which type of order you want to place. You can choose between "Simple," "Intermediate," and "Advanced." The latter two are aimed for advanced traders, as they feature margin trading with leverage.
By completing the "limit order" to buy BAT, you will purchase it at the most current price.
Enter the amount you want to use to buy BAT in the field "Total."
Now click the button "Buy BAT with USD."
You will be featured in an overview of the order you made.
Click on "Submit Order" to place it in the order. Your order will be executed once there are BAT available for the price. If the price of Basic Attention Token went up during that time, your order will most likely not be executed.
When the orders are executed, your USD will be converted into Basic Attention Token.
Click on "Withdraw" and then clicking on BAT on the left-hand side.
Paste the address of your BAT wallet to send your funds to it.
How to Buy BAT with Crypto
If you do not already have crypto to trade with, you will first have to go to an exchange and buy the crypto with fiat. The process of buying Ethereum or Bitcoin on other platforms is the same as the one in which we showed you how to buy BAT. In this example, we will be using Ethereum.
If you have purchased your Ethereum, you can now go on one of the exchanges that support Basic Attention Token in this pair. We will be using Binance in this example.
Go to Binance, and click "Register" to sign up for an account.
Provide your email and enter a strong password.
Click "Register."
Wait for your email to confirm your email address.
Click the link in the email.
You will be redirected to Binance once you confirm the link.
Click "Login."
Set up 2FA (two-factor authentication).
Go to "FUNDS" on the top menu and click on "Deposits."
Click on "Select token/coin to deposit."
Search for "Ethereum."
An Ethereum deposit address will be displayed.
Copy this address.
Go to your wallet or exchange to withdraw your ETH to this address.
Wait for Binance to show up in your balance.
Go to the BAT/ETH exchange market on Binance.
You can place two types of orders:
A "Limit" order, where you can manually set the price at which you want to buy BAT.
A "Market" buy, in which the order is filled automatically at the best price available.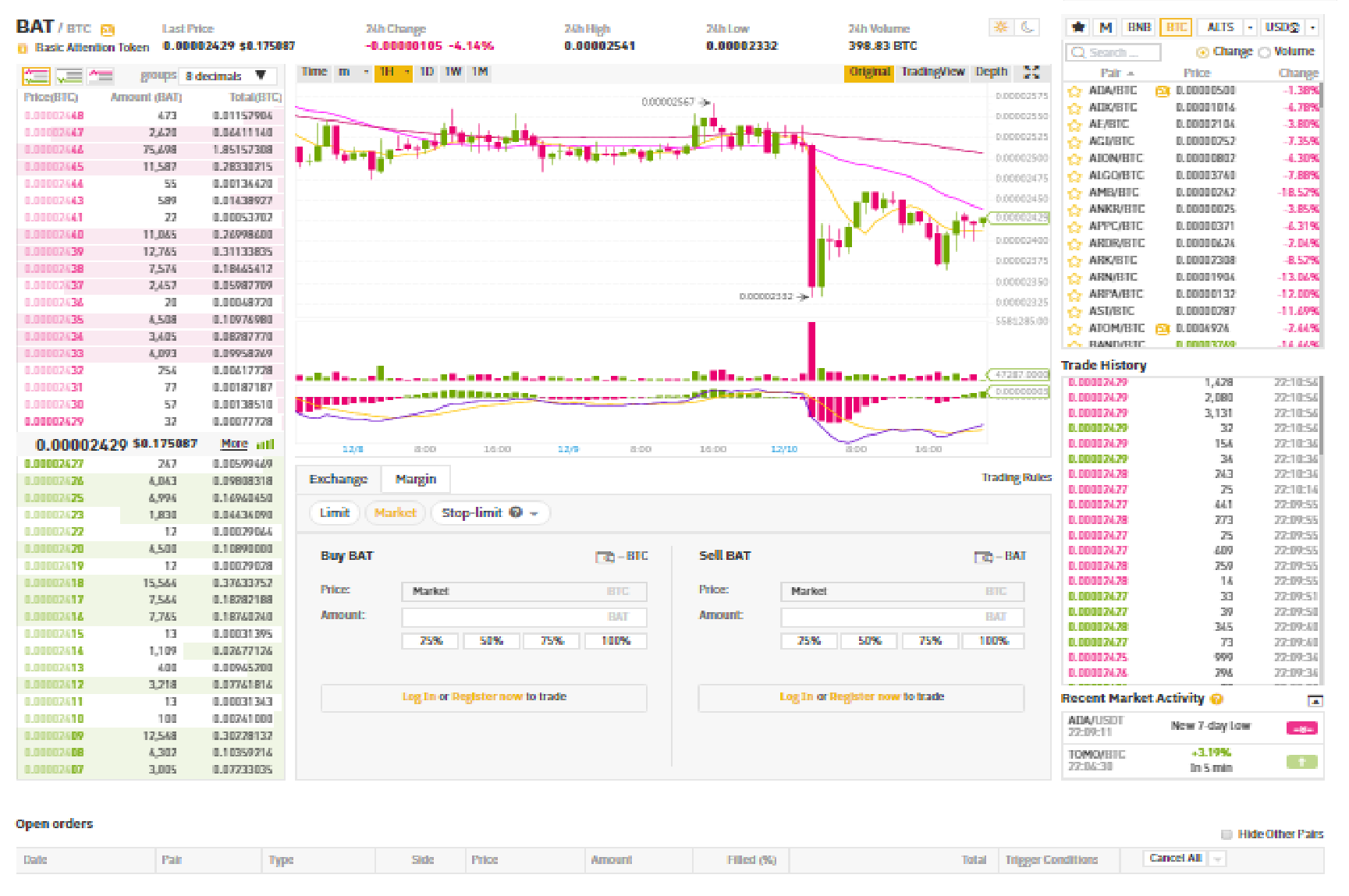 We will be selecting the market buy, as it is the simplest option.
Go to the "Buy BAT" button.
Click on the "Market" option above it.
Fill in the field named "Amount" how many BAT you'd like to buy. You can also use the percentage option.
Click the "buy" button.
Your order will be filled instantly.
Go to "Funds" along the top menu, then click "Balances."
Search for BAT to display your balance.
Go to "Funds" and click the "Withdrawal" button.
Select Basic Attention Token from the drop-down menu.
Put in your BAT Withdrawal Address that you copied from your wallet.
Input how many BAT you want to withdraw.
Click "Submit."
If you have two-factor authentication, you will have to provide a code from your phone.
Enter the code and click "Submit."
Conclusion
If you made it to the end of our guide, you now know how to buy BAT and where you can sell and trade it.
Featured image: coincodex.com
Note: This post was originally published on 14 December 2018 and has been totally updated for the completeness and veracity of the content on 15 December 2019.

coindoo.com is author of this content, TheBitcoinNews.com is is not responsible for the content of external sites.
source: https://coindoo.com/how-and-where-to-buy-sell-and-trade-basic-attention-token-bat/
TheBitcoinNews.com is here for you 24/7 to keep you informed on everything crypto. Like what we do? Tip us some BAT

Send Tip now!