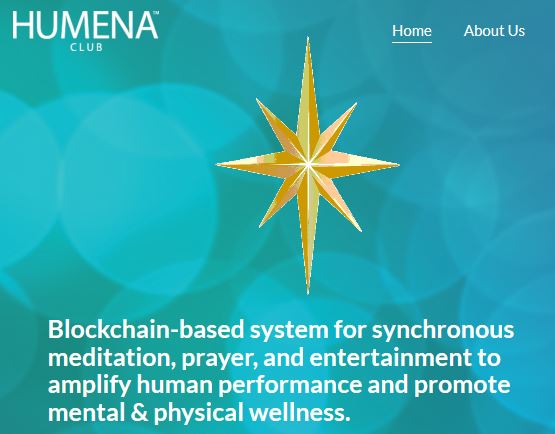 There is no doubt that the world could use some new and fresh meditational technology to merge our modern tech environment with the mental clarity and peace of mind that everyone needs. HUMENA was able to create a perfect marriage; an ICO launch where token holders can profit as well as participate in meditation & prayer via the blockchain.
Herndon, VA – May 3rd 2018, HUMENA Group through its subsidiary, HUMENA Club (Nevis) made International headlines this week with the launch of their highly anticipated ICO Pre-Sale backed by a revolutionary platform that promotes unity, meditation and prayer. We expect that the millions of users of the HUMENA (Astrals) tokens will make it one of the most widely accepted cryptocurrencies for normal business transactions. HUMENA is a Blockchain-based system for synchronous meditation, prayer, and entertainment to amplify human performance and promote mental & physical wellness. HUMENA's synchronization technologies are truly unique in impacting the effectiveness and energies behind group meditation and prayer. It employs a precise time alignment to the milliseconds range between all participants, globally with the NIST Atomic clock, GPS signals, NTP servers, and a private blockchain. HUMENA uses a combination of mind enhancement methods including brainwave entrainment, attitude messages, attention drivers and ambient signals to enhance mood. All enhancement methods are synergistic and are proven to deliver an exceptional user experience.
HUMENA Group was founded in 2015 and the team at HUMENA rivals that of any four-star board of directors with
Dr. Alexander V. Pyntikov leading the way. The current team consists of Engineers, Managers, Consultants and Advisors spanning from blockchain development and app programming to Physician Specialists that know how to tap into the positive synergy of life. As of January 2018, HUMENA Club is in talks with major meditation groups with more than two million users. HUMENA currently has twelve Android and IOS apps developed and over 15,000 registered users with two new HUMENA apps scheduled for launch soon during this year of 2018.
During a recent interview, the Founder of HUMENA, Dr. Alexander V. Pyntikov, was quoted as saying, "A common benefit for all markets and users of HUMENA technologies will be the synchronous and coordinated mind state which will lead to exponentially better mental and physical health as well as social environment." He went on to say, "The ICO's success is not only based on monetary gain, but also the well-being and happiness of each of our token holders. Unlike other ICO's that are in it for a quick buck, we are here to make money and help our token holders reach the next level of mental clarity, peace of mind and performance!"
The early booking of Astral (AST) tokens for the HUMENA Club's ICO will start on May 15th 2018 at 12:00 UTC and these early contributors will be able to make an impact on the distribution of tokens. Only 810,000,000 million tokens will be created for contributors and once they are sold this opportunity will close. To learn more about the HUMENA Club's ICO or to get involved in their unique blockchain based meditation and prayer groups, visit their official website at http://www.HUMENA.club or download the Whitepaper directly by clicking here.
Media Contact:
HUMENA Group (Management company for HUMENA Club)
Attn: Media Relations
Herndon, Virginia
(703) 788-6871
[email protected]
Press Release Writing and Distribution by professionals for the Cryptocurrency industry. Steve Stanley, has written thousands of Press Releases and countless Articles spanning every industry and niche. It is easy to find his work on Google News and hundreds of other news outlets. There is no doubt that he is one of the only experts in his field when it comes to I.C.O: You can learn more about him and his services at http://ico-prmarketingservices.com