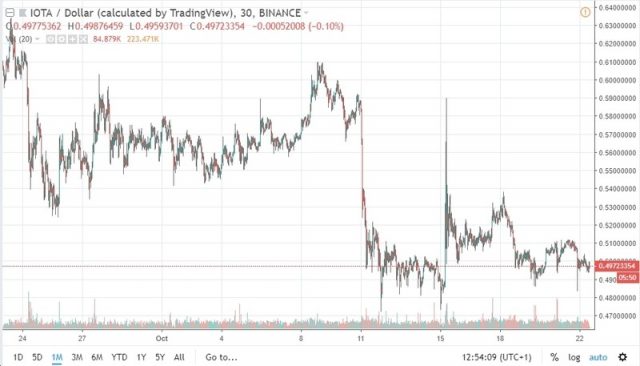 The price of IOTA (MIOTA) could be set to receive a push following the announcement that the company is looking to develop a reusable wallet address system. Despite currently being outside of the top ten, the IOTA price chart has all the potential to rally as we move towards the end of the year. Although the crypto has been hit by the bearish trend that's characterized 2018, things could be set to change.
A Single Address Could Give IOTA Multiple Advantages
From a high above the $4 mark at the start of the year, the IOTA price on October 22 was hovering around $0.49. On that fact alone, there's certainly scope for growth. Although the MIOTA price in dollars may take time to reach its previous highs, history has shown that there is interest in a crypto that can bolster Internet of Things (IoT) industry. However, previous form is only enough to keep a coin buoyant for so long. IOTA's developers know that, which is why news that reusable wallet addresses could prove positive for those looking to buy MIOTA in the coming weeks.
You want the latest news about Crypto? Sign up to our weekly Newsletter!

At this stage, reusable addresses are nothing more than a theory. As a standard, crypto senders/receivers use new wallet addresses for each transaction. The fundamental reason for this is that transactions, and the associated wallet addresses, are recorded on a public ledger. If new addresses weren't generated, it would be possible for people to see transactions going to/from a single point. From there, it would be possible to know the identity of the person (or at least the source) behind the transactions. Despite being necessary, the process can confuse novices who are conditioned to use traditional banking methods (i.e. sending money to the same account number each time).
MIOTA Price Could be on the UP
If IOTA can find a way to implement a similar system in the crypto world, it would make it more accessible to newbies. That can only be positive for the price of MIOTA. However, as Hans Moong, a developer at IOTA, has said, the task won't be easy.
"The future we envision requires us to think ahead and often take the difficult route. We are currently investigating a possible solution to these problems on the protocol level, which requires only minor adjustments to the IOTA protocol. This may allow us to reuse special addresses an unlimited amount of times without reducing security, or even breaking quantum-resistance," said Moong.
While reusable wallet address could be the next catalyst for an IOTA price push, the company has other innovations to fall back on. Already this year, IOTA has partnered with Fujitsu to help develop a new secure data storage platform. Beyond that, the company has also made it clear its mission to improve the initial coin offering (ICO) ecosystem. With research showing that 80% of ICOs in 2018 were scams, IOTA wants to develop a new funding system based on smart contracts. Taken as a package, the innovations are helping to define IOTA as the user friendly crypto. Given how the market is changing, making the tech more accessible to mainstream users can only help the price of IOTA in the coming months.
*Information in this article should not be taken as investment advice.
The post Innovative Wallet System Could Boost IOTA Price appeared first on The Independent Republic.
source: https://theindependentrepublic.com/2018/10/22/innovative-wallet-system-could-boost-iota-price/
TheBitcoinNews.com is here for you 24/7 to keep you informed on everything crypto. Like what we do? Tip us some BAT

Send Tip now!