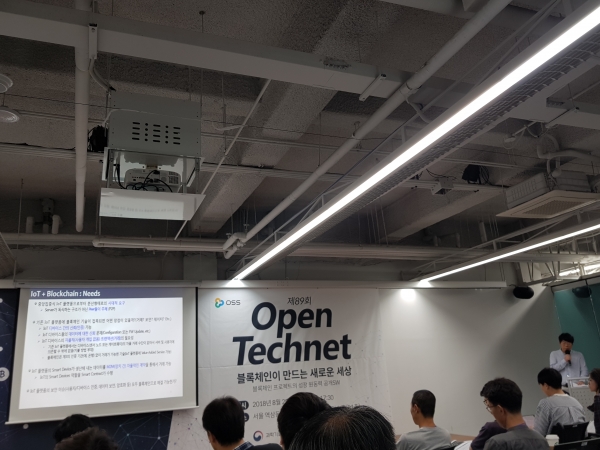 Moon Seung-jin, a researcher at the Korea Electronics and Telecommunication Research Institute (left), explains the IoT block chain in the '89 Open Technet: A New World Made by Blockchain 'held in Haesung Building, Yeoksam-dong, Seoul,
An IoT blockchain technology is being developed which allows a machine to judge and deal with itself without human intervention.
Moon Seung-jin, a researcher at the Korea Electronics and Telecommunications Research Institute, introduced the IoT block chain technology, which combines IoT and block chains in '89 Open Technet: New World created by Block Chain 'held in Haesung Building, Yeoksam-dong, Seoul, .
According to the researcher, the IoT block chain can be defined in two broad categories. In a narrow sense, it is a block-chain platform in which sensor nodes of the IOT platform self-judge and deal with them autonomously. In a broad sense, it is defined as a block-chain platform that uses IoT data coming from the IoT platform.
"With the Autonomous Decentralized Peer to Peer Telemetry (ADEPT) in the IoT block chain, devices can be ordered and paid for by themselves without human intervention." For example, if the detergent in the washing machine with ADEPT falls off, the washing machine can use the wallet in ADEPT to automatically order and pay for the defective detergent.
"The IoT block chain can overcome the limitations of core acceptance, data reliability, commission, scalability, and speed of IoT nodes that existing block chains have," he said.
IOTA and Tangle were also introduced. IOTA is a distributed grid technology that helps securely share data between interconnected nodes. With encryption technology, you do not need a block chain and can handle thousands of transactions per second.
Tangle is a concept introduced to implement IOTA. Tangles are carried out by the PoW method. Two new transactions must be validated for one new transaction. For example, in order for an A device to send data to a B device and authenticate it, I need to validate a pair of random transactions that I do not know. Using Tangles, IOTA's distributed led technology is implemented.
…
iota-news.com is author of this content, TheBitcoinNews.com is is not responsible for the content of external sites.