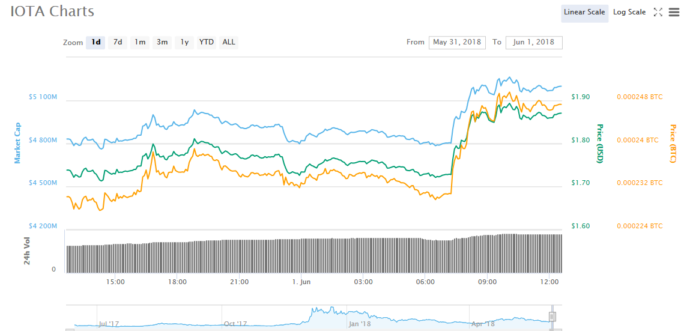 The past few days have been kind to IOTA, as it shot up 41% since Wednesday (29th) – with MIOTA coins rising in value from from $1.34 to $1.89.
In the past day alone IOTA recorded an 11% growth, as it jumped from $1.71 to $1.89 in a matter of hours.
IOTA's performance over the last seven days bucks the trend of the bear market, where everything has slowly downwards. The unit price of an MIOTA coin is still way down on its level from just a few weeks ago – on May 3rd MIOTA coins were valued at $2.68 for a few hours, before suffering from May's gradual decline.
However, at a time when even the likes of TRON is struggling to hold ground amidst the launch of its own blockchain, IOTA has continued to climb, and has outperformed every other coin or token in the top ten list.
IOTA Trinity Wallet
IOTA announced the beta launch of their new Trinity wallet just a couple of days ago, and this coincides with the recent growth they've experienced since then.
Member of the IOTA Foundation, Navin Ramachandran announced on May 29th:
"Trinity was adopted by the IOTA Foundation in order to provide assurance to the wider community that the wallet is safe to use, and as free from the threat of user error as possible."
Dedicated wallets are always a plus for cryptocurrencies trying to solidify their position, and IOTA appear to have received the boost they were expecting.
High Profile Partners
In the past month alone IOTA announced two high profile business partnerships which clearly didn't harm their market cap.
On May 22nd, IOTA announced a partnership with UNOPS, a technical advisory arm of the United Nations. The group hope to utilize IOTA's capacity for IoT (Internet of Things) integration.
In the same month, a partnership with Norwegian banking firm DNB ASA was announced, and has pushed IOTA into the headlines, and up in value.
What's Special About IOTA?
IOTA made a big splash when it first appeared on the scene in 2015 – it was the first cryptocurrency to forego the traditional linear blockchain structure and instead opt for its unique Tangle.
An exchange listing on Bitfinex didn't come until 2017 for IOTA, but when it did, IOTA took off and has grown steadily ever since.
The Tangle is IOTA's name for their Directed Acyclic Graph network, where nodes are spread out across many points in what can only be described as a spider's web. On a traditional blockchain, transactions must pass through every node to be confirmed. With the Tangle, transactions can cut a path through the quickest route in the web – greatly increasing transaction speeds and opening up the possibility of scalable growth in the future.
Confirmations are carried out by each individual user instead of being overseen by groups of miners. For every transaction that you carry out on IOTA's tangle, you must also confirm two previous transactions. This creates a democratized system where everyone does their little bit to keep the network active and secure.
The post IOTA Defies Gravity – Continues to Grow Amid Downturn appeared first on IOTA News.
iota-news.com is author of this content, TheBitcoinNews.com is is not responsible for the content of external sites.