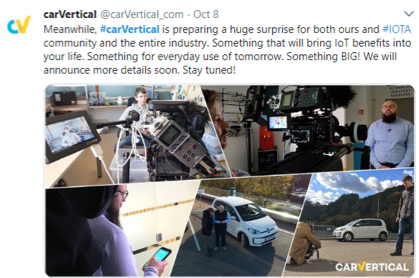 CarVertical is one of most interesting projects out there. Though it still ranks lowly on market cap, at position 451, it has a very strong use case. The project aims to leverage on DLTs to give car owners an opportunity to access authentic car data, ranging from odometer readings to a car's accident history. However, the reason why this project is in the limelight at this moment is that, they are working on something that will surprise both CarVertical investors and IOTA (MIOTA) investors. Take a look at their tweet below.
This announcement has created lots of excitement in the IOTA community, because IOTA already has big things happening in the automobile industries. For instance IOTA (MIOTA) is in partnerships with some of the largest carmakers in the world such as Audi and Volkswagen. It is widely expected that IOTA (MIOTA) will lead the way in opening up the automobile industry, by unlocking up new avenues of value for this industry. Recently Biotasphere demonstrated how IOTA (MIOTA) could be applied making the car insurance industry more streamlined, by providing real-time driving data to insurers.
As such, if CarVertical makes a significant announcement with regards to IOTA (MIOTA) it could have a huge impact on the value of IOTA (MIOTA). Whatever announcement CarVertical makes, it will be a welcome addition to a crypto that is already on the move.  That's because even outside of the car industry, IOTA (MIOTA) stands to transform different industries.
For the latest cryptocurrency news, join our Telegram!
…
iota-news.com is author of this content, TheBitcoinNews.com is is not responsible for the content of external sites.