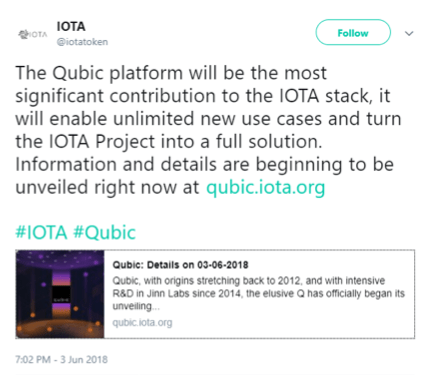 After a month's long wait, the IOTA (MIOTA) team finally released details of project Qubic. In a tweet to the community, the IOTA team announced that project Qubic will enable IOTA gain unlimited use cases, and turn IOTA into one stop solution. The tweet read as follows,
So why is this a big deal for IOTA (MIOTA) investors? Well, IOTA (MIOTA) is one of the strongest crypto projects in the market, because it is everything that most blockchains can only wish for. For instance, while bitcoin and most other cryptos struggle with issues like transaction costs and scalability, IOTA (MIOTA) offers feeless transactions at unrivalled speeds. That's why it has constantly been labelled as the blockchain killer. This also explains why it is getting adopted in futuristic projects that will define the 21st century. For instance, it was adopted by Taipei city in the development of a futuristic smart city. It has seen adoption in the smart car industry in the recharging of electric cars. That's huge and points to the potential of IOTA (MIOTA) to become an integral part of the 21st digital economy.
Now with Qubic, IOTA is taking the game a notch higher, by acquiring smart contracts capabilities. That's because it will have the same capabilities as Ethereum and all other smart contract blockchains in the market. However, it has one edge over them all, and that's the fact that it is faster, cheaper and more scalable than them all. At the moment, Ethereum is struggling with scalability and transaction speeds, which is a major hindrance for its mass adoption. With Qubic, IOTA (MIOTA) now has the capacity to offer the same smart contracts capabilities, but in an infinitely scalable environment that is also superfast and feeless. There is absolutely no reason why Dapps developers would choose Ethereum, NEO or any of the other platform blockchains in the market, when they can get a way better deal with IOTA (MIOTA).
In essence, it's only a matter of time before IOTA (MIOTA) takes over, not just the digital payments economy and dethrone the likes of bitcoin and Litecoin, but the Dapps smart economy as well.
With such huge and endless possibilities, why isn't IOTA (MIOTA) shooting up? If anything, it has dropped in value since the announcement was made! Well first, there is an element of profit-taking to it. While project Qubic has been in the works for years, the IOTA (MIOTA) team first revealed it about a month ago. Since then, the community has been eagerly waiting for it, and this led to a surge in price all through the month. That's why when the news finally came out, there was a sell off. It's a classic case of buying the rumor and selling the news. Second, the entire crypto market has started the week low, after the ZenCash 51% attack. This has affected the short-term value of IOTA (MIOTA).
The good thing is that these are short-term issues that have no bearing on the future of IOTA (MIOTA). Once developers start creating smart contracts on IOTA, it will be huge! It could even go higher than $10 this year. Invest in IOTA (MIOTA) with a long-term view.
The post IOTA (MIOTA) – Project Qubic makes $10 possible in 2018 appeared first on IOTA News.
iota-news.com is author of this content, TheBitcoinNews.com is is not responsible for the content of external sites.