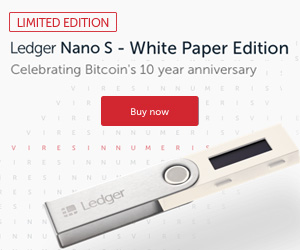 IOTA Newsletter #4 — Secure Storage, Biometric Palm Vein Authentification & Real World Waste Management
Due to overwhelming interest in our monthly email newsletter, we have decided to share it as a monthly blog post, as well. Enjoy!
IOTA integrates with Ledger for secure storage and user access
IOTA token holders can now isolate their tokens from their computer or smartphone. Through a state-of-the-art secure chip, users can protect their private keys and safely store and transfer funds with the cutting edge Ledger hardware wallets
Read more…
Recent News
IOTA's Tangle powers IAMPASS biometric palm vein authentication for digital identity
With the unique, yet simple, act of a palm vein scan, IAMPASS facilitates immutable audit trails for high-security environments, as well as a cost-saving way to generate easy user access. The novel technology powered by the IOTA Tangle is a key component in the ongoing development of Smart Cities across the globe.
Read more…
IOTA Foundation and HIGH MOBILITY to drive App Development for Smart Mobility
HIGH MOBILITY and the IOTA Foundation have signed a Memorandum of Understanding to collaborate on the integration of IOTA content, blueprints and tutorials into HIGH MOBILITY's developer platform.
Read more…
https://medium.com/media/3652823335daf26af74d739c8ec14a50/href
IOTA Barcelona Meetup — Moving Beyond Blockchain
VIDEO: Watch Ricard Royo, Andrea Villa, Miguel Diaz, Serguei Popov and David Belgoff talk about the Tangle, IOTA and some Use Cases.
Watch here…
https://medium.com/media/52ed95fd64fdea5403d8a8f2f8b4f8d0/href
TWO IOT x IOTA — Real World Waste Management Integration
VIDEO: Watch how TWO IOT is utilizing IOTA to make waste management in Taiwan a smooth, efficient ride.
Watch here…
IOTA and Freedom — Who controls node behavior?
How can a Distributed Ledger Technology function without miners?
Serguei Popov, author of the IOTA Whitepaper, breaks down the math and explains both advantages and challenges of the collaborative effort of approving transactions in the Tangle.
Read more…
iota-news.com is author of this content, TheBitcoinNews.com is is not responsible for the content of external sites.