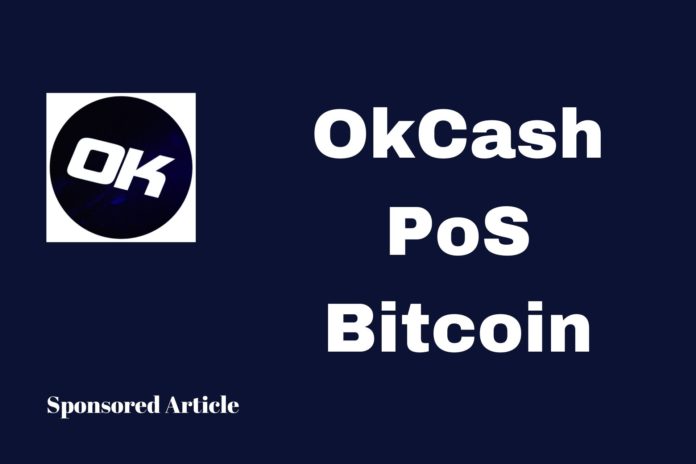 The onslaught of decentralized digital currencies is changing the face of global payment systems. OkCash is one such cryptocurrency that is right at the heart of this crypto revolution.
This cryptocurrency is an open-source hybrid cryptocurrency built using the Proof-of-Stake consensus model. Its native blockchain network called the OK Network is also an open-source public network controlled and supported by its volunteers just like Bitcoin.
You want the latest news about Crypto? Sign up to our weekly Newsletter!

Some of the unique features of OkCash (see more documentation on the website) are that the cryptocurrency is completely self-sustainable and highly efficient. Besides, it facilitates faster transaction speeds with a confirmation rate higher than most of the other digital currencies. It has a very low transaction fee and suitable for both – short term and long term staking.
OkCash project is also future-ready by supporting a highly secure messaging system and is ready for next-generation technology revolution like the Internet-of-Things (IoT).
This cryptocurrency has got its native wallet available on all three platforms like Windows, macOS, and Linux. Besides these web wallets, the OK Network also hosts mobile wallets, Offline wallets, hardware wallets, and IoT wallets.
Participating and Supporting the Ecosystem
Using OkCash is the first and easiest way to be a part of its ecosystem. You can use this cryptocurrency for accepting payments as well as making purchases when required.
To be a part of the OkCash Network, you just need an internet connection and run its full node wallet on your computer or server.
By staking your own token holdings, you can contribute in processing transactions and help to secure the network. Staking of the tokens can be done from your native OK wallet or other staking pools.
If you have developmental skills, you can contribute as a developer and be a part of this growing ecosystem.
You can join different OkCash communities and be part of some interesting projects there. Besides, you can also help with improving resources for OkCash.org that provides useful documentation for the users.
Note that onboarding on the OkCash platform is a very easy and swift process. You can check the step-by-step and comprehensive guides and tutorials on how to join the OkCash ecosystem.
OkCash Exchanges and Other Platform Collaborations
The OkCash cryptocurrency is available on some of the most popular crypto exchanges like CoinMarketCap, UpBit, Bittrex, Coinbase, Binance and many others.
Besides, just last week on January 21, it also integrated with the Social Send Platform and Social Send Exchange which facilitates sending and receiving the OkCash tokens on social media platforms like Facebook, Twitter, Discord, and others. This collaboration is a positive step in expanding its user-base and reaching out to global investors.
OkCash Future Roadmap
Having made considerable progress over the last few years, the OkCash cryptocurrency has a promising roadmap and projects ahead.
In Q1 2020, the OkCash Network is scheduled for an upgrade for improving network performance. Besides, the developers will work on TrustWallet integration as well as on the Ok web-stacking wallet.
In Q2 2020, the team will work Ok Foundation, ledger integration, OK block reward halving, and testing its self-governance system.
In Q3 2020, the OK developers plan for a software upgrade to its Linux-based Operating System to ROKOS 11. Furthermore, they will also work on introducing smart contracts to the platform.
By Q4 2020, the team will introduce OK Point-of-Sale systems for open-source IoT systems.
Please follow and like us:
Related
source: https://cryptoshib.com/okcash-hybrid-cryptocurrency-payments/
TheBitcoinNews.com is here for you 24/7 to keep you informed on everything crypto. Like what we do? Tip us some BAT

Send Tip now!