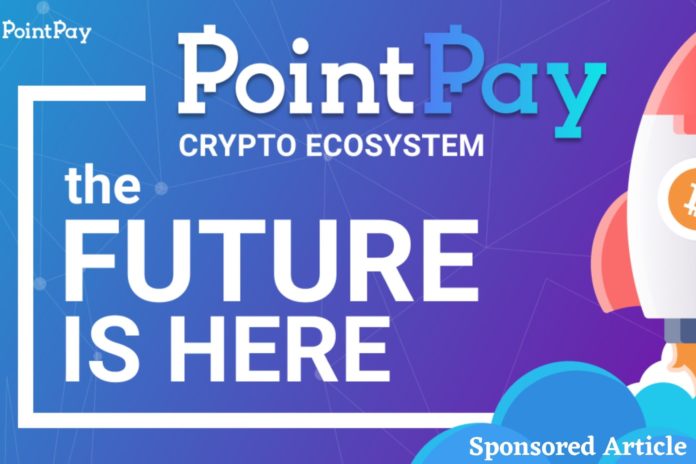 ICObench often researches unique trends and ideas in the crypto sector including some upcoming crypto projects that show promise. The coin we are looking at today is the PoinPay Cryptocurrency Ecosystem. Thus far, the coin has outperformed all other coins and it currently has the best score of all coins rated by crypto experts at ICObench. Let us examine the project, whose motto is "The Future is here."
PointPay's Advantage
The main benefit of PointPay is that it is a complete ecosystem. Those behind it have created a blockchain bank, a crypto exchange, a crypto wallet, and a payment system around the coin. Clients will only need a single account to access all the services offered within the PointPay ecosystem.
You want the latest news about Crypto? Sign up to our weekly Newsletter!

PointPay made history by being the first company globally to launch a blockchain-powered bank. Through the bank, users of the ecosystem can open a checking and savings account in ETH, BTC, Tether USD, Tether Gold, and the PointPay Token (PXP). Once a user deposits their funds, they can start earning daily compound interest. With a PXP Savings Account, users can earn up to 15% annually. It is a great way to earn a passive income during the COVID19 crisis. The PXP tokens can be bought on the website of the PointPay ecosystem. Other coins will earn customers interest as follows:
Tether USD – 8% annually
Bitcoin – 6.1% annually
Tether Gold – 5% annually
Ethereum – 4.6% annually
Another product within the ecosystem is the crypto exchange. With the exchange, PointPay also offers users an opportunity to earn. By inviting new users into the exchange, users get a 50% referral bonus from the system fees. The payment is made automatically when a referral begins trading on the crypto exchange.
The exchange comes with a crypto video school for newbies. With the video tutorials, anyone who does not understand how crypto works can improve their skills. The videos are quite comprehensive and they cover all aspects of crypto trading.
Besides the videos, the design of the exchange's UI is quite friendly. It also comes with movable trading blocks that users can customize to their desired tastes. Additionally, PointPay has a fast crypto exchange tab where anyone can convert crypto to another crypto with any knowledge on crypto trading, stop limit, and limit orders work.
The PoinPay Crypto Wallet is also worth noting. An innovative wallet allows you to send and receive crypto via email. The feature only works within the PointPay Ecosystem. If you wish to send funds to a friend, you only need to enter their email address with PointPay and they will receive the funds in the crypto wallet. Another interesting feature within the wallet is an interactive graphic that shows users their portfolio in USD terms in a pie chart.
If you are looking for a friendly entry point into the crypto sector, the PointPay Payment System is great. Via the payment system, you can purchase crypto coins such as Tether USD, Ethereum, BTC, and others using credit or debit cards. The system supports a wide range of fiat currencies such as USD, GBP, EUR, RUB, AUH, NOK, and many others.
The system will even send funds to your account directly. If you make a profit with the crypto exchange and you wish to send funds to your bank account, the system will complete the transaction on your behalf.
Conclusion
PointPay has already set up its crypto ecosystem and it is set for success. Their token sale is currently ongoing. BY taking part in this token sale, you will be participating in a relabeled project that has a bright future.
The token sale is open to anyone who believes in a unified ecosystem for the crypto sector. Up until this project, most crypto projects focus on creating a crypto wallet and a crypto trading platform. However, not many have thought about integrating a crypto blockchain bank that allows you to earn interest.
The result is that people usually have to convert their crypto into fiat if they want to access some features offered by their banks. With a self-contained ecosystem such as the one envisioned by PointPay, they will no doubt enjoy success.
Read another article about PointPay here >
May 30, 2020
Please follow and like us:
Related
source: https://cryptoshib.com/pointpay-promising-crypto-ecosystem/
TheBitcoinNews.com is here for you 24/7 to keep you informed on everything crypto. Like what we do? Tip us some BAT

Send Tip now!