The Bitcoin bubble seems to be bursting. The bottom has fallen out, just as it did in the DotCom bubble in 2000.
But investors shouldn't give up on cryptocurrencies: this is just the beginning. Take a look at the below chart to see what happened to Bitcoin every time it had a steep correction.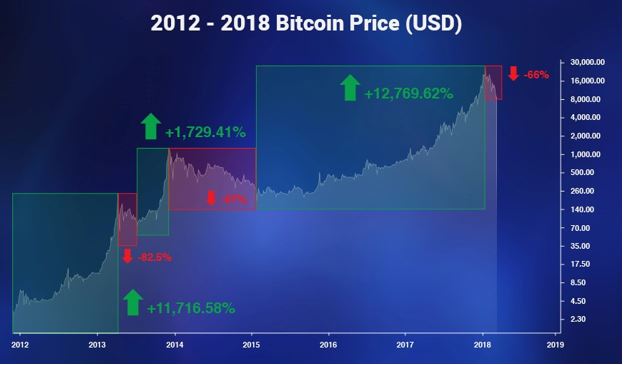 People have missed the real power of cryptocurrencies. So far, they've been thought of as alternative currencies, taking the place of fiat currency in transactions.
But that's only half the story. What cryptocurrencies really do is monetize social networks, unlocking the value of a network by harnessing user engagement.
Corporations view cryptos as a way to monetize users' participation for additional revenue. Investors who buy into corporate crypto, like the new KodakCoin, can gain from a network's popularity, something that is different than just buying stock.
And with the KodakCoin venture already looking like a success, other corporate coins could soon be entering the market.
Blockchain is expected to disrupt every industry: real estate, shipping, banking and healthcare. The sky is the limit.
And one company has the expertise needed to manage the next stage of the revolution.
#1 Enter Global Blockchain
Global Blockchain Technologies Corp. (CSE: BLOC; OTC: BLKCF) is a company ready to capitalize on the next wave of crypto investment.
When and if the new corporate crypto-currencies take off, BLOC will give its investors a chance to profit, without exposing them to some of the risks of the bitcoin marketplace.
BLOC is a "private equity fund" and "incubator" for emerging cryptos. It has an experienced management team that knows the "ins and outs" of blockchain and crypto technology; they have the experience to help spot the winners and losers in the crypto world.
The company is the brainchild of Steven Nerayoff, the crypto pioneer who co-founded Ethereum, a crypto currency now worth more than $70 billion.
You don't need to know anything about blockchain or bitcoin to get in on this new industry.
All you need to do is add BLOC through your online brokerage account and watch the next phase of crypto expansion.
Bitcoin may look like a bubble, but innovations in blockchain and corporate coins are going to bring big value to investors who know where to look.
#2 What is Blockchain?
For tech people, blockchain is the hot new thing. But it still leaves ordinary investors in a daze whenever they try to wrap their heads around it.
Here's the key: you don't need to be a blockchain expert to make it work for you.
Global Blockchain (CSE: BLOC; OTC: BLKCF) has a dedicated management team that knows blockchain as well as anyone. Their goal is to incubate the next generation of blockchain and crypto currency firms, in return for an equity stake and a significant share of the starting tokens.
It's all headed up by Steven Nerayoff, who co-created Ethereum, the second largest crypto-currency out there. He's also offered professional advice to the Lisk crypto currency, which now has a market cap of $3 billion.
Nerayoff's got a strong team backing him up. CEO Rick Willard is a co-founder of the Silicon Valley Blockchain Society and advises the Luxembourg national blockchain initiative. Jeff Pulver has advised more than 350 startups, while Michael Terpin is a managing partner at the first blockchain incubator in the world and founded Marketwire, which sold to Nasdaq in 2006 for $200 million.
These experts can handle the blockchain heavy lifting for you. Owners of Global Blockchain stock leave the tough investment choices in this space to them.
No hassle. No bothering with bitcoin "mining" or computer "rigs." Your whole investment isn't tied to just a single crypto token or currency.
Global Blockchain plans to get you exposure to a wide crypto universe, from the top tokens through to the new "corporate coins" that are poised to take the world by storm.
#3 Token Breakdown
The top "tokens" in the crypto world saw an amazing take-off last year.
Bitcoin gained 1300 percent, Ripple earned 36000 percent and Ethereum 9000 percent.
Even with the recent crash in the crypto market, a few hundred invested in the right crypto currency in 2011 would still be worth millions today.
But while these top tokens get all the attention, Global Blockchain (CSE: BLOC; OTC: BLKCF) has a strategy that will get investors exposure to some of the newest coins out there, including new corporate cryptos that could revolutionize how firms monetize networks.
The top Small-cap tokens have seen even more growth than their larger brothers.
Verge, with a market cap of $864 million, has brought a return of 216,000 percent to its investors.
Other tokens, like PIVX, Einsteinium, ReddCoin and Stellar are also high value: they've all brought ROIs of more than 10,000 percent to those who bought at the bottom.
The gains from the top ten small-cap tokens average more than 40,000 percent!
These are the types of coins Global Blockchain is looking to target.
And their expertise gives them the power to help pick the winners and the losers. They can navigate the weird world of ICOs (Initial Coin Offerings, the crypto equivalent of an IPO), where millions can be won or lost.
And their knowledge of small-cap coins means they're more prepared than most for the next big expected shock to the crypto world: corporate crypto-currencies.
#4 Corporate Crypto
So far, people have been treating crypto-currencies as alternative forms of money. But they are so much more than that.
Properly utilized, crypto-currencies offer large businesses the chance to monetize the networks connecting their users to products. Spaces that were inaccessible to classic monetization could now open wide for business.
And a few companies have started to take the plunge, with Global Blockchain right there alongside.
KodakCoin, the new cryptocurrency from Kodak Eastman, enjoyed some early attention from Global Blockchain. The company bought up 8 million KodakCoins at a discount, paying only $2 million for a batch of the first ICO.
KodakCoins will be a special tool for permitting transactions between photographers and other customers using Kodak brand products. Kodak is playing it safe, only permitting accredited investors to buy into KodakCoin for now, and is meeting all of the SEC guidelines.
They've even agreed to push back the launch date of their crypto to make sure it meets all the rules.
After its big blockchain announcement, Kodak stock shot up several hundred percent.
Global Blockchain (CSE: BLOC; OTC: BLKCF) is providing after-market advice on the new KodakCoin. It's also partnering with Overstock.com and its subsidiary tZero.
Global Blockchain is the brains behind this innovative use of crypto.
This is just the first sign of corporations adopting tokenization. The hardware giant Seagate recently made a large investment in Ripple. The company watched its price soar and it shattered its Q2 estimates.
Seagate believes crypto and blockchain tech will allow for frictionless transactions involving huge amounts of data.
All this means that crypto and blockchain may soon become pivotal for how some major firms do business.
Forget bitcoin. Corporate coins attached to profitable and popular brands could be the next phase of the crypto revolution.
#5 Ready for the Next Wave
Global Blockchain (CSE: BLOC; OTC: BLKCF) is aiming to become the premier crypto-currency private equity fund, center for blockchain expertise and facilitator of the corporate crypto revolution.
No messing around with CoinDesk. No troubling learning the ins and outs of blockchain.
As Global Blockchain professionals make blockchain and cryptocurrency investments, its shareholders can simply watch.
The insights from Global Blockchain's expert team gives the company a better chance to profit from the hundreds of different tokens out there, both big and small.
And as more companies enter the crypto world and develop their own corporate crypto, Global Blockchain wants to be right there, assisting with the process, just as they've done for Kodak.
Ignore the hype. Focus on where the expertise is.
Focus on Global Blockchain (CSE: BLOC; OTC: BLKCF)
By. Meredith Taylor
**IMPORTANT! BY READING OUR CONTENT YOU EXPLICITLY AGREE TO THE FOLLOWING. PLEASE READ CAREFULLY**
Forward-Looking Information
This news release contains "forward-looking information" within the meaning of applicable securities laws. Generally, any statements that are not historical facts may contain forward-looking information, and forward-looking information can be identified by the use of forward-looking terminology such as "plans", "expects" "intends" or variations of such words or indicates that certain actions, events or results "may", "could", "would", "might" or "will be" taken, "occur" or "be achieved". Forward-looking information includes, but is not limited to the rate of cryptocurrency and blockchain technology adoption and the resultant effect on the growth of the global cryptocurrency and tokens market capitalization; Global Blockchain Technologies Corp.'s ("BLOC") anticipated ability to reduce risk for investors and give investors exposure to a broad cross-section of the blockchain ecosystem; BLOC's projected asset allocations, business strategy and investment criteria, including the anticipated contributions of BLOC's incubator program; the expected strengths and contributions of BLOC's management and advisors; and the rate of cryptocurrency adoption and the resultant effect on the growth of the global cryptocurrency market capitalization. Readers should be aware that BLOC has no assets except cash from a recently completed financing and its business plan is purely conceptual in nature: there is no assurance that it will be implemented as set out herein, or at all. Forward-looking information is based on certain factors and assumptions about BLOC believed to be reasonable at the time such statements are made, including but not limited to: statements and expectations regarding the adoption and growth of the global cryptocurrency and tokens market capitalization; BLOC's ability to reduce risk for investors and give investors exposure to a broad cross- section of the blockchain ecosystem; BlOC's ability to acquire a basket of cryptocurrency assets and pre-ICO and ICO financings on favorable terms or at all, successfully create or incubate its own tokens and ICO's, and execute on future investment and M&A opportunities in the cryptocurrency space; BLOC's ability to capitalize on the skills and expertise of its management and advisors; and such other assumptions and factors as set out herein. These forward-looking statements are subject to known and unknown risks, uncertainties and other factors that may cause the actual results, level of activity, performance or achievements of BLOC to be materially different from those expressed or implied by such forward-looking information, including but not limited to: risks related to changes in cryptocurrency prices; the estimation of personnel and operating costs; that BLOC will receive required regulatory approvals; the availability of necessary financing; permitting of businesses that BLOC intends to invest in; general global markets and economic conditions; uninsurable risks; risks associated with currency fluctuations; risks associated with competition faced in securing experienced personnel with appropriate industry experience and expertise; risks associated with changes in the financial auditing and corporate governance standards applicable to cryptocurrencies and ICO's; risks related to potential conflicts of interest; the reliance on key personnel; financing, capitalization and liquidity risks including the risk that the financings necessary to fund continued development of BLOC's business plan may not be available on satisfactory terms, or at all; the risk of dilution through the issuance of additional common shares of BLOC; the risk of litigation; the risk that BLOC's management and advisors may not contribute as much as expected to the company's success; the risk and the risk that cyber crime may severely damage the value of any or all of BLOC's investments. There may be many other factors that cause results not to be as anticipated, estimated or intended. Accordingly, readers should not place undue reliance on forward-looking information. We undertake no obligation to update forward-looking statements if these beliefs, estimates and opinions or other circumstances should change, except as required by law. Investors are cautioned against attributing undue certainty to forward-looking statements.
BLOC has no assets except cash from a recently closed financing and this article is based on the business plan of BLOC which at this point is purely conceptual in nature. There is no assurance that the business plan will be implemented as set out herein, or at all.
DISCLAIMERS
PAID ADVERTISEMENT. This communication is not a recommendation to buy or sell securities. This communication is for entertainment purposes only. Never invest purely based on our communication. Gains mentioned in our newsletter and on our website may be based on end-of- day or intraday data. In most cases we are paid by the issuer or a third party to profile the issuer. In this case, BLOC is paying to Safehaven.com eighty thousand US dollars for this article and certain banner ads. We have not investigated the background of BLOC. The third party, profiled company, or their affiliates may liquidate shares of the profiled company at or near the time you receive this communication, which has the potential to hurt share prices. Frequently companies profiled in our alerts experience a large increase in volume and share price during the course of investor awareness marketing, which often end as soon as the investor awareness marketing ceases. The investor awareness marketing may be as brief as one day, after which a large decrease in volume and share price is likely to occur. Our emails may contain forward looking statements, which are not guaranteed to materialize due to a variety of factors.
We do not guarantee the timeliness, accuracy, or completeness of the information on our site or in our newsletters. The information in our communications and on our website is believed to be accurate and correct, but has not been independently verified and is not guaranteed to be correct. The information is collected from public sources, such as the profiled company's website and press releases, but is not researched or verified in any way whatsoever to ensure the publicly available information is correct. Furthermore, it is certainly possible for errors or omissions to take place regarding the profiled company(s), in communications, writing and/or editing.
DISCLOSURE. Safehaven.com, Advanced Media Solutions Ltd, and their owners, managers, employees, and assigns (collectively "the Company") does not make any guarantee or warranty about what is advertised above. The Company is not affiliated with, any specific security. While the Company will not engage in front-running or trading against its own recommendations, The Company and its managers and employees reserve the right to hold possession in certain securities featured in its communications.
The opinions expressed in this article are exclusively those of the author and have in no way been approved or endorsed by BLOC. This article and the information herein are provided without warranty or liability.
SHARE OWNERSHIP. The owner of Safehaven.com owns shares of this featured company and therefore has an additional incentive to see the featured company's stock perform well. The owner of Safehaven.com will not notify the market when it decides to buy more or sell shares of this issuer in the market, but will not trade on material information that has not been disclosed to the public. The owner of Oilpatch.com will be buying and selling shares of this issuer for its own profit. This is why we stress that you conduct extensive due diligence as well as seek the advice of your financial advisor or a registered broker-dealer before investing in any securities.
NOT AN INVESTMENT ADVISOR. The Company is not registered or licensed by any governing body in any jurisdiction to give investing advice or provide investment recommendation. ALWAYS DO YOUR OWN RESEARCH and consult with a licensed investment professional before making an investment. This communication should not be used as a basis for making any investment.
INDEMNIFICATION/RELEASE OF LIABILITY. By reading this communication, you agree to the terms of this disclaimer, including, but not limited to: releasing the Company, its affiliates, assigns and successors from any and all liability, damages, and injury from the information contained in this communication. You further warrant that you are solely responsible for any financial outcome that may come from your investment decisions.
PAST PERFORMANCE IS NOT INDICATIVE OF FUTURE RESULTS. Investing is inherently risky. While a potential for rewards exists, by investing, you are putting yourself at risk. You must be aware of the risks and be willing to accept them in order to invest in any type of security. Don't trade with money you can't afford to lose. This is neither a solicitation nor an offer to Buy/Sell securities. No representation is being made that any account will or is likely to achieve profits or losses similar to those discussed on this web site. The past performance of any trading system or methodology is not necessarily indicative of future results
TERMS OF USE. By reading this communication you agree that you have reviewed and fully agree to the Terms of Use found here http://Safehaven.com/terms-and-conditions If you do not agree to the Terms of Use http://Safehaven.com/terms-and-conditions, please contact Safehaven.com to discontinue receiving future communications.
TheBitcoinNews.com – Bitcoin News source since June 2011 –
Virtual currency is not legal tender, is not backed by the government, and accounts and value balances are not subject to consumer protections. TheBitcoinNews.com holds several Cryptocurrencies, and this information does NOT constitute investment advice or an offer to invest.
Everything on this website can be seen as Advertisment and most comes from Press Releases, TheBitcoinNews.com is is not responsible for any of the content of or from external sites and feeds. Sponsored posts are always flagged as this, guest posts, guest articles and PRs are most time but NOT always flagged as this. Expert opinions and Price predictions are not supported by us and comes up from 3th part websites.
Advertise with us : Advertise