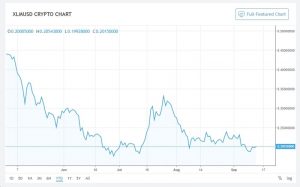 The price of Stellar (XLM) improved by more than 7% on September 13, thanks, in part, to a major announcement by the project's for-profit subsidiary. Despite the Stellar Development Foundation being a non-profit origination, its Lightyear axis has been actively seeking investment opportunities over the last 18 months. Following a series of discussions since the start of 2018, the company has just announced a deal with San Francisco-based Chain. Founded in 2014, Chain provides private blockchains for major companies wanting to digitize their assets.
Despite attracting $44 million in funding from the likes of Visa, Pantera Capital and Citi Ventures, Chain ran into issues with scale. Although co-founder Adam Ludwin told Forbes that a sale wasn't necessary, he admitted that there have been issues with how to connect private blockchains. In turn, Stellar creator Jed McCaleb has long been trying to expand his blockchain and so a natural partnership has formed.
Stellar Price Set for Reversal
The final sale price hasn't been discussed, but a report by Fortune suggests it was in the region of $500 million. Outside of that, the two companies will now merge and become known as Interstellar. For those tracking the price of Stellar, the news should prove extremely positive. Throughout much of 2018, the XLM price charts have taken a tumble. From a high of more than $0.85 in January, the price of Stellar Lumens in dollars has since dropped to just over $0.20. However, with the Interstellar partnership, XLM coins could be set to rally as we move towards 2019.
Although indirect, the Stellar system can now count major investors like Visa as partners. What's more, the company can work on creating and, subsequently, linking the entire ecosystem of private blockchains. By venturing out beyond the tech world, Stellar is not only showing strength as a technology but as a commercial venture. Whenever this happens, a company's value often spikes. If that happens, Stellar price watchers should have something to smile about.
A Positive Year for Stellar
In fact, this isn't the only positive announcement from Stellar this year. In the summer, Kodak confirmed that its new Digital Right Management platform would be based on Stellar. More recently, IBM's Blockchain World Wire (BWW) is now out of beta testing. On the international payment front, Stellar is starting to offer some resistance to Ripple. However, for McCaleb, tokenization is the way forward. In his mind, giving companies the ability to digitize their assets using the Stellar blockchain could be the project's greatest strength.
"We are setting out to tokenize all the things, and to move from the scammy ICOs that we wouldn't want to be associated with to finding partners to create tokens uniquely enabled by Stellar and which can be an important part of their business model," McCaleb told Yahoo Finance.
If Stellar and now Interstellar can succeed in this mission, the price of XLM has a bright future.
*Information in this article should not be taken as investment advice.
The post Stellar Price Set to Shine Following Chain Purchase appeared first on The independent republic.
source: https://theindependentrepublic.com/2018/09/14/stellar-price-set-to-shine-following-chain-purchase/
TheBitcoinNews.com is here for you 24/7 to keep you informed on everything crypto. Like what we do? Tip us some BAT

Send Tip now!