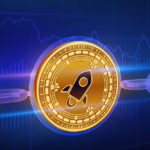 We will be analyzing this month's performance of XLM in order to come up with a Stellar price prediction for the end of August.
Short Stellar Description
Stellar is a project that was forked from Ripple in 2014 and was created by the programmer from Ripple Labs, Jed McCaleb.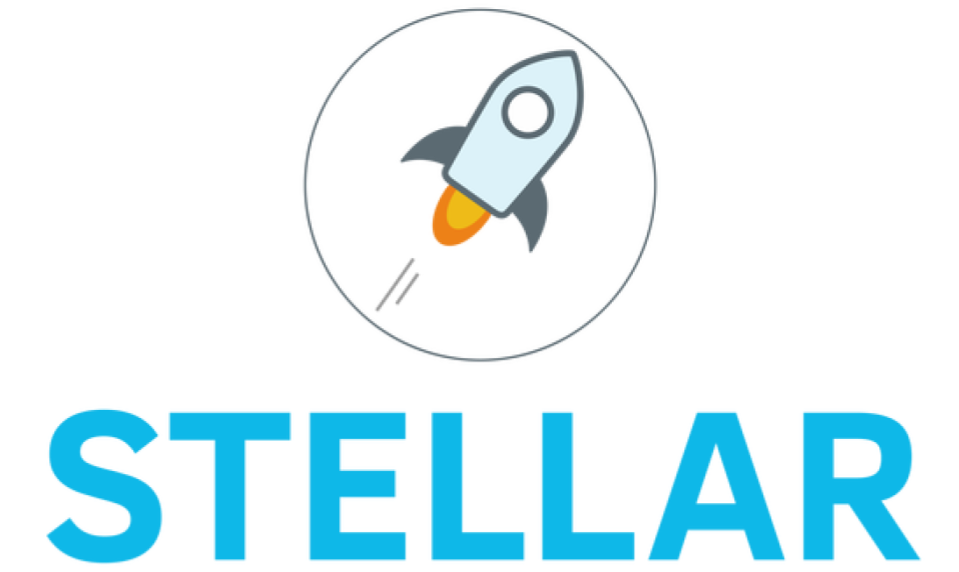 In 2015, Stellar Lumens was moved to its own open-source protocol, thus eliminating significant weaknesses found in Ripple.
The Stellar Lumens (XLM) cryptocurrency was created to facilitate fast and cheap digital transactions.
Stellar XLM Stats
One Stellar Lumens is currently trading at a price of $0.068009 USD, with a 2.89% decrease in the last 24-hour period.
The ROI (Return on investment) of the coin is marked at 2,185.50%. The coin is currently ranked at 11th position in the crypto market according to a market cap of $1,335,441,142 USD.
There are currently 19,636,136,315 XLM in circulation out of a total supply of 105,263,081,265 XLM.
The coin recorded a 24-hour volume of $98,446,356 USD.
Stellar (XLM) Price Prediction: Analysis
At the beginning of August, the coin had a trading price approximated at $0.083. it then went down from $0.083 to $0.082, signifying a decrease of 1.50%. This downward trend continued the next day as well as in the day after that.
On the 4th day, however, Stellar saw a slight increase from $0.081 to $0.082 by 1.28%. But this short growth spur stopped on day 5, the coin once again started slowly descending from $0.0829 to $0.0821 by 0.98%.
Starting with August 6th, the coin went below the $0.08 mark, slipping to $0.079. Stellar continued to slip in price until 11th August, when the coin leaped from $0.073 to $0.080 by 9.19%. But this was also followed by a correction, going from $0.080 to $0.077 by 3.15%.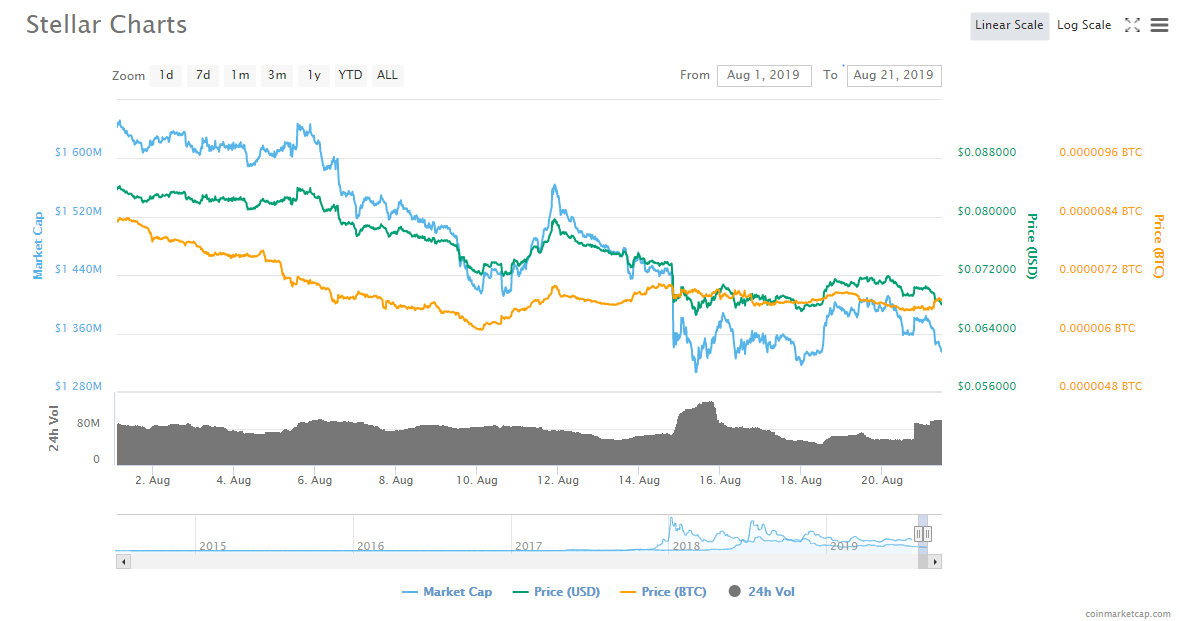 Source coinmarketcap
On 12th August, the price went from $0.078 to $0.075 by 2.58%. Stellar (XLM) has persisted in maintaining itself in a continuous bearish radar over the past few months, setting a new monthly low at 0.00000603BTC against Bitcoin.
Source: TradingView Aug 13th
On August 14th XLM went below the $0.07 mark, reaching the lowest of that day $0.068. The following day, the lowest of the month was reached, with the coin having a price of $0.066.
The charts on August 16th showed two very important support levels which were at $0.066 and $0.065 respectively, but the support levels were not broken even during the weekend sell-off. The weekend tested the resistance level of the $0.070 price, but it was not surpassed, as predicted by analysts.
Since then, the coin has been fluctuating between the $0.07 and $0.06 mark, never managing to break $0.08. It is expected that if the coin reaches $0.08, the price will gain some momentum and get out of its bearish phase.
Even though XLM was anticipated to keep the momentum tight, such thing did not happen due to market pressure. The traders were quite positive about the coin, but it seems like they will have to wait longer for a Stellar rally to form. While long term there are positive prospects, day traders will not see much profit from the coin
From market technical analysis, XLM's price against the USD dollar will continue to decrease on a long term period. Stellar's price will also be dependent on Bitcoin's performance, which is currently going seeing a downward progression.
Market Predictions for Stellar(XLM) August 2019
While there is no such thing as an accurate price prediction, be it for a monthly or daily forecast, we have gathered some Stellar predictions for August from various crypto sites to best present the market opinion.
30 rates Stellar (XLM) Price Prediction
The 30 Rates website has made price forecasts for XLM starting from August 22nd to the end of the month:
Stellar price prediction on Thursday, August, 22: minimum price $0.061, maximum $0.071 and at the end of the day price 0.066 dollars a coin. XLM to USD predictions on Friday, August, 23: minimum price $0.062, maximum $0.072 and at the end of the day price 0.067 dollars a coin.
Stellar price prediction on Monday, August, 26: minimum price $0.065, maximum $0.075 and at the end of the day price 0.070 dollars a coin. XLM to USD predictions on Tuesday, August, 27: minimum price $0.064, maximum $0.074 and at the end of the day price 0.069 dollars a coin.
In 1-week Stellar price prediction on Wednesday, August, 28: minimum price $0.063, maximum $0.073 and at the end of the day price 0.068 dollars a coin.
XLM to USD predictions on Thursday, August, 29: minimum price $0.064, maximum $0.074 and at the end of the day price 0.069 dollars a coin.
Stellar price prediction on Friday, August, 30: minimum price $0.060, maximum $0.068 and at the end of the day price 0.064 dollars a coin.
Their prediction does not put the coin far from the current values it has had this month, and from what we can see, they also do not expect for XLM to exceed the resistance level of $0.08.
Themerkle Stellar (XLM) Price Prediction
The Merkle made its Stellar price prediction based on technical indicators such as a Moving Average: "More bear market should be expected as indicated by the 21 day MA that is now above the 7 day MA. New targets should be set at $0.072500. If the price action breaks the 21day MA then traders should consider going long and take profit at $0.074500."
LongForecast Stellar (XLM) Price Prediction
The Long Forecast crypto website predicted that the coin would start at 0.084 Dollars, with a maximum price of $0.084 and a minimum price of $0.060. they estimate that the monthly average will be $0.073 and that the month will end at $0.064, change for August -23.8%.
Conclusion
While the situation is not looking too positive at the moment, Stellar (XLM) is still expected to recover sometime in the following weeks. The company behind the Stellar Lumens project is constantly introducing new developments to further the adoption and popularity of the coin. We have heard about the promising upgrades that would take the price up in the future. According to this year's Stellar price prediction, the coin is expected to bring a huge profit to those that have invested in it for the long term.
From the data we have gathered, we can assume that Stellar will close the month around the $0.06 threshold.
Featured image: Hacked
You want the latest news about Crypto? Sign up to our weekly Newsletter!