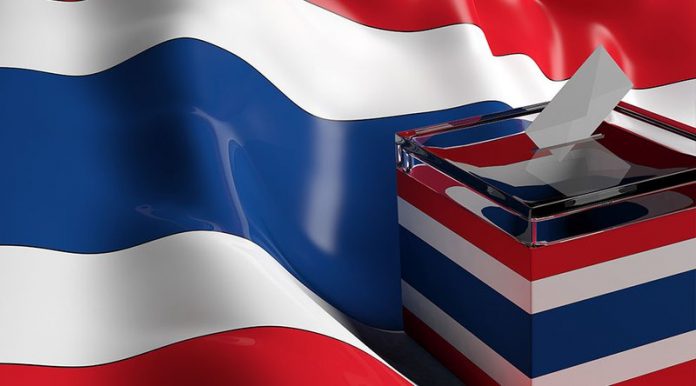 Thailand's Democrat Party has become the first political party to use blockchain technology to elect its leaders in a primary election, which was held from November 1–9, 2018. In a live e-voting system, more than 120,000 party faithful cast their votes in a transparent way that saw former Thai Prime Minister Abhisit Vejjajiva winning his party nomination with 67,505 votes.
Party members were able to vote using two methods. The first method was through voting stations that utilized a Raspberry Pi-based system. Voters were also able to vote via a blockchain-based mobile app that asked voters to submit their photo ID.
The identification documents used to verify party members and the voting tallies were both encrypted and stored on the InterPlanetary File System (IPFS), a decentralized and distributed file system for storing large volumes of data. IPFS uses a peer-to-peer protocol where nodes store a collection of hashed files on a network.
For this election, the IPFS hashes were stored on the Zcoin blockchain, which acted as an "immutable database and provided auditability to the Thai Election Commission and the Democrat Party candidates."
"I am very proud that Zcoin played a role in making Thailand's first large-scale e-vote, a reality, which saw greater voter participation and transparency," Poramin Insom, founder & lead developer of Zcoin, noted in a public statement.
To keep the voting data and documents safe, the encryption keys were split using the Shamir's Secret Sharing Scheme, which works similarly to a multi-sig key used for crypto wallets. With a multi-sig key, multiple private keys are required to access the funds.
With the Shamir Scheme, multiple custodians are required to decrypt the voting data. At the recently concluded primary election, five individuals were needed to decrypt the voting data; representatives of each candidate, an official from the Thai Election Commission and a representative from the Democrat Party.
"I believe we've achieved a huge milestone in our country's political history and hope that other political parties or even the government, not just in Thailand but the region, can look to using blockchain technology in enabling large-scale e-voting or polling," Insom stated.
Earlier this month, West Virginia ran a blockchain trial in the federal general election for military and other Americans living abroad. The state used the mobile app developed by blockchain startup Voatz to verify voters' identities using facial recognition technology by comparing it to other photo ID that might have been uploaded on it during voter's registration. Swiss city Zug ran a similar trial using a different app from uPort, which issued digital identities to residents who cast their votes using their smartphones.
Blockchain voting has its skeptics; however, a report from the Brookings Institution think tank, sees blockchain voting as a "beneficial tool for the election commission to maintain transparency in the electoral process, minimize the cost of conducting elections, streamline the process of counting votes and ensure that all votes are counted."
This article originally appeared on Bitcoin Magazine.
Bitcoinmagazine.com is author of this content, TheBitcoinNews.com is is not responsible for the content of external sites.