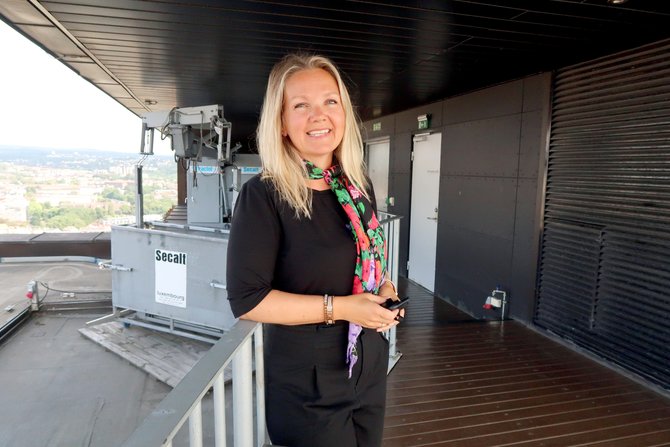 Cryptotechnology can allocate excess power from Powerhouse in Trondheim. The new building will be commissioned from March next year.
The solar cells on the roof of the Powerhouse in Trondheim will produce much more energy than the building needs. Entra tries cryptotechnology to ensure that neighboring houses get energy while the payment is automatic.
The workers at Brattørkaia in Trondheim are in the process of building the building of Norway's largest newly built plúshus. In March 2019, the tenants move into new office space in Powerhouse Brattørkaia, a building that will produce more energy than used for the production of building materials, entry, operation and disposal of the building. They will be part of a large-scale demo project for how to utilize and control energy distribution between different actors in a neighborhood.
The owner of the building, Entra ASA, collaborates with Trønderenergi and the cryptotechnology foundation IOTA to use their cryptotechnology to deliver energy and charge automatically.
Director of Digitization and Business Development Åse Lunde in Entra took the initiative to collaborate with IOTA on using their cryptotechnology as part of a larger development course. Photo: Claude R. Olsen
"The powerhouse building will at times produce much more energy from solar cells than it uses itself. We are currently working to find the optimal solution for utilizing all the pure energy to be produced. Now we want to try out cryptotechnology to exchange energy surpluses with other nearby buildings, "says Åse Lunde, Director of Digitization and Business Development in Entra.
Testområdet
Entra owns the buildings on Brattørkaia 12-17, but the company is looking for supplies of energy to other buildings such as Pirbadet, to boats located at the dock and for charging electric buses.
The buildings in Brattørkaia will also be a test area in the EU project "+ CityxChange" where Trondheim is a four-year town together with Irish Limerick and NTNU is coordinator. They will develop and demonstrate smart solutions for local energy exchange in seven European cities.
In the demonstrations, Trønnerergi will test how to get more efficient energy markets using new cryptotechnologies.
"When it comes to microgrid with block technology as a form of settlement, we see that this comes at some point, and we want to be out early and test technologies to keep up with what's happening," says Gørild Forbord, business developer in Trønnerergi.
Cryptotechnology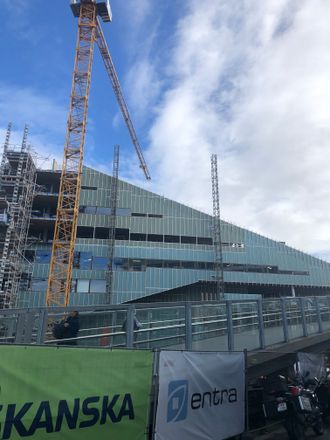 Skanska and its subcontractors will have Powerhouse Brattørkaia ready in March 2019. Photo: Entra
IOTA is a cryptotechnology for communication and payment between Dingser. It has its own crypto currency, – IOTA Token – but money transactions are just a small part of their machine-to-machine protocol. It is designed for the Internet of Things (IoT) and has neither blocks nor chains such as blockcoat currencies like Bitcoin and Ethereum.
IOTA technology helps ensure that data is accurate and not tampered with. It fits well with all "smart" sectors, such as charging electric cars.
For the latest cryptocurrency news, join our Telegram! 
…
iota-news.com is author of this content, TheBitcoinNews.com is is not responsible for the content of external sites.