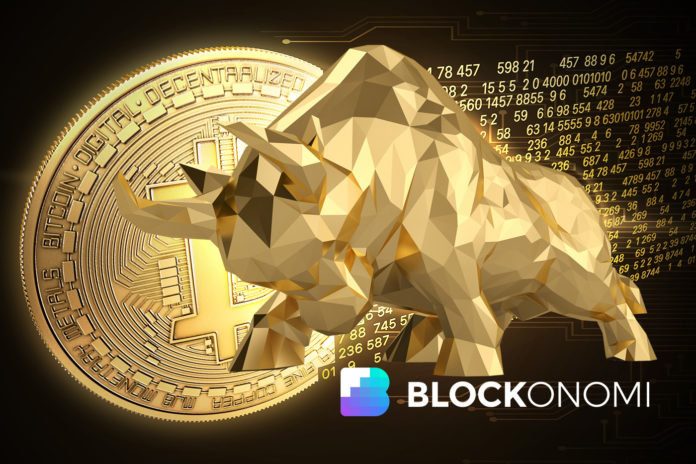 Tom Lee of Fundstrat Global Advisors believes that Bitcoin will see a significant upward price movement in 2019. The BTC permabull who in 2018 predicted that the top-ranked cryptocurrency would end the year trading at $25,000 says several market factors have flipped in favor of the cryptocurrency. Lee also expects the coming positive developments on the institutional side to also play a prominent role in engineering a sustained bull market for BTC in 2019.
Weak Dollar Will Push Bitcoin Price
Speaking to CNBC on Thursday (March 14, 2019), the Fundstrat co-founder and analyst identified a few market indicators that would drive up the price of Bitcoin in 2019. Commenting on the matter, Lee declared:
You want the latest news about Crypto? Sign up to our weekly Newsletter!

"I think 2019's a year about repair. We have a risk-on rally in global markets that's positive for bitcoin; it was a headwind last year. And the dollar isn't surging like it was last year. That's a headwind that's gone away."
Apart from a weakened U.S. dollar, the Fundstrat analyst says that other technical indicators are beginning to stabilize as the year progresses. In a note to investors at the start of 2019, Lee itemized important macroeconomic trends that would constitute a favorable tailwind for upward BTC price movements in 2019.
Look Out for Bull Market by Summer 2019
Lee who has a history of predicting bull runs for BTC hinted that the top-ranked cryptocurrency could potentially begin a sustained upward price rise in August 2019. According to Lee, Bitcoin would have crossed its 200-day moving average (MA) by that time, assuming it maintains its present price levels in and around the $4,000 region.
For Lee, successfully the 200-day MA could see Bitcoin recover from its mid-November 2018 price capitulation which saw its price fall from $6,000 to $3,000. At that time, a "civil war" between rival Bitcoin Cash forks caused panic in the market with cryptos plunging even further downward.
However, Lee expects that BTC can undo most of that damage and begin to see significant gains by the summer of 2019. Earlier in the year, Justin Sun, the CEO of TRON predicted that BTC would spend most of the year trading in a tight range between $3,000 and $5,000.
Institutional Developments Will Drive Increased Adoption
During the interview, Lee also highlighted some imminent positive developments in the institutional arena that will contribute to ensuring a bull market scenario for Bitcoin. Commenting further, Lee opined:
"Fidelity's launching digital custody. Bakkt is going to launch an exchange. We've already seen some high-profile endowments, and pension funds actually invest new money this year. So, I think, as an asset class, it's still the earliest days, but I think it's too glib to dismiss the macro."
As reported by Blockonomi, Fidelity is set to launch its cryptocurrency custody service in March. Bakkt also plans to begin offering physically-backed Bitcoin futures trading contracts in 2019.
Other mainstream investors have also begun to pivot towards Bitcoin and cryptocurrency. Meanwhile, the top-ranked cryptocurrency is seeing record trading over-the-counter (OTC) and peer-to-peer (p2p) trading volumes in different countries around the world.
Implications for Altcoins
If Lee's forecast turns out to be accurate then there could be significant implications for altcoins given the uncoupled nature of the cryptocurrency market. Presently, experts like Mati Greenspan, Senior Market Analyst at eToro say altcoins are experiencing a resurgence in fortunes given their recent price performances.
#ALTSEASON continues!$XLM & $TRX are pulling back slightly but the rest of the market is zooming today! pic.twitter.com/K9OuQTNb2Q

— Mati Greenspan (@MatiGreenspan) March 15, 2019
On Google Trends, the term "altcoins" is becoming a popular search phrase with some in the industry calling the present period "altseason." Data from Coinmarketcap sees the greater majority of altcoins like Ethereum, Litecoin, and Bitcoin Cash posting positive 24-hour price gains, a trend which has been ongoing for a few days.
Binance Coin (BNB), the seventh-ranked cryptocurrency has tripled in value over the past 90 days to reach a valuation of $15. Should altseason carry on until Lee's predicted Bitcoin boom, the cryptocurrency market as a whole could enjoy another bull march as massive as late 2017.
The post Tom Lee Prediction: Expect Bitcoin Bull Run in 2019 appeared first on Blockonomi.

Blockonomi.com is author of this content, TheBitcoinNews.com is is not responsible for the content of external sites.