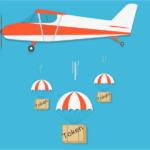 If you are interested in getting some free coins this February, there are many attractive crypto airdrop campaigns in which you can take part.
ARC IRIS
End date: 4 February
Estimated value: $50
ARC IRIS HYDROGEN is a project for Bitcoin that aims to make mining the coin a more lucrative and less energy-consuming endeavor.
You want the latest news about Crypto? Sign up to our weekly Newsletter!

The project intends to use eco-friendly sources of energy, including eolian, solar, and hydrogen technology, to power their crypto mining farm.
Participation steps:
Access ARC IRIS and start a chat with their Telegram bot;
Pass the captcha to prove you are human;
Follow their Twitter account and retweet the last tweet;
Like their Facebook account page and share the last post;
Follow their Medium page and clap the last post;
Follow their Instagram page and share their last post;
Go to their website and sign up for a new account;
Send your ARC-IRIS username and other details to the bot;
Receive 500 ACI ($50) tokens;
For each new user referral, you can get 200 ACI ($20);
Requirements:
Telegram;
Twitter;
Mail;
Facebook;
Instagram;
Medium.
THDAX
End date: 7 February
Estimated value: $60
THDAX is a Malaysia-based global trading platform that offers cryptocurrency trading services. The Kuala Lampur exchange operates under the regulations and licenses imposed by the Malaysia.
In celebration of the official launch of their platform, THDAX began on January 16th, 2020, a crypto airdrop campaign in which new users can receive USDT gift packages and trading experience credit.
In this crypto airdrop, participants can stand to earn up to 500 USDT each (excluding trading experience credit), and the rewards can be viewed on the home page through assets.
The trading experience credit resulted from the event will not be locked, but other USDT will remain locked until further notice.
Participation steps:
Go to THDAX and register for a new account. You will receive 20 USDT + 0.5 USDT trading experience credit;
Go through the real-name verification procedure to get 10 USDT;
For your first deposit, you will receive 20 USDT + 0.5 USDT trading experience credit;
Complete your first transaction and receive 10 USDT + 0.5 USDT transaction experience credit. There are no restrictions on the amount and type of transaction you can execute;
For each new referral to THDAX, which has successfully passed real-name verification, you receive 5 USDT reward.
Requirements:
Minereum
End date: 10 February
Estimated value: $278
Minereum is a novel smart contract token, which was programmed for self-mining.
Minereum V2 is the upcoming version which will bring further enhancements, such as the decentralized exchange of Genesis Addresses and a Stakeholder platform for those who want to stake the token on it.
Minereum V2 is still being developed and is scheduled to be launched in a few weeks, but the project has already launched a new crypto airdrop to bring in more users to the platform.
Participation steps:
Go to the Minereum Airdrop page;
Send your public Ethereum wallet address;
You can send as many Ethereum wallet addresses as you have;
After the release of the Minereum V2, all of your ETH addresses will become a Minereum Genesis Address, and each will have a deposit of 32,000 MNE coins.
Requirements:
Aeron
End date: 17 February
Estimated value: $100
Aeron is a smart blockchain-based solution developed for aviation safety. The pilot uses the application for personal flight logging. Then, the aviation company uses its own app to collect and check the data from aviation schools, airlines, and data operators.
If there is a discrepancy between the data supplied by Aeron or the ATC, pilot, or operator, the aviation authorities can check and resolve the problem.
CryptoBonusMiles is an Airline rewards program that runs using the technology provided by Aeron, where users can benefit from free checked bags, free hotel holidays or airport lounge access, and overall reduced costs on flights.
Participation steps:
Access the Aeron and CryptoBonusMiles Airdrop Page;
Finish the social tasks required and receive up to 18 entries;
For each referral, you can earn up to 3 entries;
250 winners selected at random will receive $100 in tokens.
The token distribution is the following:
First 10 winners receive $100 worth of ARN tokens traded on Binance each;
The next 10 winners receive $100 worth of CBM tokens traded on Binance DEX each;
Places from 21 to 115 receive $10 worth of ARN tokens each;
Places from 115 to 250 receive $10 worth of CBM tokens each​.
Requirements:
Binance (Giveaway)
End date: 20 February
Estimated value: $100
Binance is the most popular crypto exchange in the industry, having multiple branches (Binance Uganda, Binance. US, Binance Jersey, etc.) and platforms (Binance Lending, Binance Margin, Binance DEX) with various services all over the world.
The company was established back in 2017 by Changpeng Zhao (current CEO) and Yi He, and its main office is currently located in Malta.
The platform offers hundreds of crypto options and has competitive trading prices.
Participation steps:
Create an account on Binance;
Go to Twitter and follow Binance's official page;
Retweet this tweet and answer the question correctly; (Correct answer is A. 1%)
Ten winners will be selected at random to get $100 worth of BNB each.
Requirements:
Deus
End date: 24 February
Estimated value: $50
Deus Ventures is a platform that enables companies of all sizes to tokenize business assets and also serves as a Launchpad for both rising startups and the established companies.
Through its STO issuance services, Deus aims to become the best ecosystem for tokenization and startups development in the crypto market.
Participation steps:
Go to their page and download the DeusApp;
Register in the app before February 5th;
Send your email and wait to receive a code;
Access the DeusApp Airdrop page and do all the social tasks;
You will be rewarded with 500 DEUS ($50) in the app between February 6 and 10;
You will be able to cash out the tokens only 3 months after the crypto airdrop has ended and if you have passed your KYC.
Requirements:
Silver Coin
End date: 27 February
Estimated value: $100
Silver Coin is a new stablecoin which was built on top of an Ethereum decentralized smart contract, with the purpose of replacing fiat in all financial sectors.
Participation steps:
Join the official SCN Telegram Channel;
Join the SCN Telegram Group;
Follow their Twitter page, retweet the last post, and tag friends;
Follow and like their Facebook page, and comment and share the last post;
Follow their Medium page and clap at the last post;
Complete the tasks in the form and receive 100 SCN (100$);
For each referral, you can receive 10 SCN.
Requirements:
Facebook Account;
Twitter Account;
Telegram Account;
Medium Account;
Email address.
Conclusion
This has been our list of some of the best crypto airdrops you can participate in this February. Be careful to follow all the instructions correctly in order to get free coins.
Featured image: tokens24.com
Note: This post was originally published on 1 February 2019 and has been totally updated for the completeness and veracity of the content on 1 February 2020.

coindoo.com is author of this content, TheBitcoinNews.com is is not responsible for the content of external sites.
source: https://coindoo.com/top-airdrops-you-should-look-out-for-in-february/
TheBitcoinNews.com is here for you 24/7 to keep you informed on everything crypto. Like what we do? Tip us some BAT

Send Tip now!